Hansen's Sunday Notebook: Wildcats disappear into basketball's Bermuda Triangle
Star sports columnist Greg Hansen offers his opinion on recent sports news.
Arizona's Bahamas collapse is almost impossible to process
If there's one lesson I've learned in life if that's if you say something is impossible, it will probably happen next week.
You say it's impossible Arizona could lose three games in three days, to anyone, any place, any time.
Bingo. The Wildcats disappear into basketball's Bermuda Triangle.
The implications of what happened to Sean Miller's team in the Bahamas are so enormous that for the moment, my mind is incapable of processing it.
It's consuming. It's far more than the possible return of Rawle Alkins can overcome.
The reservoir of goodwill Miller built the last seven years seemed to vanish in three days.
After being thumped by Purdue late Friday, Miller said: "That team (Purdue), they're organized. They're hard to guard."
It was so absurd I dropped my turkey sandwich.
Isn't Arizona supposed to be the team that's organized and hard to guard?
Isn't that what all the cupcakes who play at McKale Center in November and December say about the Wildcats?
Arizona's defense was so inept that it allowed opponents to make 22 3-pointers in the Bahamas, and shoot 43 percent. All made at least eight 3-balls. Incredibly, only two UA opponents a year ago — Oregon and North Dakota — shot at least 40 percent on 3-pointers.
Worse, the UA's offense was so impotent that it looked like it had spent all week on the beach, with no game plan, no practicing whatsoever.
It is Arizona that has the stallions, but they aren't permitted to run. Miller's offense is so methodical that everything seems to get stuck except for an occasional Deandre Ayton dunk.
For weeks, Miller praised newbies Emmanuel Akot, Alex Barcello, Ira Lee and transfer Dylan Smith. Everyone in Tucson nodded. But in the Bahamas, those four young men shot a combined 25 percent from the field (7 for 28) and scored just 18 points, total, barely a point per game per man.
Here's how bad it was: Arizona last lost three games in three days in late December 1939. It lost to TCU, West Texas State and Montana State in the All-College Tournament in Oklahoma City. The Star reported that "Arizona became the goats of the tournament. Of the 16 teams in the field, only one team failed to win a game. Arizona."
And that's what it felt like last week. It was 1939 all over again.
Fortunately, the restoration process has months to go. The Dec. 30 Pac-12 opener, Arizona State at McKale Center, could be something quite different than the two teams experienced last week.
Salpointe Catholic prepares to take on state's biggest bully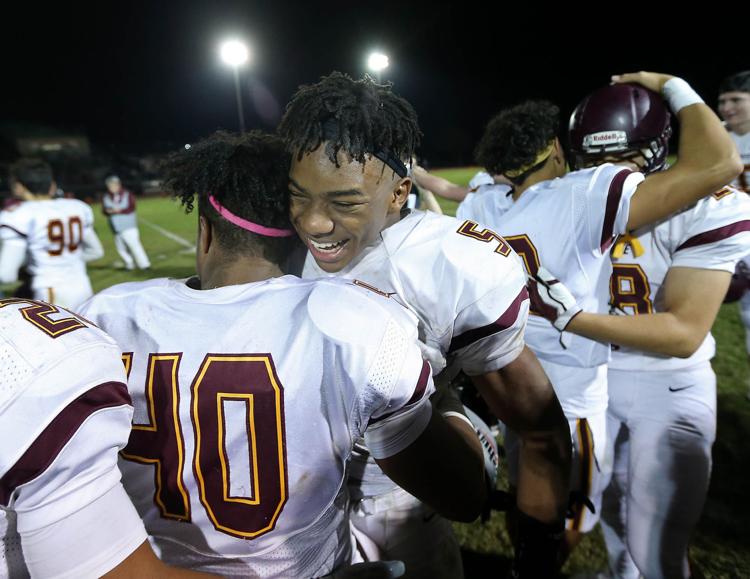 One day last spring as Salpointe Catholic's football team was completing spring practice, I asked Lancers coach Dennis Bene about the coming season.
"We've got to be good enough to beat Saguaro," he said.
After coaching more than 200 games at Salpointe, Bene knows the drill. To win the Class 4A state title, you've got to beat the Scottsdale powerhouse. And sure enough, Salpointe and Saguaro will meet Saturday at noon at Arizona Stadium for the championship.
Saguaro has won state football titles in 2006, 2007, 2008, 2010, 2011, 2013 and 2016. The Sabercats are 157-17 over that period, and they've had little mercy on Tucson teams, particularly the top programs in Tucson because no mid-level Tucson team has been foolish enough to schedule Saguaro.
Over that 12-year period, Saguaro is 15-3 against Tucson. It knocked Jay Campos' powerful Sabino teams out of the state playoffs in 2007, 2009, 2011, 2013 and 2014. Last year, Saguaro whipped Jeff Scurran's Catalina Foothills club, led by Rhett Rodriguez, in the state championship game.
The only Tucson teams to overcome Saguaro were the 2009 and 2010 Canyon del Oro teams of Ka'Deem Carey and Jared Tevis and the '09 Sabino team of Keanu Nelson.
Alas, in the 2010 state championship game, Saguaro beat Carey, Tevis and undefeated CDO 41-22.
As for Bene, his team lost in last year's state semifinals 24-3 to Saguaro, a game that was closer than the score indicated. In that game, Salpointe freshman running back Bijan Robinson carried just three times.
This season, Robinson emerged. He's as good as any football player in the state. He rushed for a school-record 303 yards last week against No. 1 Sunrise Mountain.
Saturday's game at Arizona Stadium should be worth the price of admission.
1967 Marana team finally gets its due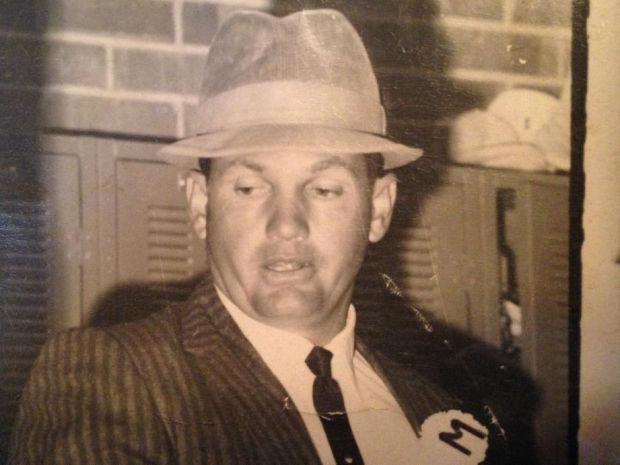 At Saturday's state championship football tripleheader at Arizona Stadium, with games at noon, 3:30 and 7 p.m., the 1967 Marana High School state championship team will be honored.
Marana won state football championships in 1964, 1967 and 1968, finishing a combined 30-0-1. Don Hawkins coached the '67 and '68 teams and was an assistant coach on the undefeated '64 team.
His assistant coach, John Callicote, a longtime educator in Marana, is the only surviving member of those coaching staffs. He will be at the game. The late Norm Patton, who coached Marana to three state basketball championships, also coached on those football title teams.
Hawkins was one of Southern Arizona's leading coaches, of any era. One of 13 children of a family in Thatcher, he played college football at Colorado State and Arizona State. After leaving his coaching position, he continued to work in the Marana school system as a vocational education specialist. He ultimately required a liver transplant and died as a relatively young man.
Three of the young men Hawkins coached at Marana — Cleo Robinson, Jerry Robinson and Paul Robinson — are related to current Salpointe standout Bijan Robinson. They'll be reunited Saturday. Small world.
Fendi Onobun's new book an insight into his road to Arizona basketball program, NFL teams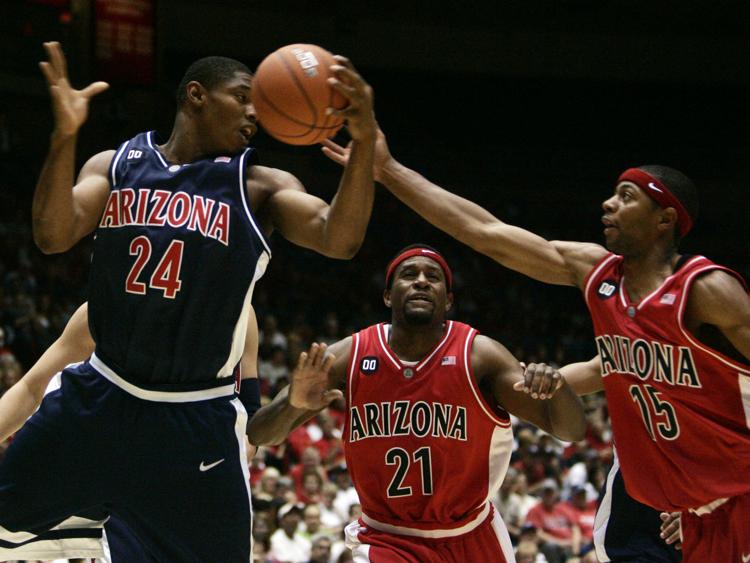 When he was 14, Fendi Onobun was ranked the nation's No. 1 small forward prospect after the summer AAU basketball camps. He ultimately signed with Arizona but had a modest career, averaging 1.8 points per game from 2006-09. He transferred to his hometown Houston Cougars as a senior, and played football (he caught two passes). But his NFL Combine/pro day numbers were so good — he ran a 4.45 time over 40 yards, had a 37-inch vertical jump and had a standing long jump of 11-1 — that he was a sixth-round draft pick of the St. Louis Rams. Onobun ultimately spent time on the roster of five NFL teams and caught two passes before leaving the sport four years ago. Now a fitness instructor in Houston, Onobun has written a book, "One Kid's Bank Shot to the NFL." I finished it last week and it is has many compelling stories about his Arizona days. I'll report on that later.
College World Series hero Robert Refsnyder claimed by another Wildcats legend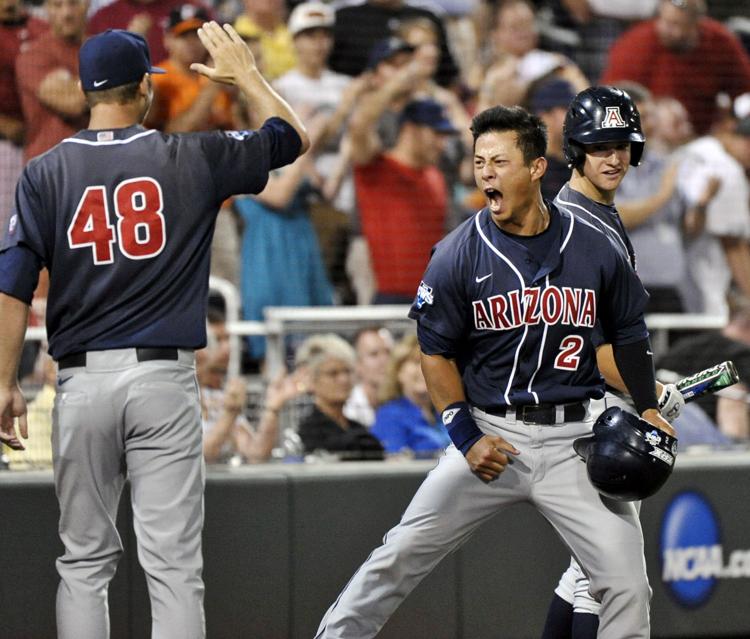 Arizona's 2012 College World Series MVP, Robert Refsnyder, 26, was claimed off waivers last week by Terry Francona of the Cleveland Indians, the star of Arizona's 1980 College World Series title. Refsnyder split the 2017 season between the Yankees (who originally drafted him in 2012) and the Blue Jays but struggled, hitting just .170. While Refsnyder has long turned in impressive stats in the minors, he's batted just .233 in 230 big-league games. His appeal is that he can play first base, second base and the outfield, and, as in his UA days, he's a team-bonding personality in the clubhouse. He is married to former UA Olympic Trials swimmer Monica Drake.
Desert Swarm linebacker Richard Maddox's son visits ASU
Great time at ASU today! pic.twitter.com/znfm8rWVj9

— Aaron Maddox 🏝 (@maddoxisland) November 22, 2017
Aaron Maddox, a Pima College defensive back whose father, Richard Maddox, was the captain, a linebacker, on Arizona's 1992 Desert Swarm defense, took a recruiting visit to Arizona State last week and was offered a scholarship. He has also been offered spots at Utah, Colorado and Arkansas and is on a recruiting visit to North Carolina State this week. Maddox has a May 22 tweet reading "I will be in the NFL" pinned to his Twitter page.
UA coaches Jay Johnson, Sergio Brown featured speakers at baseball conference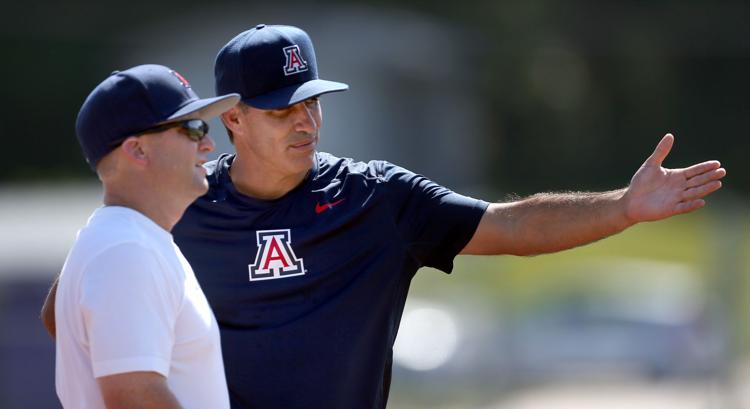 Arizona baseball coach Jay Johnson will be the first speaker at the annual High School Baseball Coaches of America convention at Ventana Canyon Friday morning. The convention, which is expected to draw about 500 high school coaches, runs through Sunday. Johnson will speak on "Developing an Offense." One of his UA assistant coaches, Sergio Brown, will also be a featured speaker at the convention. The UA's 2018 baseball schedule was announced last week. It includes a home-and-home series with Grand Canyon and only one game at Arizona State; the Wildcats and Sun Devils had played two non-conference games dating more than 10 years. The schedule-makers did Arizona a favor by making the UA-ASU series, at Hi Corbett Field, the last home series of the year. If the UA is as good as expected, the May 17-19 series could draw in excess of 15,000 fans.
Mike Candrea schedules Danielle O'Toole's Tucson return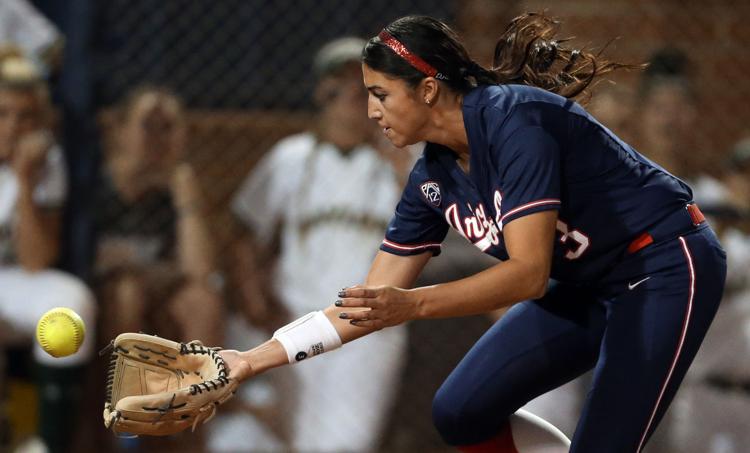 Arizona softball coach Mike Candrea scheduled a March 9 game at Hillenbrand Stadium against the San Diego Toreros. That will give San Diego's new pitching coach, ex-Wildcat standout Danielle O'Toole, a chance to return to Tucson. O'Toole was 30-5 and a consensus All-American last season.
Tucson High grad intercepts first pass at TCU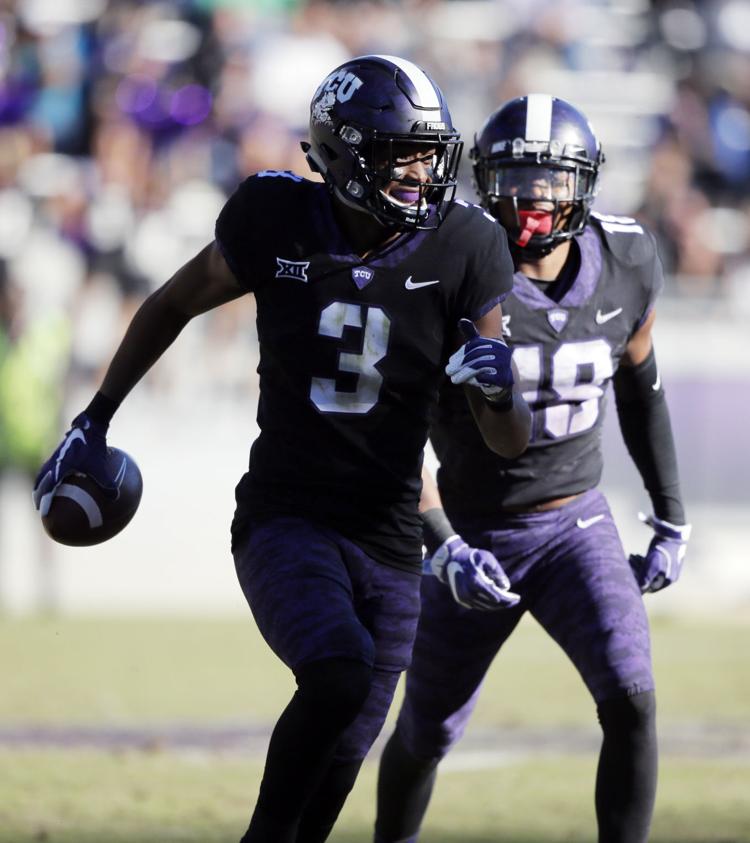 Tucson High and Pima College grad Markell Simmons intercepted his first pass as part of TCU's secondary on Friday. Simmons, who is a nickel back for the Horned Frogs' 10-2 team, has 23 tackles this season. He'll play next weekend in the Big 12 championship game against Oklahoma.
Former Wildcat assistants meet on the hardwood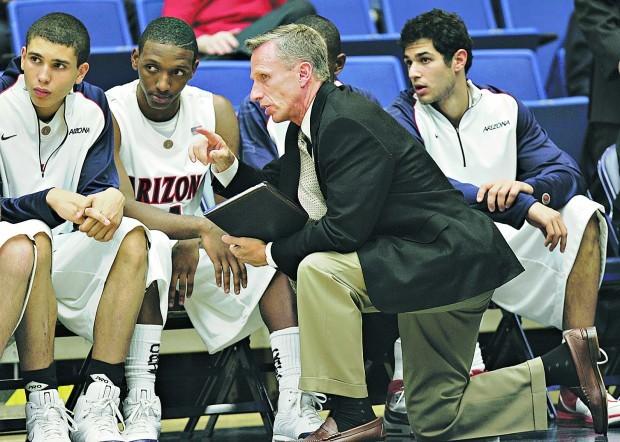 Small world department: Two exceptional former Arizona assistant basketball coaches, Ken Burmeister and Mike Dunlap, coached against one another Wednesday in San Antonio. Dunlap's Loyola Marymount club beat Burmeister's Incarnate Word team, 91-87. Dunlap, who was hired by Lute Olson but coached under Russ Pennell on the 2008-09 Sweet 16 team, is 38-55 at LMU. Burmeister, who was on Olson's original Arizona staff, and recruited, among others, Steve Kerr and Sean Elliott, is 309-225 in his head coaching career.
My two cents: Eric Rhodes scores again by leading Wildcats to club national championship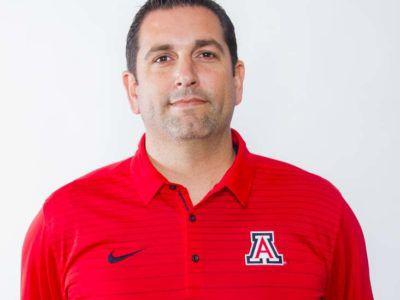 Eric Rhodes broke the Tucson record for goals, 117, while playing soccer at Desert Christian High School in the mid-1990s.
He topped that last week.
Rhodes coached the UA men's club soccer team to the national championship in a remarkable six-game sweep, beating teams from Xavier, Miami (Fla.) and Texas, among others.
In Rhodes' three seasons as the UA's soccer coach, he is 37-13; he inherited a club that went 3-9 the year before. And he hasn't done it with imported players.
Three former Tucson high school players made the all-tournament team: Jeremy Siwik and Peter Rudnick of Catalina Foothills and Brian Molina of Flowing Wells. Eleven Tucson players were part of the national championship club.
Rhodes, who was probably best known as a Channel 4 sports anchor about 10 years ago — he is now media director of the Nova Home Loans Arizona Bowl — got his club ready for the national championship by playing exhibition matches against, among others, the New York Red Bulls of the MLS, FC Tucson and Phoenix Rising.
It paid off, as the UA outscored its six opponents 19-4 at the national championships.
And, perhaps best, Rhodes' UA team, which finished second to ASU in conference play, won the national championship in Phoenix.