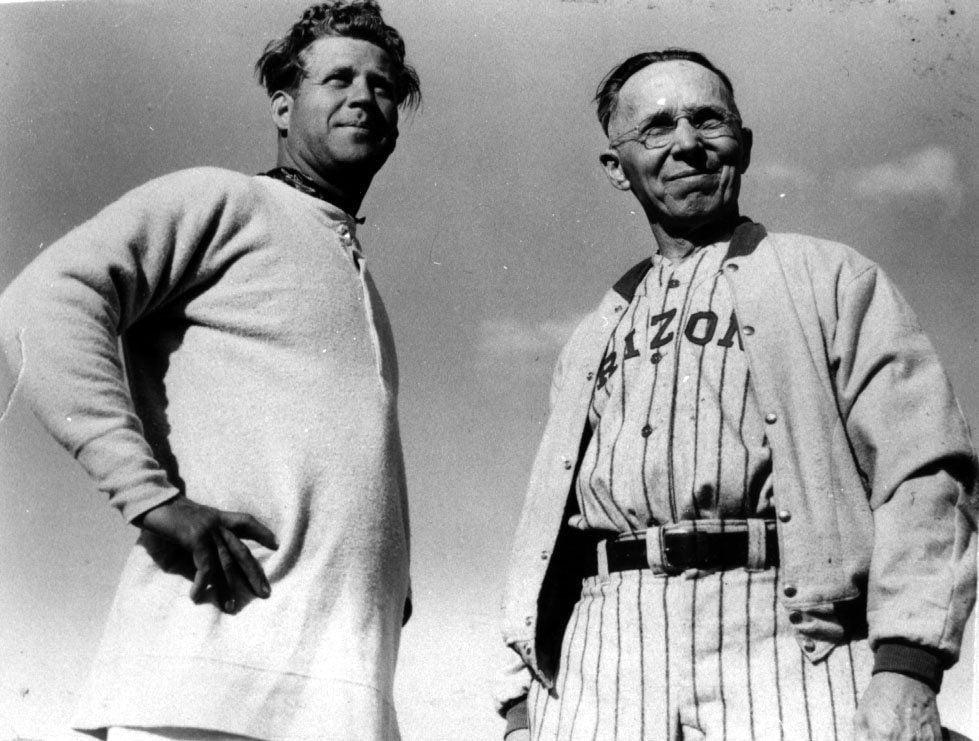 Section 16-D of Tucson's Evergreen Cemetery has for 49 years been the eternal resting place for James Fred "Pop" McKale. As recently as last Friday, someone laid a bundle of flowers against his grave.
If you walk 25 paces from McKale's grave, you find the burial site of Hiram S. "Hi" Corbett.
What are the odds that the two men most responsible for building Tucson's sports enterprise, college and pro, would die within 35 days of one another, and be buried no more than 35 yards apart?
For the first 67 years of the 20th century, Pop McKale and Hi Corbett were the singular titans of Tucson sports. McKale was the UA's athletic director and football, baseball and basketball coach. Corbett coordinated Tucson's acquisitions of the PGA Tour, major-league spring training and minor-league baseball.
"Without Pop," UA Vice President Swede Johnson said after both men died in 1967, "our athletic department would be closer to that of New Mexico State."
Without Corbett, Tucson's image to outsiders, especially potential residents and tourists, might have been closer to that of El Paso.
On Friday, the Star will launch a summerlong series, "The 100 Best Days in Tucson Sports History," that will include events that began in 1912, in every conceivable sport from steer wrestling to auto racing.
Most of the 100 events we have chosen can be linked in some form to McKale and Corbett.
McKale, a chemistry major, graduated from Albion (Michigan) College in 1910 and was hired to be a coach and history teacher at Tucson High School, beginning Sept. 21, 1912. Seven years after McKale retired, the UA hired another Albion College grad, Cedric Dempsey, to be the school's first full-time assistant basketball coach.
Before leaving Michigan, Dempsey went to Detroit's Southwestern High School to recruit prospects for Albion. The coach at Southwestern was Fred Snowden, who in 1972 was hired to be the NCAA's first African-American head coach at a Division I school and coach the first UA team at McKale Center.
The man who hired Snowden, Arizona athletic director Dave Strack, grew up in Michigan and often officiated Albion's varsity basketball games at the time Dempsey was a standout forward.
When Strack left Arizona's AD job in 1982, he was replaced by Dempsey, who eight months later hired Lute Olson as the UA's basketball coach.
In 2010, when Arizona was looking to fill its vacant AD job, the school hired Dempsey to identify the most suitable replacement. He suggested a young athletic director at Mississippi State, Greg Byrne.
It all lines up. McKale to Dempsey to Olson to Byrne in a tidy 98 years.
Many of the "best 100 days" on our list are part of that lineage.
Corbett, a third-generation Tucsonan who inherited his father's lumber business, took a different path to impact the 100 greatest days in Tucson sports history.
His influence in national matters of baseball and golf made it possible for Mickey Mantle and Joe DiMaggio to play baseball at — where else? — Hi Corbett Field. Corbett's determination ultimately led to Arnold Palmer and Tiger Woods winning golf championships here.
Our Top 100 won't be a coronation of Arizona's basketball success, but it will get due consideration. Of our 100 stories, 21 are from high school sports. Another 11 relate to professional baseball in Tucson.
Narrowing the list to 100 events was neither easy nor fun. Our original list of "must include" events reached 141.
When McKale and Corbett died in the summer of 1967 they had one strong link: Corbett had been the first president of the Towncats, a fundraising group that ultimately became today's Wildcat Club. They became such friends that when Corbett had a surprise 80th birthday party at the downtown Pioneer Hotel, McKale served as emcee.
McKale drew laughs when he told a story about how Corbett sat just below the press box at Arizona Stadium.
"At halftime, " McKale said in 1966, "Hi would walk up the stairs, poke his head through the door and say, 'What's the score in Tempe?' We always told him Tempe was losing, even if that wasn't the case. We wanted a man like Hi on our side."
A year later, both men had died. Their legacy is a significant part of our project.