In the early summer of 1982, the Houston Cougars athletic department was so superior to the UA that comparisons were humbling.
Coach Guy Lewis' Cougars basketball team — remember Phi Slama Jama? — had just completed its first of what would be three consecutive berths in the Final Four.
Coach Dave Williams' men's golf team had just won its 14th NCAA championship, turning out future PGA Tour players like Fred Couples and Fuzzy Zoeller year after year.
And coach Bill Yeoman's football team had been ranked in the AP poll's top 10 in 1978, 1979 and 1980, with back-to-back appearances in the Cotton Bowl, then one of the four prestigious New Year's Day games.
Comparisons? Arizona had just fired its basketball coach after three consecutive losing seasons. Its football team, about to be hit with a two-year NCAA probation, had gone to one bowl game in 14 years. The UA athletic department was so burdened by debt that it eliminated four sports.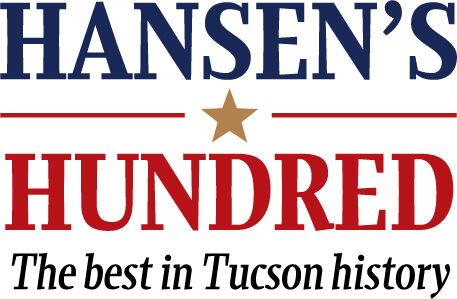 Arizona parted ways with athletic director Dave Strack and targeted one man to replace him: Houston AD Cedric Dempsey.
No way, right? The Cougars were then in the popular Southwest Conference with rivals Texas and Texas A&M.
But Dempsey listened. He was so intrigued by the UA's potential for growth that he agreed to take a pay cut from $75,000 to $66,000 to take control of what then was considered the little brother to ASU's athletic department.
Dempsey, No. 11 on our list of Tucson's Top 100 Sports Figures of the last 100 years, had a connection to Tucson like few others. He had graduated from Michigan's Albion College, the same school that produced Arizona' first AD, Pop McKale. Not only that, Dempsey's first job at a Division I school was at Arizona, first as an assistant basketball coach from 1963 to 1965 and then as the No. 2 man in the UA athletic department from 1965 to 1967.
He became friends with McKale, who correctly predicted that Dempsey would someday create his own legacy.
McKale died on June 1, 1967; Dempsey became the AD at Pacific exactly one month later.
In a national perspective, Dempsey's legacy will forever be that he was the third executive director of the NCAA, from 1994 to 2003, a compelling period in which he signed the then-most lucrative TV deal in college sports history and moved the NCAA headquarters from Kansas City to Indianapolis. On the NCAA campus, you don't have to go far to find a very visible office headquarters named after Dempsey.
But in Tucson, Dempsey's legacy will be that he built an overall athletic program that steadily became one of the 10 most successful in college sports in the 1980s and 1990s, the golden era of Wildcats sports.
Under his direction, Arizona shed its "little brother" role to ASU.
Dempsey's instincts and willingness to surround himself with elite-level staff and coaches is unprecedented at Arizona. Dempsey hired Lute Olson, Mike Candrea, Frank Busch, Dick Tomey, Dave Rubio and Joan Bonvicini. His front office included Hall of Fame-level administrators such as John Perrin, Mary Roby, Rocky LaRose and Bob Bockrath.
Introduced at a news conference during football training camp in 1982, Dempsey spoke in realistic terms, not making grandiose promises.
"Our advantage is growth," he said. "Our disadvantage is the immediate lack of tradition and lack of national recognition."
That changed quickly. In March 1983, Dempsey hired Olson away from Iowa in a stunning 48-hour period in which the landscape and image of UA sports forever changed.
Somehow, Dempsey didn't back off even though he was diagnosed with lymphoma in 1985. When No. 1-ranked Arizona played host to the 1988 Pac-10 Tournament at McKale Center, I walked into a news conference at the Hilton East Hotel next to Dempsey. I was humbled by what I saw: His struggle with cancer had totally changed his look. He had lost 20 or 30 pounds. His hair had fallen out.
Yet he was the president of the NCAA Men's Basketball Selection Committee that year, moving forward as always. While undergoing chemotherapy treatments, he sometimes called administrative meetings in his hospital room.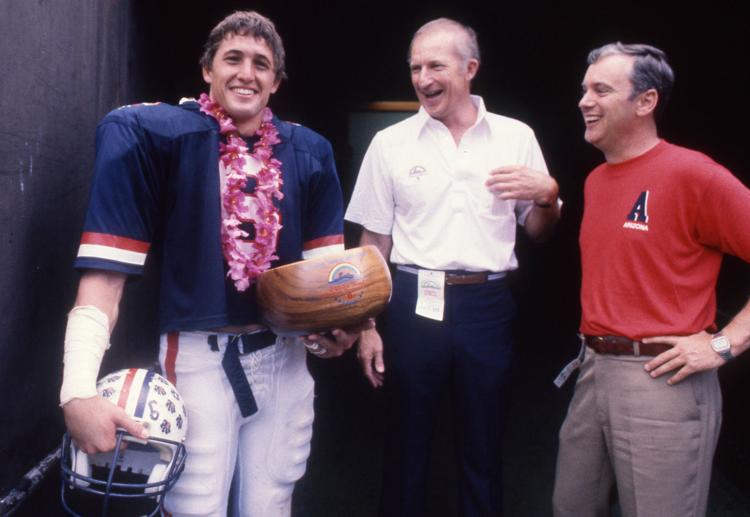 Dempsey's toughness can be traced to his boyhood, first in Equality, Illinois (population 800) and later, without a father figure in his life, living with his mother in Wayne, Michigan, near Detroit. He found work as a janitor and dishwasher. He wanted to be a baseball star — Hall of Famer Stan Musial was his idol — and he became a high school all-star.
But rather than accept scholarship offers at Michigan State or Minnesota, Dempsey chose to enroll at Albion College, where he would earn 11 letters, once scoring 38 points in a game and finishing second in the nation in rebounding. A three-sport star, Dempsey declined a chance to coach at a nearby high school and, later, at Adrian College, to pursue a doctorate degree at the University of Illinois.
That's when McKale encouraged UA athletic director Dick Clausen to hire the young man from Albion to be part of Arizona's staff.
Today, Cedric and his wife of 67 years, June, live in La Jolla, California. They are still going strong, even though Cedric has endured and survived three stubborn fights against cancer and two heart surgeries. Two of their three children, David in 1997, and Marcia, this summer, tragically died in Tucson.
In the spring of 2017, the UA hired Dempsey to help them find a new athletic director to replace Greg Byrne. Dempsey didn't have to go far; he identified Dave Heeke, the AD at Central Michigan. Heeke, too, is an Albion College graduate.
The legacy, from McKale to Dempsey to Heeke, grows.
Contact sports columnist Greg Hansen at 520-573-4362 or ghansen@tucson.com. On Twitter: @ghansen711