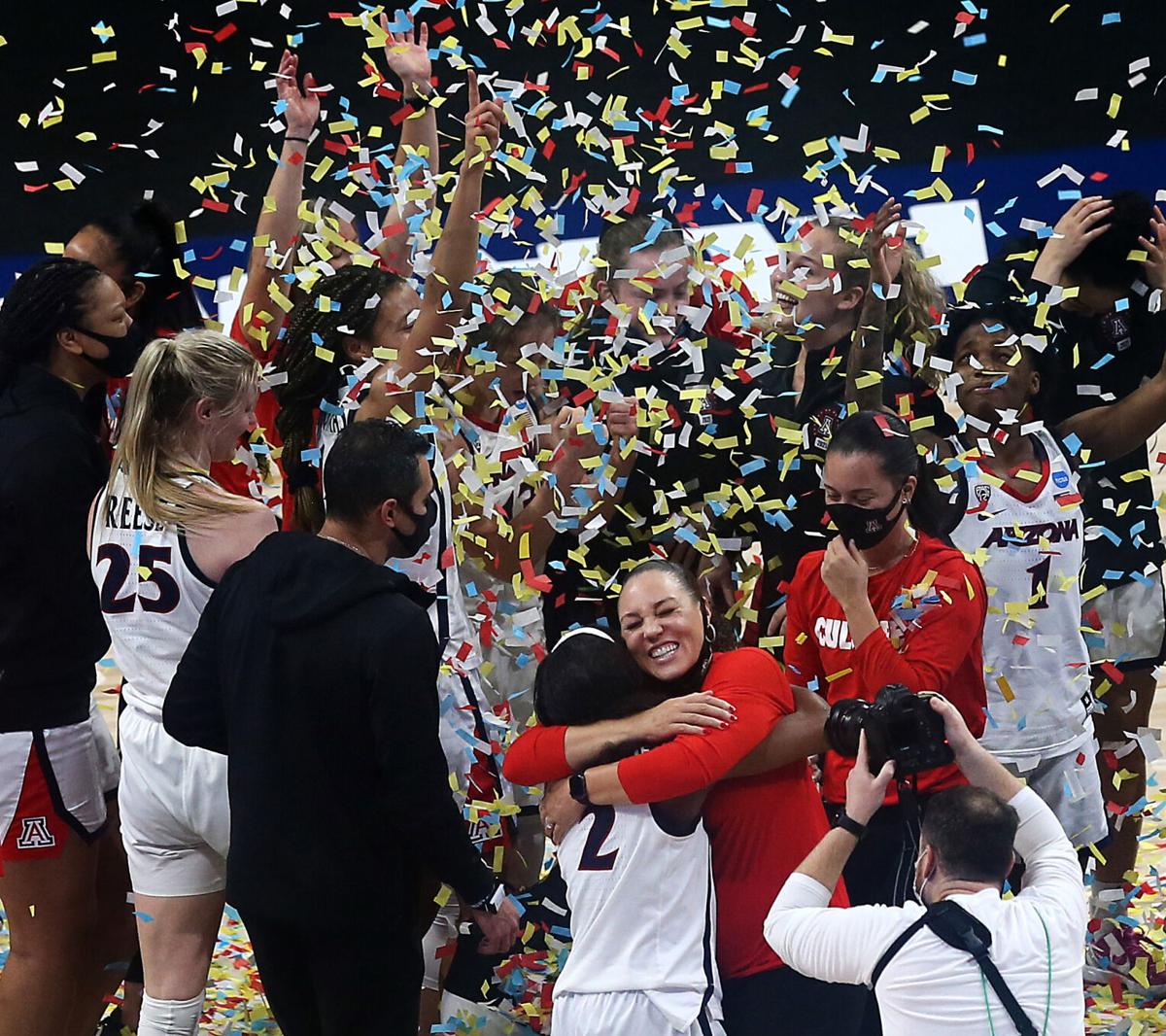 In her first 10 games of college basketball, Adia Barnes was suitably humbled. Arizona lost games by 52, 40, 24 and 18 points. The Wildcats had been picked to finish 10th in the Pac-10.
The losing so bothered Barnes, an undersized 5-foot-10-inch power forward from San Diego, that after a 64-40 loss to Oklahoma State in the 1994 Copper Bowl Classic, she couldn't keep it inside.
"I don't like to lose," she said. "I'm too competitive to take it. If it means I have to take a leadership role, I'll do it. I'm not afraid. I'm not intimidated."
Barnes had played in just five college basketball games. Her reaction was what rebuilding coach Joan Bonvicini was looking for — someone to carry the load and change the face of UA women's basketball.
By the time Barnes graduated in the spring of 1998, she was the Pac-10 Player of the Year and the No. 3 overall scorer in league history. The Wildcats had gone from 11-19 to consecutive seasons of 22-8, 23-8 and 23-7, reaching the Sweet 16.
"Adia is a winner," said Bonvicini. "I don't know what we would have done without her."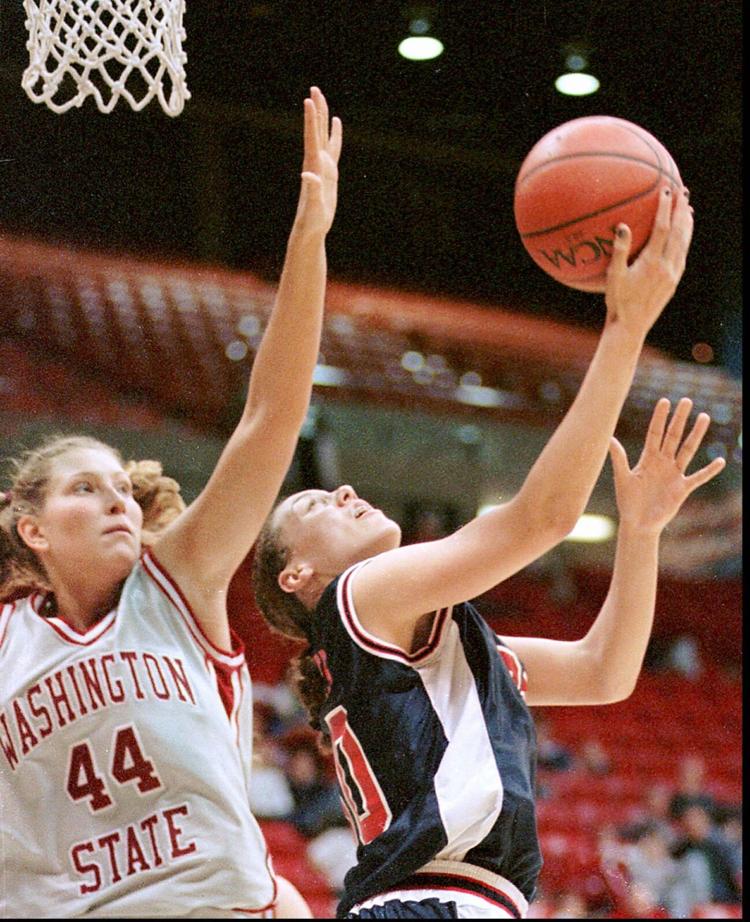 Barnes, No. 13 on our list of Tucson's Top 100 Sports Figures of the last 100 years, was not even Arizona's leading recruit of Bonvicini's second UA recruiting class in 1994. That was All-American Atina Brown of Kentucky's Sullivan Junior College, which had gone 37-2.
Brown struggled and left Arizona after one season. Barnes left a legacy that still glows.
Arizona ended 10 years of inept-level women's basketball under Barnes and Bonvicini, drawing more than 3,000 fans to a McKale Center game for the first time. The Wildcats ended Stanford's 48-game Pac-10 winning streak. They won the WNIT and played in the school's first NCAA Tournament in 1997. Barnes was a three-time All-Pac-10 choice, only the third in league history at the time.
Yet the growth of women's basketball in Tucson was often obscured by Lute Olson's run to the 1997 national title. Barnes' teammate, point guard Lisa Griffith, was at times dumbfounded that Barnes didn't get more attention.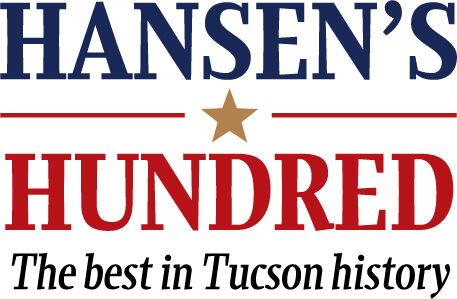 "Adia is so strong and steady, we even take her for granted," Griffith said in 1998. "Adia is never mentioned in the same breath as the men's players. I find that unbelievable considering the amazing things she has done."
Little did Tucsonans know that Barnes was not finished doing "amazing things."
In the spring of 2016, UA athletic director Greg Byrne moved to end 11 seasons of irrelevance in women's basketball by firing coach Niya Butts and conducting a national search for someone to compete with Pac-12 national powers Stanford, Oregon, Washington, ASU and UCLA.
A day after Washington completed its 2016 Final Four season in Indianapolis, Byrne offered Barnes the job. Some of her peers suggested she think twice about taking it. Arizona had the league's worst cumulative record over the previous 11 seasons. Others advised her to wait for a better opportunity.
But, as Barnes had said as a college freshman: "I'm not intimidated."
The UA program was in worse shape than Barnes imagined. The Wildcats went a combined 20-40 in her first two seasons. And then, in one of the most remarkable turnarounds in school history, Arizona won the WNIT in the spring of 2019, a string of six inspiring victories in which the Wildcats sold out McKale Center.
They were even better in 2020, climbing into the top 10 before COVID-19 shut down the postseason.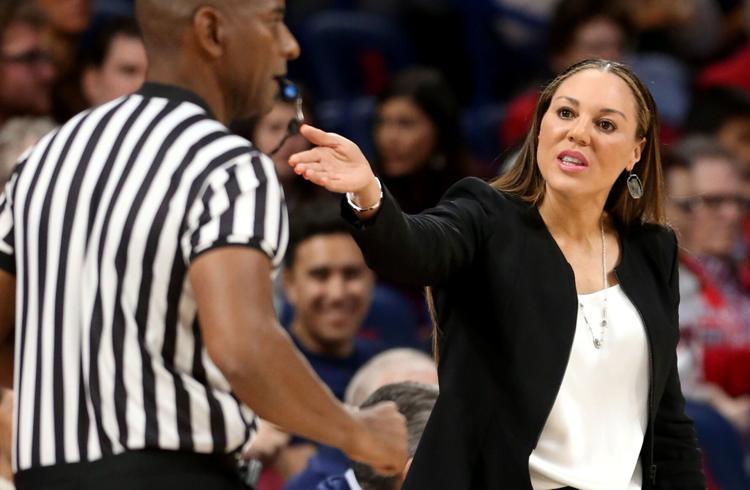 In April, Arizona stunned No. 1 UConn at the Final Four in San Antonio and had the last shot, a dream-like final possession, to win the national championship two days later against Stanford. Even though All-America point guard Aari McDonald's shot missed, Barnes' rise to power became a national story.
Arizona won 69 games in three years and has put together a recruiting class that projects the Wildcats to be a contender for the Pac-12 championship for the foreseeable future.
"There were times I had my doubts," said Barnes. "I don't think I've ever worked so hard in my life."
Barnes and her husband, Salvo Coppa, her lead assistant coach, have become Tucson's most visible couple. Somehow, while working to repair the school's women's basketball program, they raised two young children, Matteo and Capri, and didn't seem to miss a beat.
"What Adia has done is just remarkable," Stanford coach Tara VanDerveer said at the Final Four. "I don't think the average basketball fan appreciates how far they've come and how many obstacles they've overcome."
About 90 minutes before the Arizona-Stanford national championship game, I was in a long line outside the Alamodome waiting to go through a security and screening process. Adjacent to the media line were hundreds of fans, tickets in hand, waiting to be admitted. Adia's mother, Patricia, and her husband, Bruce McRae, were in that line.
About 35 years earlier, McRae had been Adia's basketball coach on a San Diego YMCA basketball team in which Adia was the only girl.
I walked over to shake hands with McRae, who became Barnes' stepfather when she was 7.
"We are just so nervous," he said. "But when I talked to Adia today, she wasn't nervous at all; she was ready. She's always been like that. I think they'll give Stanford their best shot."
And so the Wildcats did. If Tucsonans have learned one thing since 1994, it's that Adia Barnes is not afraid.
Contact sports columnist Greg Hansen at 520-573-4362 or ghansen@tucson.com. On Twitter: @ghansen711