The book on Mike Dawson is that he was a gentle giant, a 6-foot-4-inch, 250-pound, once-in-a-generation football star who, in the words of his former Tucson High School teammate Will Kreamer, was "very quiet … unassuming … never said a word in the huddle and very little in the locker room."
But Dawson was driven to succeed, so much so that after his three seasons of overwhelming success at Tucson High — 31-2 overall, with back-to-back state championships as a first-team Parade Magazine All-American — that he staged an epic tantrum as an Arizona freshman.
After sitting on the bench the first two games of his freshman season, 1972, Dawson made his first collegiate start against Washington State. The UA lost 28-6. When Dawson reached the Wildcat locker room, he saw several teammates joking around.
He smashed his helmet to the floor, yelled at those who didn't appear to feel the sting of a humbling defeat, took off his uniform and threw it into the shower.
"I don't want to play for a team of happy losers," he shouted.
Even as Dawson began to emerge as an impact player, the Wildcats kept losing. At year's end, a 38-21 loss to ASU, it was inevitable that coach Bob Weber would be fired. Walking off the field after the Territorial Cup loss, Dawson told defensive coordinator Sharkey Price: "Coach, wherever you go next year, I'm going with you."
New UA coach Jim Young wisely kept Price on his staff. "We're going to win," Young said in his first team meeting. And in one of the great turnarounds in UA sports history, Arizona went 8-3, 9-3 and 9-2 the next three seasons.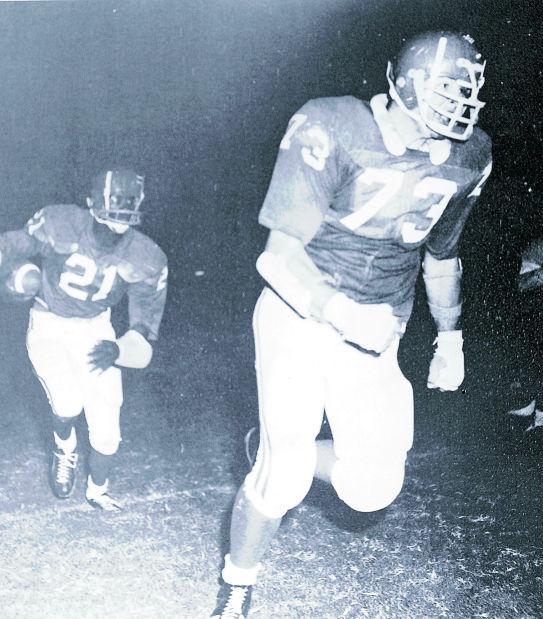 No one was more responsible than Dawson, No. 36 on our list of Tucson's Top 100 Sports Figures of the last 100 years. In 1975 he became a second-team AP All-American, then the highest honor ever awarded a UA football player. In 1976, he became the first Tucsonan selected in the first round of the NFL draft, going to St. Louis with the 22nd overall pick.
Dawson played nine NFL seasons and went to training camp for a 10th year before an injury ended his career in 1985.
It didn't take college football's elite recruiters long to find Dawson. His brother, Bill, was the equivalent of today's five-star recruit in 1966, an all-state lineman and wrestler at Tucson High who ultimately chose to play at Michigan State.
So when Mike played for coach Ollie Mayfield's 12-0 and 11-1 state champions of 1970 and 1971, most top schools noticed. He was offered scholarships by USC, Oklahoma and Texas — and even by ASU's legendary Frank Kush.
He chose Arizona, telling the Tucson Citizen: "I want to give our state a good football team."
After ending ASU's long domination of the Territorial Cup series in 1974, beating the Sun Devils 10-0, Dawson was elated.
"My biggest thrill in college football was beating ASU in 1974," he told me 20 years later. "We never let them get past the 45-yard line."
Dawson was such a hometown hero that his mother, father and five sisters attended all of his Tucson High games. His father, William, was a mail carrier for 31 years.
"I've always thought that Bill, at the high school level anyway, was more dominant than Mike," says Kreamer, a longtime Tucson prep football coach who was Dawson's teammate on THS' 1970 state title team. "Guys that I have talked to say Bill had a rough, almost mean edge to him when he was on the field, which was completely opposite of his personality off the field.
"One picture etched in my mind was Mike in the huddle. Because I was the right guard and Mike played right tackle we stood next to each other, and the snapshot I have in my mind is Mike being so tired because he played both ways, having his hands on his knees trying to keep his head up in the huddle.
"Then, at the snap, he'd (start) completely obliterating people. And he did this play after play. He was so mentally tough that fatigue did not make him a coward, as Vince Lombardi would say. I think maybe this quality along with his God-given abilities helped him excel in college and the NFL."
After retiring from the NFL, Dawson returned to Tucson and opened a sports bar on Oracle Road, owned a landscaping company and later worked for an industrial supply and distribution company. He was an assistant coach at Pueblo, Mountain View and Marana high schools.
"He was the most reliable guy," Mountain View coach Paul Schmidt told me. "He wouldn't accept a penny."
Sadly, Dawson died of a heart attack in 2008. He was only 54.
"He's the kind of guy who didn't have any enemies," his brother, Bill, said then. "He was such a kind soul."
Contact sports columnist Greg Hansen at 520-573-4362 or ghansen@tucson.com. On Twitter: @ghansen711