Tucson's version of "Friday Night Lights" were illuminated in the fall of 2007 when a freshman running back from Canyon del Oro High School burst to prominence like few in the previous 100 years of prep football here.
"I saw the video of him scoring seven touchdowns in a freshman game," said then-CDO coach Pat Nugent. "On the last one, he did a full gymnastics-type flip over a tackler, landing into the end zone. He's something else."
Jeff Scurran, then Santa Rita's football coach, phoned one Saturday morning to say "you've got to get out to see that kid from CDO."
Ka'Boom! Over the next seven years — four at CDO and three at Arizona — Ka'Deem Carey gained 9,941 yards rushing.
Carey, who is No. 52 on our list of Tucson's Top 100 Sports Figures of the last 100 years, gained more yards rushing, 5,702, than any high school running back in Tucson history. He enrolled at Arizona and became the UA's No. 1 rusher in history, with 4,239 yards — and 48 touchdowns — before entering the NFL draft after his junior season.
"He benefits from playing in (UA coach) Rich Rodriguez's system," said Colorado coach Jon Embree, "but there are still 11 players out there keying on him, and he still gets his yards."
Embree knew that better than any other Pac-12 coach. In a November 2012 game at Arizona Stadium, Carey broke the Pac-12 record, rushing for 366 yards in Arizona's 56-31 victory. Carey had gains of 71, 65, 30 and 26 yards that afternoon.
Afterward, Carey said he woke up that morning with "a good feeling."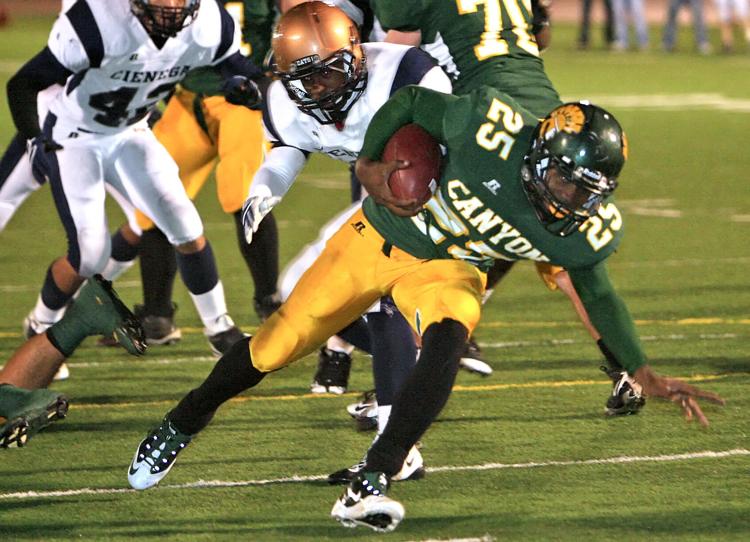 "I said, 'I want to set the school record.' I didn't tell no one, though."
It didn't take long for word to spread. Carey became a two-time consensus All-American and was the 2013 Pac-12 offensive player of the year.
The nephew of former UA All-Pac-10 running back Vance Johnson, a three-time Super Bowl receiver for the Denver Broncos, Carey successfully carried on the family's football greatness.
As good as Carey was at Arizona, his four years at CDO might have been better, if that's possible.
He helped the Dorados to the 2007 state championship game, returning a kickoff 91 yards for a touchdown. A year later, as his reputation became known statewide, Carey rushed for 299 yards against three-time defending state champion Scottsdale Saguaro, breaking Saguaro's 37-game winning streak.
His best game was probably the night he rushed for 427 yards in the state playoffs to beat Glendale Apollo.
CDO won the state championship in 2009, Carey's junior year, rushing for 268 yards and finishing a perfect 14-0. As a senior, Carey's Dorados again reached the state title game. His final total of 5,702 rushing yards was ranked No. 2 in state history.
After three seasons with the Chicago Bears, Carey signed with the CFL's Calgary Stampeders. The 2020 season was canceled by COVID-19 issues, but he is expected to be on the Calgary roster when the CFL season begins Aug. 7.
Contact sports columnist Greg Hansen at 520-573-4362 or ghansen@tucson.com. On Twitter: @ghansen711