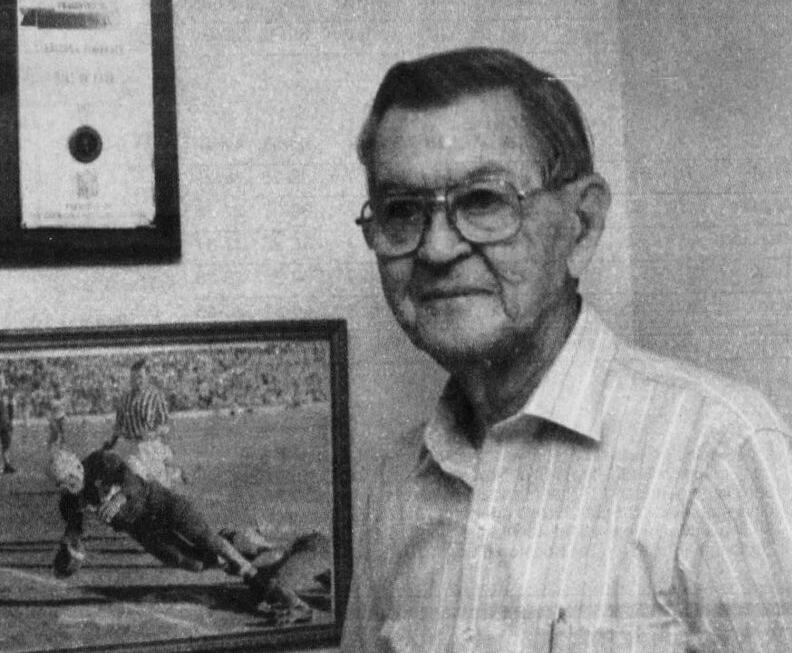 Ralph Deal once saw himself as the eventual replacement for Arizona quarterback John Salmon, also known as Button Salmon, the "Bear Down'' legend.
But on Saturday, Oct. 2, 1926 — the day Salmon played his last game for the Wildcats — Deal dislocated his kneecap in a freshman-vs.-varsity game on the UA campus. His football career was all but over.
Salmon was mortally injured the next day in a one-car turnover near Florence and died Oct. 19.
Three months later, in January 1927, Deal climbed a large ladder and boosted himself onto the roof of the new Bear Down Gymnasium. A school employee had traced the outline of "BEAR DOWN" on the roof of the arena. Deal was handed a paint brush and dipped it into a large vat of blue paint.
He painted the B. It has been visible for 94 years.
I sat in Deal's living room in the summer of 1990 and listened as he told the story of Button Salmon and the Bear Down legend. He choked up. So did I. Deal insisted that UA coach Pop McKale did not exaggerate when telling the '26 Wildcat football team that Salmon's last message to his football teammates was "Tell the team, tell them to Bear Down.''
"I believe Pop because that was like Button,'' Deal told me. "He was such an unselfish boy. He was so popular. Did you know he was the student body president? The 'Bear Down' slogan meant a lot to us in those days. Pop put a lot of emphasis on it for the next 40 years.''
Deal returned to the UA football team in 1927, played sparingly, limping on a bad knee. But he went on to make such an impact on Tucson sports that his beloved teammate, Button Salmon, would have been impressed.
Deal, the No. 88 selection in our Top 100 Tucson Sports Figures of the last 100 years, spent almost 49 years as the UA's director of purchasing. It was what he did when not working 9 to 5 that left a mark on the sports community.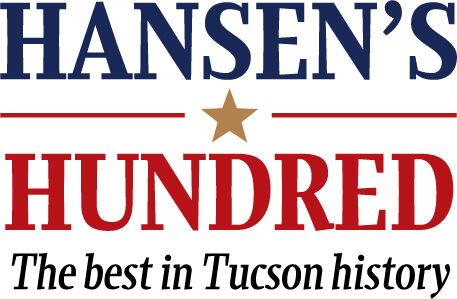 He became the director of football officials for the Border Conference and a pioneer among high school football referees in Arizona. He estimated he worked 15 state championship games and more than 500 football games in his career.
"A typical schedule for me might be to work a six-man football game at Patagonia on a Friday afternoon, and then hurry to Bisbee to work a varsity game later that night. And on Saturdays, I'd work an Arizona or ASU game, or sometimes a game at New Mexico or in El Paso,'' he told me. "Pop McKale got me started in 1937. I had so much fun.''
Many of the ranking Tucson sports officials of the 20th century, from Bobby Rauh to Dean Metz, were inspired by Deal. But that was only part of Deal's signature in Tucson sports.
He was the UA's official scorer for all basketball games at Bear Down Gym for almost 30 years. When the Wildcats won 81 consecutive home games in the late '40s and early '50s, Deal was the official scorer at all 81 games.
When Tucson High School set a state record by winning 32 football games in succession, Deal was the head referee at No. 32, in the state playoffs against Glendale. He officiated Arizona's long-awaited 1948 bowl game, the Salad Bowl — its first bowl game in 27 years.
When the Wildcats went 8-1-1 in 1961, probably their best season until Dick Tomey's 12-1 team of 1998, Deal operated the downs-marker at all home games. And although he retired from officiating that year, he didn't miss a home game at Bear Down Gym or Arizona Stadium until the early 1980s.
Among the many newspaper clippings he pasted into a scrapbook, he had a photograph of him and his wife, Violet, devout season ticket-holders sitting in Row 9 in the first game in McKale Center history.
Deal might not have been the only person to attend the first games ever played at Bear Down Gym, Arizona Stadium and McKale Center, but the number has to be in the single digits. He was surely the most easily identified by UA fans.
Deal was an up-close witness to how college athletics changed from small-time community gatherings to big-money, win-at-all-cost events.
"The emphasis on winning and losing is so much more today," he said in 1990. "There's only one place where it's the same — you had to beat ASU."
Contact sports columnist Greg Hansen at 520-573-4362 or ghansen@tucson.com. On Twitter: @ghansen711