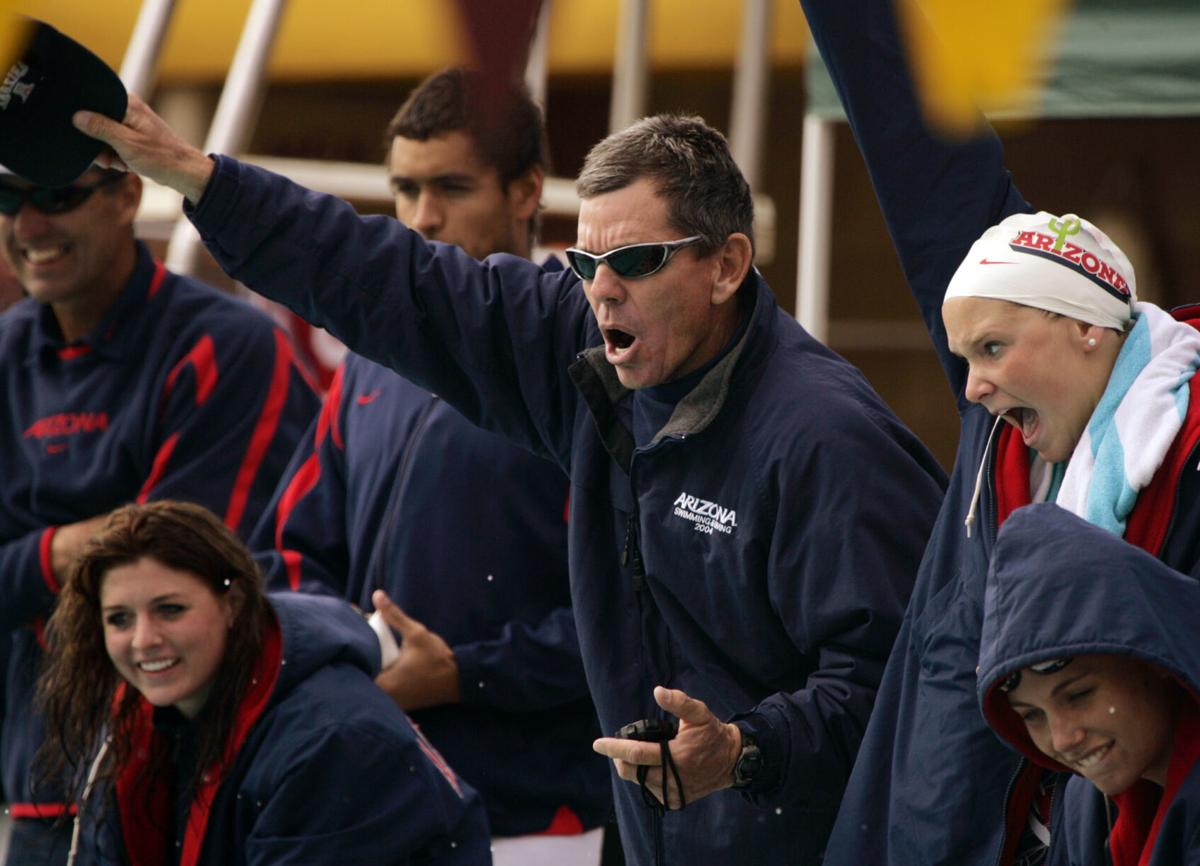 During the first week of Arizona's 2008-09 school year, about 60 UA swimmers, male and female, walked across campus from the Hillenbrand Aquatic Center to the steps of Old Main. Dressed in swimming gear, they carried two impressive pieces of hardware — the 2008 men's and women's NCAA championship trophies.
UA coach Frank Busch, who declined to be part of the photo, watched from a few yards away as NCAA champions like Lacey Nymeyer, Annie Chandler, Lara Jackson, Marcus Titus, Cory Chitwood and Jean Basson squeezed onto the old and narrow stairway.
The finished product was (and remains) the photo of a lifetime; a forever-classic used on the cover of the school's 2008-09 swimming media guide and widely distributed to those in the swimming community.
In the period of eight magical days in March 2008, Busch coached the UA men's and women's swimming teams to NCAA championships. The men won in Seattle, the women a week later in Columbus, Ohio.
It was only the second time in NCAA history that one coach had led men's and women's swimming teams to national titles in the same season.
Busch, No. 9 on our list of Tucson's Top 100 Sports Figures of the last 100 years, was six times selected the NCAA Coach of the Year during his storybook UA career, 1989-2011. He was 11 times the Pac-10 Coach of the Year.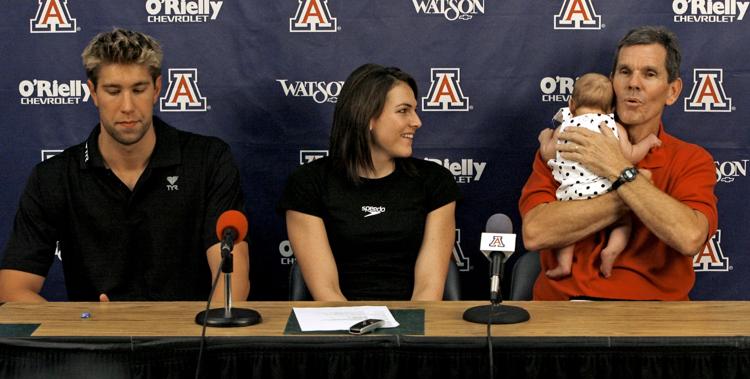 The numbers are dazzling: He coached 42 Olympians, from gold medalists Ryk Neethling, Roland Schoeman, Amanda Beard and Beth Botsford to three NCAA Women of the Year, Lacey Nymeyer, Justine Schluntz and Whitney Myers.
But the numbers didn't and don't define Busch's remarkable coaching career. It was the way he bonded with his swimmers, creating a team-first atmosphere that enabled him to challenge seemingly invincible Stanford as the league's top swimming program for 20 years.
"Frank's the consummate good guy," 1992 gold medalist Crissy Ahmann Perham told me. "He's one of those guys who makes you feel good about life. He always found a way to inspire me."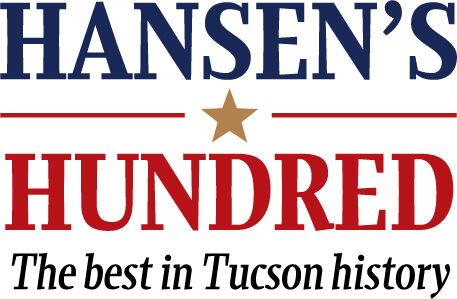 Perham established a lifetime bond with Busch and his wife, Patty, who visited the Perhams at their homes in Dallas and outside of Sante Fe this year. Perham's son, Ryan, is now one of the UA's leading swimmers, developing under head coach Augie Busch, one of Frank and Patty's five children.
Busch's journey to Tucson reads like a fiction novel, but it's true.
He began coaching at 16 at his neighborhood swimming compound in Edgewood, Kentucky. His father, Frank Sr., was a developer and builder who erected a 40-meter pool in the family's Brookwood neighborhood in the 1960s. At 16, Busch, then a notable high school swimmer, took over the city-league team after the adult coach moved on to another job.
He coached for the next 45 years before leaving Arizona to become national team director for USA Swimming in Colorado Springs.
In the '80s, Busch coached the University of Cincinnati men's and women's swimming teams on two-thirds of a typical NCAA swimming budget. His teams regularly finished in the top 20, but limited by spartan facilities and little money, he knew he had reached the limit.
"I was going to get out of coaching," Busch told me. "I was a minority partner in a building and construction business."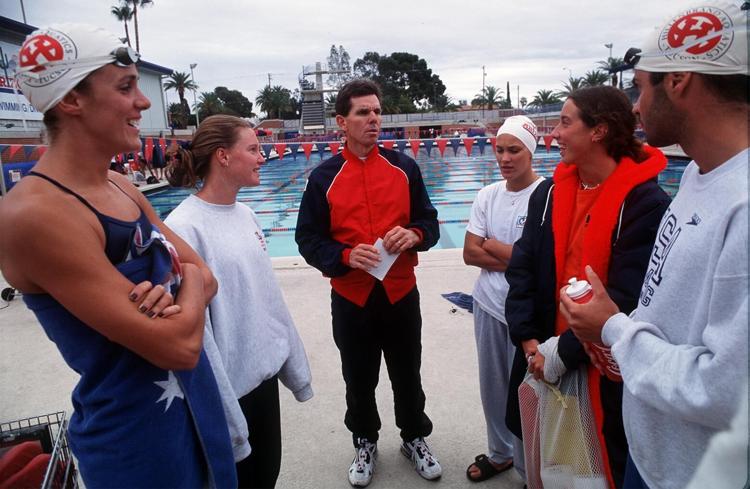 When Arizona's coaching job opened in midseason 1989, Busch mailed a résumé. He didn't hear from the UA for six weeks. So he phoned senior women's administrative leader Mary Roby and asked about the selection process.
"You're one of 12 under consideration," Roby said. Two weeks later, she phoned and invited Busch to fly to Tucson to be interviewed. Arizona chose him over Cal's NCAA championship coach Nort Thornton.
Four years later, with swimmers such as Perham and national champions like Ashley Tappin, Chad Carvin, Seth and Martin Pepper setting a foundation for unexpected excellence, Busch became the NCAA Coach of the Year.
Busch's swimmers came to know him as something like swimming's version of Franklin D. Roosevelt and his fireside chats. Busch would sit poolside before and after workouts, talking about life, not swimming. His calm demeanor and ability to relate to 20-year-olds was certainly a big part of his success.
He insisted his swimmers call him Frank, not coach.
Other big-money schools hoping to improve their swimming operations noticed. Both USC and Florida made it known Busch could have become their head coach. He declined, nor did he use it to leverage his salary.
"That wouldn't have been honest," he told me.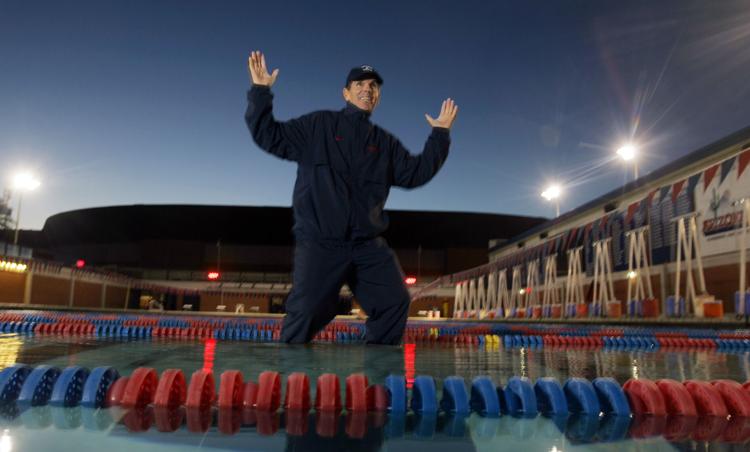 After leaving Arizona, Busch oversaw the USA Swimming teams that dominated the 2012 London Olympics and 2016 Rio de Janeiro Olympics. He stepped down four years ago and returned to Tucson, bonding with Tucson auto dealer Jim Click, helping Click operate his vast philanthropic ventures.
Contact sports columnist Greg Hansen at 520-573-4362 or ghansen@tucson.com. On Twitter: @ghansen711