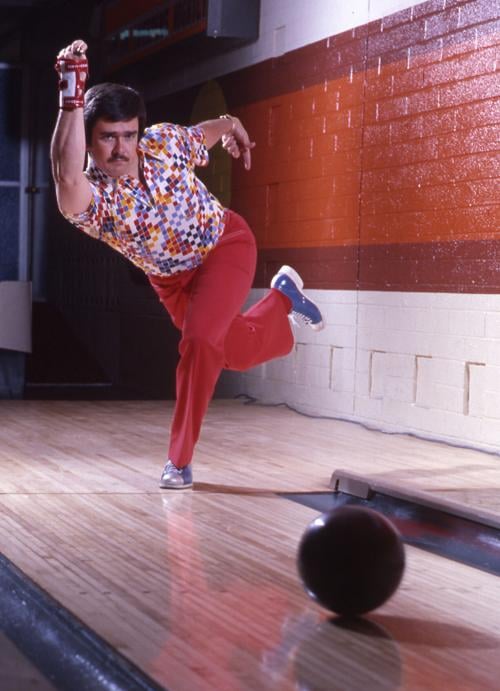 Thanks to modern technology, someone rescued 14 minutes of video from the 1976 PBA National Championships from the Leilani Lanes in Seattle and made it available on YouTube.
Longtime Tucsonans may recognize the man wearing an orange bowling shirt and John Daly-type pants: orange, red, black, white, green, yellow. CBS commentator Brent Musburger called Paul Colwell's bowling outfit "spectacular."
Yes, CBS used to broadcast pro bowling every weekend. Yes, Brent Musburger was the voice of the PBA Tour. Yes, Paul Colwell was such a good bowler that in 1991 he was inducted into the PBA Hall of Fame.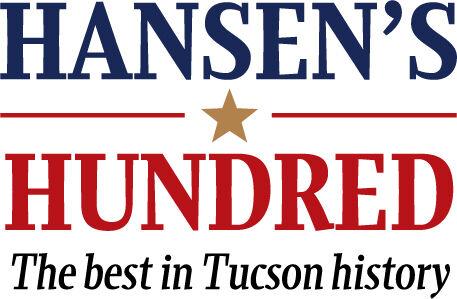 The most compelling part of the 1976 PBA National Championship was that Colwell bowled in the nerve-wracking finals against Dave Davis, a match that ended with both men rolling 191s.
The match reached overtime when Colwell rolled what is probably the most famous blunder in pro bowling history — a gutter ball. It's like the leader of the Masters whiffing on his approach shot at the 18th green at Augusta National.
An audible gasp from the overflow crowd at Leilani Lanes suggested that the Catalina High School graduate — the most successful bowler in Tucson history — had choked at the worst possible time.
But Colwell, No. 90 in our list of the Top 100 Tucson Sports Figures of the last 100 years, knocked down all 10 pins on his second shot, a spare that sent the match into overtime. Colwell reacted by falling to his knees and burying his head into his hands.
He won in overtime by one pin.
Colwell told me about the gutter ball a few years ago, and I thought he was exaggerating. Maybe he got a 7-10 split or some other wrong-time, wrong-place shot.
"My nerves just got the better of me for a second," he said.
He was paid $9,000 for winning the 1976 national championship.
If anyone in Tucson sports ever seemed destined for success as a professional athlete it was Paul Colwell. His father, Ottis Colwell, built an exact replica of a bowling lane in the family's backyard on east Grant Road. Made out of cement, the "Colwell Family Bowling Center" was built in 1957. Paul was 7. He and his Catalina High bowling buddy, Walter "Butch" Rice, must have bowled a thousand games in the Colwell backyard.
Both became prominent on the Tucson bowling scene, but Colwell took it one step beyond. When his average reached 201 in 1969, he successfully raised $3,900 from 13 local sponsors — each donating $300 for his expenses for his rookie season, a 12-week PGA Tour journey.
Let's just say it worked famously.
When he retired from full-time bowling 20 years later, Colwell was inducted into the PBA Hall of Fame after winning nine tour events and five ABC titles — including the 1974 ABC Masters, the sport's equivalent of golf's Masters.
It all began when he was paid $600 for winning the Tucson Squirt Open in 1969 at the old Kegler's Lanes.
Today's bowlers would not relate much to Colwell. He bowled 11 perfect 300 games through 1994. That was sacred turf in bowling, at any level. But technology has changed bowling so dramatically that rolling a 300 game or posting an 800 series (over three games) is no longer considered big news.
If you bowled 300 from 1950 to 2000, the bowling alley called the local newspaper and put a plaque with your picture on the wall. The American Bowling Congress recently published data that said there were 905 perfect games in 1970, sanctioned league-game perfectos. But in 2010 the number was 34,470.
The composition of bowling balls has totally changed. Bowlers spin the balls with so much more revolution — not unlike today's major-league pitchers — that there is more explosive pin action. And the surfaces of bowling lanes are polished and oiled with 21st century products not available during Colwell's prime.
About the only thing that has not changed is that Paul Colwell's excellence of the 1970s and 1980s has not been matched in Tucson bowling history.
Contact sports columnist Greg Hansen at 520-573-4362 or ghansen@tucson.com. On Twitter: @ghansen711