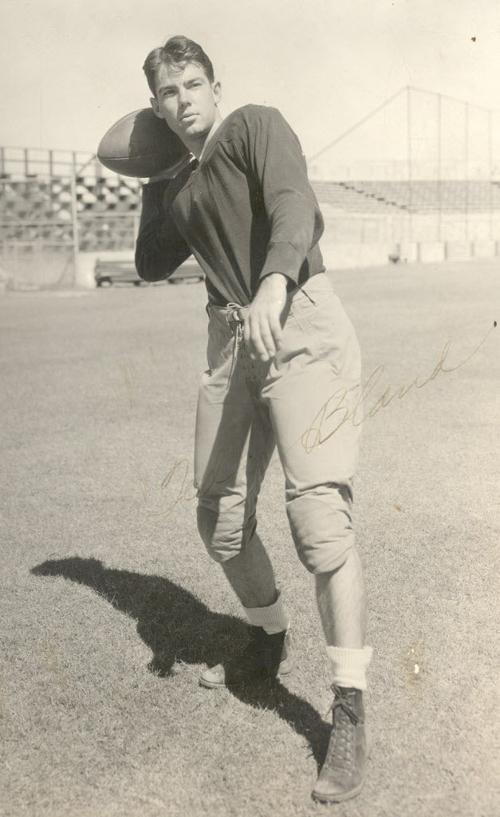 On the early evening of Oct. 20, 1944, Allen Bland and his wife Iris answered a knock at their front door near the University of Arizona. A man in uniform from the U.S. Army and a chaplain did not bring good news.
Their oldest son, Ted — a lieutenant in the 36th Infantry Division — had been reported missing after a fierce battle with German troops near the Moselle River in Epinal, France.
Allen and Iris Bland were used to statistics. They rarely missed a game when Ted was a first-team All-State football and baseball player at Tucson High in 1931 and 1932, and to that time, the greatest quarterback in UA history.
But the statistics from the 36th Infantry Division were terrifying. By the end of World War II, 1,523 soldiers of the 36th Infantry Division had been killed. Another 8,480 were wounded and 1,056 missing.
They hoped against hope that Ted Bland — known affectionately to UA football fans as "Mighty Mite" — was one of the 179 who had been captured that bloody day in France.
A month later it was confirmed that Vernon Nelson "Ted" Bland had been killed. He was 29.
News of Bland's death devastated Tucson sports fans.
Corporal Hank Squire, a Tucson Citizen reporter, had been Bland's teammate at Arizona from 1933-35, a period in which Bland became the school's first-ever All-American and, in 1935, the most prolific player on coach Tex Oliver's famed "Blue Brigade."
Squire typed a column about his teammate and mailed it to the newspaper.
He described Bland as "the little guy around whom the whole machine was built." He suggested that a memorial be built in his name at Arizona Stadium.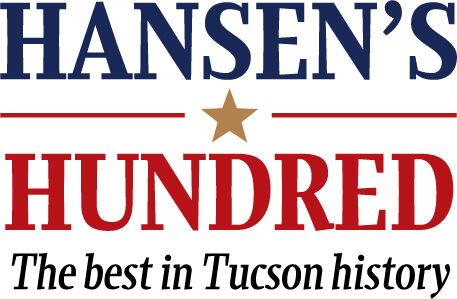 Squire wrote that in 1935 the UA added 3,000 bleacher seats to accommodate the fans who showed up to cheer for Bland. "The crowd loves him," he wrote. "He is the most highly-publicized player the University of Arizona has ever known."
And he wrote that when Arizona defeated Drake 53-0 in his last game as a Wildcat, November 1935, that Bland received "the greatest standing ovation ever accorded a University of Arizona athlete."
"The little guy who had the courage of a giant fell into the coach's arms and wept," he wrote.
Arizona inducted Bland into its Sports Hall of Fame in 1980, and placed his name on the top row of the Ring of Honor at Arizona Stadium. Now, 86 years after he last played for the Wildcats, Bland's name is unfamiliar to most of those who sit at Arizona Stadium.
In 1999, I was fortunate to visit with Ted's youngest brother, George Bland, a retired Tucson oral surgeon and former state championship baseball player at Tucson High School. George carefully lifted a box from a closet and unfolded a letter he had written to his parents in the spring of 1945, sitting under a tree at the cemetery in Epinal, France, where his brother had been buried six months earlier.
"It's so beautiful here," George Bland wrote that day. At the time, George was recovering from wounds to his legs and lower back as he prepared to fight in the dreadful Battle of the Bulge, in Belgium. In some ways, the wounds of World War II stayed with George Bland the rest of his life.
Before Ted Bland was inducted into the Army, he played two seasons of minor-league baseball for the New York Giants, worked for the railroad and, ultimately, the FBI, based in El Paso.
"Ted was just finding himself when World War II broke out," George told me. "I'm 11 years younger and we were just starting to get to know one another. Even after all these years, it's just hard to get it out of my mind sometimes."
Contact sports columnist Greg Hansen at 520-573-4362 or ghansen@tucson.com. On Twitter: @ghansen711