More than 20 years before high school softball teams from Tucson won the first of their 54 state championships, Billie Frances Harris had pitched more than 70 no-hitters.
An exact count? No one will ever know, because Harris, a lefty from Tucson High, played fast-pitch softball before statisticians kept track of every inning pitched and strikeout.
One of five children of Noble and Arlillian Harris, a Black family who moved from Texas to Tucson in 1943 in search of a more racially diverse culture, Billie became the first Black female athlete to play in organized softball in Tucson.
Little did she know she would become known as the "Jackie Robinson of softball" in this state, a key part of the renowned 1950 Tucson Sunshine Girls softball team that included local women's sports icons Mary Hines, Betty Holloway and Serafina Grace. And far beyond.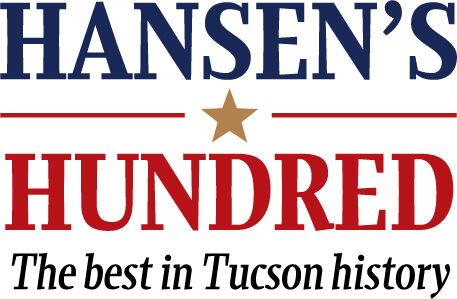 Now 87 and living in Phoenix, Harris has been recognized for a half-century of softball excellence, beginning with the determination and courage that saw her overcome racism and lack of opportunity. She has been inducted to the following:
The Arizona Sports Hall of Fame;
The Pima County Sports Hall of Fame;
The Tucson Softball Hall of Fame;
The ASA Softball Hall of Fame;
The USA Senior Softball Hall of Fame.
She played in her own version of the famous Hollywood movie "League Of Their Own." In 1969, she was named MVP of the ASA national softball championships, an 18-time All-Star playing mostly in the Pacific Coast Women's Softball League.
Self-taught, Harris began playing softball with the Sunshine Girls of Tucson in 1948, which won Southwest League championships for five consecutive years. At one point in 1953, she pitched four straight no-hitters.
But not all went without a hitch. She was unable to play in the 1954 national championships because she was told there would be racial violence if she accompanied her Arizona teammates.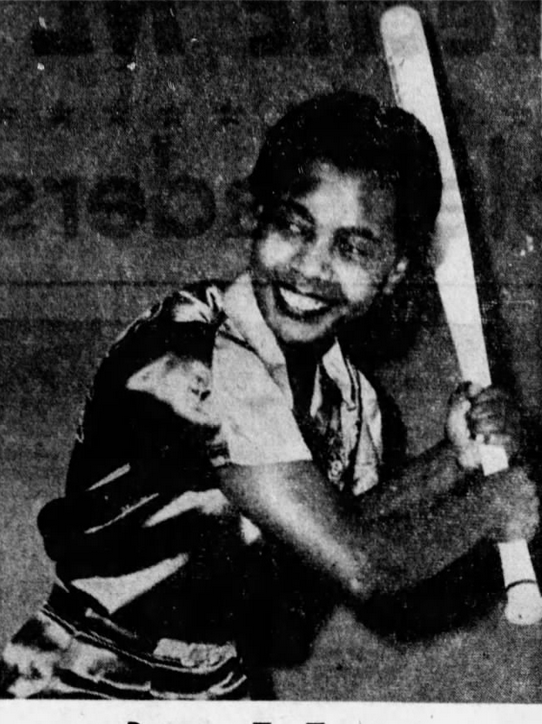 In a 2019 interview with Fox Sports Arizona, Harris said: "I never let much of the segregation bother me. It was tough, but I would go through whatever it took to play."
She worked as a photographer, a custodian, and at a community theater, often singing the national anthem before softball games.
Harris' reputation has grown so much since she retired at 74 — yes, she played until she was 74 — that she has thrown out the first pitch at an Arizona Diamondbacks game.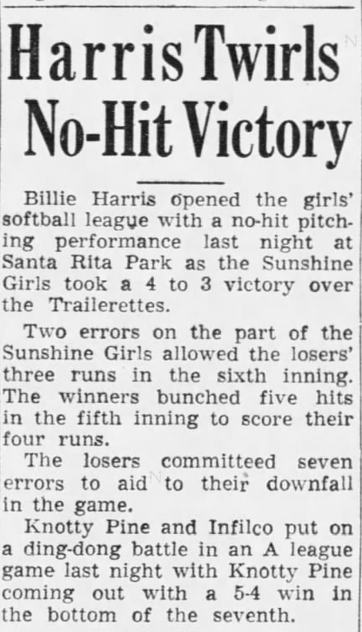 No stranger to college softball, Harris has attended the Women's College World Series in Oklahoma City on multiple occasions, watching her hometown Arizona Wildcats win the national championship.
In a 2020 interview with Justin's World Softball, Harris said that her softball career began innocently. She saw a magazine that promoted and advertised the Arizona Ramblers and the A-1 Queens, the state's elite fast-pitch teams of the '40s and '50s.
"Somebody saw me practicing on the side of the road and asked if I wanted to try out for a team called the Sunshine Girls," Harris remembers. "I said 'yes' and I did, and I got a spot on the ball team."
Talk about being "all-in." Harris played competitive softball until 2007.
"It was the love of my life,'' she said.
Contact sports columnist Greg Hansen at 520-573-4362 or ghansen@tucson.com. On Twitter: @ghansen711