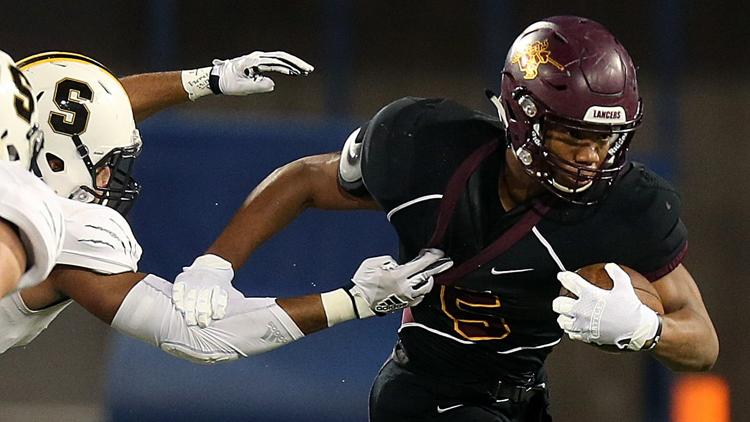 In what has become a long, hot summer for Arizona's football program, the Wildcats whiffed on Salpointe Catholic's Big 3 — lineman Bruno Fina, running back Bijan Robinson and safety Lathan Ransom.
That's unsettling, but also indicative of a football program that has contended for just one Pac-12 championship since 1998 and has been coached by five men in 20 years.
More troubling than Fina, Robinson and Ransom choosing to play elsewhere — hey, this is 2019, millennials are connected to a wider world than prospects of the 20th century — is that none listed Arizona among their final three choices.
All were in the middle of their sophomore years when Kevin Sumlin was hired, so lack of time is not an excuse. The UA had plenty of time to tap into the most highly coveted recruiting class at a Tucson school since the 1970 Tucson High Badgers produced seven Division I signees.
Few things look worse than a player of Fina's stature, a legacy recruit, son of Arizona 1991 all-conference second-team tackle John Fina, not including Arizona in his list of finalists — UCLA, Boston College and Yale.
But I'll admit there is significant precedence of elite Tucson recruits choosing not to play football at Arizona. Amphitheater's Tamoni Joiner chose Oregon. Fellow Panther Steve Doolittle chose Colorado. Sabino's Brady Doe chose Purdue. Santa Rita's Eric Drage chose BYU.
Tucson's top prospect of the 1950s, Tucson High quarterback Art Acosta, chose Michigan State over Washington and Utah.
Tucson's top prospect of the 1960s, Tucson High lineman Bill Dawson, chose Michigan State over Nebraska.
When the unbeaten Badgers won the 1970 state title, possibly the top team in Tucson history, the most coveted prospect, running back Derral Davis, chose Oklahoma before returning to play at UA. A decade later, 1981, Sunnyside's Freddie Sims, a mega-talent, also chose the Sooners over Arizona.
Arizona has been slow to act on some wonderful prospects for what seems like forever.
In 1976, Arizona did not immediately offer Catalina High linebacker Steve Budinger a scholarship. Once Stanford coach Bill Walsh heard that — yes, that Bill Walsh – he flew to Tucson and got a commitment from Budinger, who was an immediate standout at Stanford and progressing toward the NFL until he was seriously injured in a car accident.
Sometimes there have been mitigating forces.
In 1981, Notre Dame came to Tucson and successfully signed Parade All-America linebacker Rock Roggeman, even though Rock's father, Tom Roggeman, was part of the UA football staff. But the Roggeman family had grown up in South Bend, Indiana, and the appeal of the Fighting Irish was too great to resist.
In 1985, UCLA arrived in Tucson to recruit Canyon del Oro linebacker Craig Davis, the equivalent of today's four-star recruits. Davis became a starting linebacker for the Bruins. Why? He had grown up a UCLA fan in Culver City, California, before moving to Tucson.
In 1995, Ohio State — Ransom's college choice — successfully recruited Catalina Foothills tackle Joe Brown, a future NFL player, away from Arizona. How'd that happen? Brown's father, Ron, was an Ohio State alumnus whose Buckeye blood ran deep in the family.
And at the height of Dick Tomey's power at Arizona, Sabino lineman Mike Saffer chose UCLA over the Wildcats. Saffer might have been Tucson's top line prospect since Tucson High's Dawson brothers 50 years ago. How did Arizona lose Saffer? His father, Don, had played on John Wooden's UCLA national championship teams of 1967 and 1969.
No matter the history, this looks bad for Arizona. The perception is that there's not much local interest in what has been a vanilla football program at the school.
As Tucson has painfully learned many times in college football recruiting, the old "Wizard of Oz" tenet — "there's no place like home" — doesn't always apply.