The Star columnist explains why the Arizona Wildcats are better off with Chip Hale than Jay Johnson. Plus, a look at four golfers having summers to remember, Laura Ianello's national reputation and the UA adjusting to the NIL era. 
---
Given the retrospect of a half-century, Arizona "traded up'' the last time it replaced its head baseball, basketball and football coaches in the same school year, 1971-72.
Football's Jim Young went 31-13 and began to take down ASU's long dominance after replacing Bob Weber.
Basketball's Fred Snowden established Tucson as a basketball town, reaching its first NCAA Tournament in 24 years when he replaced Bruce Larson.
Baseball's Jerry Kindall did something his predecessors Pop McKale and Frank Sancet couldn't do, win a national championship. Three of them over an 11-year span.
So what do you think: Did Arizona trade-up when hiring its six head coaches this year?
Football's Jedd Fisch has restored energy and positivity, surrounded himself with far more capable assistant coaches. He has been the anti-Kevin Sumlin. Trading up.
Basketball's Tommy Lloyd, a mega-recruiter, has chased away the aura of gloom that pervaded Sean Miller's system for the past five seasons, and also brings promise of more modern offensive and defensive schemes. Trading up.
Cross country's Bernard Lagat was much-needed new blood after James Li's distance running program unexpectedly became an also-ran six years ago.
It's impossible to say that anyone replacing Mike Candrea is trading up. But Caitlin Lowe is probably about as skilled and energized as any young coach in college softball. New soccer coach Becca Moros comes highly recommended. She replaces departed Tony Amato, who was OK.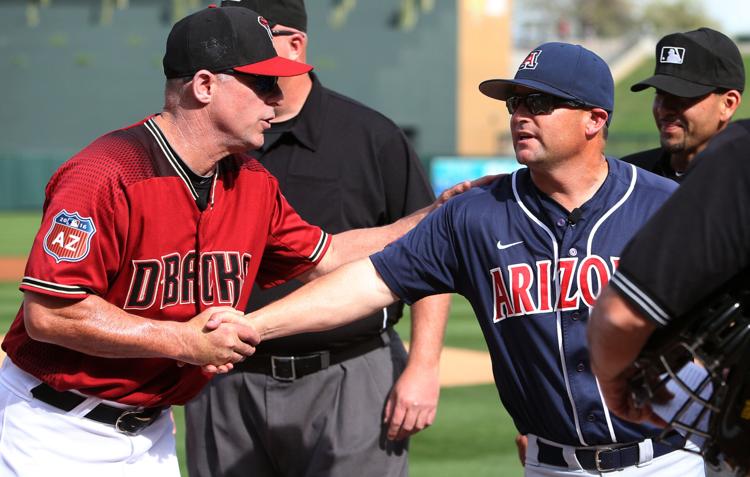 Chip Hale? He is an upgrade from Jay Johnson in almost every aspect.
First, Hale has a national presence, a historical perspective and a known face and résumé in the baseball community. Johnson, a grinder, was about as close to anonymous in Tucson as a UA head coach can be. He was solid; Hale is a step beyond solid.
You say recruiting is going to be Hale's vulnerability? Not a chance. His smartly retained six-year assistant coach Dave Lawn, Mr. West Coast, who coached at USC and Cal for 17 years, and has coached in four College World Series. A decade ago, Lawn was the athletic director at Anaheim Servite High School, the heart of Pac-12 recruiting territory.
Hale is used to being tested and making the best of a challenge.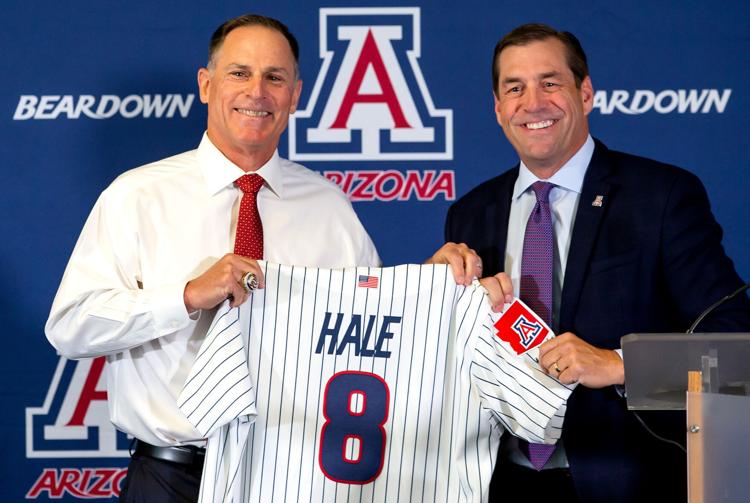 When Kindall recruited Hale out of the Bay Area's Campolindo High School in 1983, Kindall went to the school to recruit elite pitching prospect Dave Carley, a 6-foot, 8-inch fireballer who had gone 9-0 with an 0.68 ERA that year. Carley was today's equivalent of a five-star recruit.
But once Kindall and assistant coach Jim Wing got a look at Hale, they offered him a partial scholarship. Hale went on to get more hits and total bases than anyone in school history.
Hale was a hit. Carley? Not so much. He started out on the JV team and went on to win 13 games at Arizona in 1985-86 before leaving for the MLB draft and playing two years in the rookie league.
At Hale's introductory press conference last week, he answered questions about recruiting by saying "it's about identifying the right people.'' He said he is going to hire skilled talent evaluators. If anyone knows "the right people,'' Hale does.
He also said "I know it's a 24/7 job, I know it's 365 days a year. I didn't come here to work 9 to 5.'' That matches Johnson's commitment; he was always "on.''
Here's what Hale has that Johnson doesn't: Many forget that when Hale coached the Tucson Sidewinders to a championship 91-53 season in 2006, he was a tutor-mentor to future MLB managers Andy Green (Padres) and Craig Counsell (Brewers), who are high IQ baseball men to the core.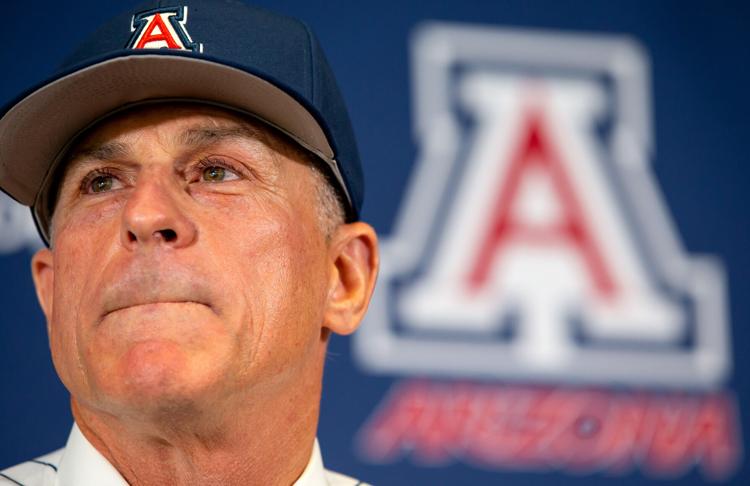 The UA's leading player of 2021, designated-hitter Jacob Berry, is transferring to LSU and will play for Johnson. Maybe Berry will reconsider, maybe not. But any baseball man would tell him that if he plans to be a high draft choice in 2022, he must first learn how to play third base. The draft yawns at DHs.
Would you rather be taught how to play third base for Chip Hale, who played seven MLB seasons as a third baseman and has coached All-Star third basemen Anthony Rendon, Josh Donaldson and David Wright? Or Jay Johnson, who was a second baseman at Point Loma Nazarene?
Would you rather learn how to build your hitting skills by someone who went 2 for 4 in the championship game of the 1986 College World Series — getting two hits off of Florida State's Mike Loynd, who was 20-1 entering that game, the NCAA pitcher of the Year? Or Jay Johnson?
The other so-called knock on Hale is that he is 56. The UA has hired three head coaches older than Hale: football's John Mackovic, 58, who was a significant bust; swimming's Rick DeMont, 58, who took on a rebuilding project and created positive growth; and men's golf coach John Gibson, 62, who began a notable move forward in Arizona's long history of success in men's golf before handing off the job to Rick LaRose six years later.
"There's something special about (Hale),'' UA athletic director Dave Heeke said, and not just because of his many links to Tucson, or that he managed ex-Wildcat All-Pac-10 players Keoni DeRenne, Colin Porter and Alan Zinter while the Sidewinders' manager.
It would've been easier for Hale to stay in the big leagues, coach third base and let someone else take the responsibility of building winning teams. It wasn't about money; he has probably made enough on which to retire comfortably. He's not into "easy.''
He's into making Arizona baseball a champion again.
Four Tucson golfers having a summer to remember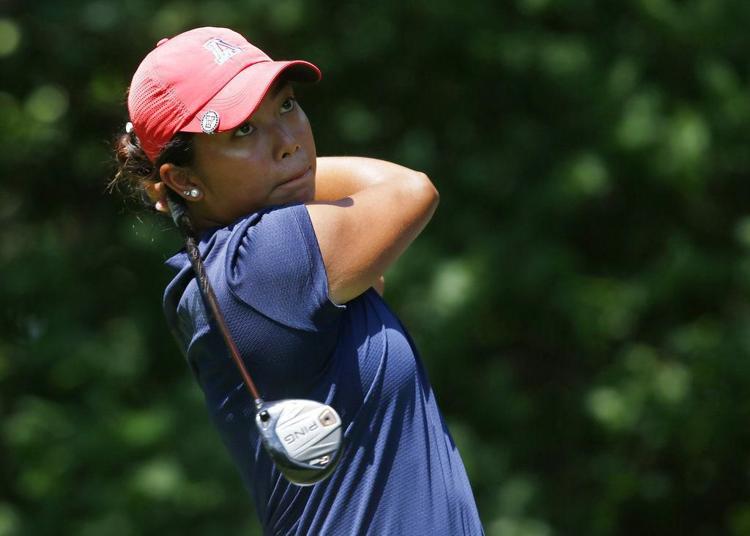 Some local golfers are finding success on the golf course lately:
• Bianca Pagdanganan, who made a 30-foot eagle putt at the 18th hole to put Arizona into the NCAA Tournament finals in 2018 — the Wildcats won the national championship two days later — is stepping it up. Pagdanganan qualified for the Tokyo Olympics last week as one of two Philippines golfers. This won't be her first time on a big stage. She won the gold medal at the 2018 Asian Games.
• UA senior associate athletic director Mike Ketcham shot an impressive 73 on Friday in the second round of the ongoing U.S. Senior Open in Omaha, Nebraska. Ketchum missed the cut, but his 73 at the difficult Omaha Country Club is amazing for a man who doesn't get much time to work on his golf game. Ketcham oversees the UA men's basketball and men's and women's golf programs on a day-to-day basis. While in Omaha, he got to play practice rounds with former U.S. Open champion Retief Goosen and former Masters champion Bernhard Langer. The former head golf coach at Arkansas and Oregon State isn't new to the big stage. Ketcham played in the 1985 and 1987 U.S. Amateurs.
• Oro Valley's Judy Penman broke the OVCC women's course record two weeks ago, shooting a 7-under-par 65, making eight birdies and a single bogey. Not bad for an amateur golfer who spent 30 years as a school teacher before giving time to her golf skills. Penman played in the 2018 U.S. Women's Senior Open after improving her game with OVCC pro Scott Schultz. Last fall, Penman was second in the Arizona Golf Association's women's senior stroke play finals.
• After All-Pac-12 golfer Trevor Werbylo of Salpointe Catholic High School completed his UA career in May with a stroke average of 71.44 over four seasons — the second best average in school history — he turned pro. He has been an immediate success, finishing second in the PGA Tour's Forme Tour, which is the equivalent of a Double-A baseball league. After two events Werbylo is No.4 on the money list with $12,930. The top five in money standings at year's end — there are five more tournaments — will earn their Korn Ferry Tour cards for 2021-22, which is the Triple-A level of pro golf.
Arizona's Laura Ianello becoming a national name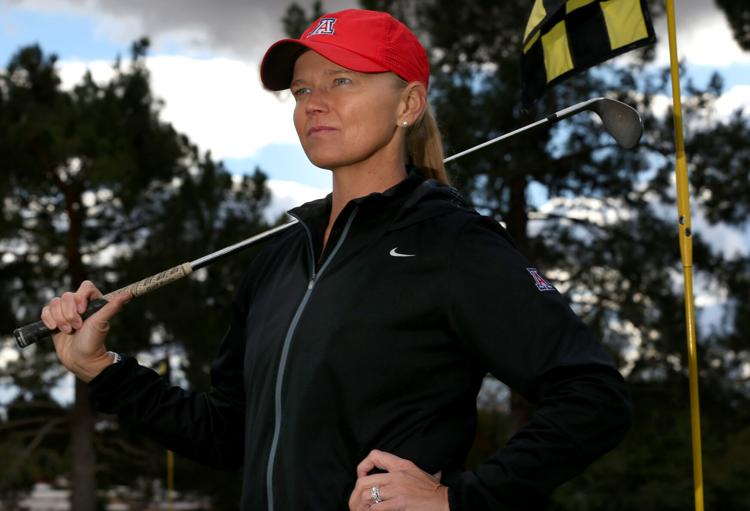 Arizona women's golf coach Laura Ianello, who has coached the Wildcats to the equivalent of the Final Four the last three complete seasons, is no longer an under-the-radar coach at her alma mater. When Texas A&M recently fired coach Andrea Gaston, it made contact with Ianello, which was similar to Baylor's interest in UA women's basketball coach Adia Barnes a few weeks earlier.
Texas A&M created big news in 2017 when it hired Gaston, then USC's women's golf coach, a Hall of Famer who had led the Trojans to three NCAA championships. But at A&M, Gaston failed to finish higher than 11th in the SEC Tournament and, much like the big-money schools in the SEC, showed no patience with her. Ianello did not pursue the job, which ultimately went to Houston coach Gerrod Chadwell.
Ex-Arizona pitcher gets rude awakening in MLB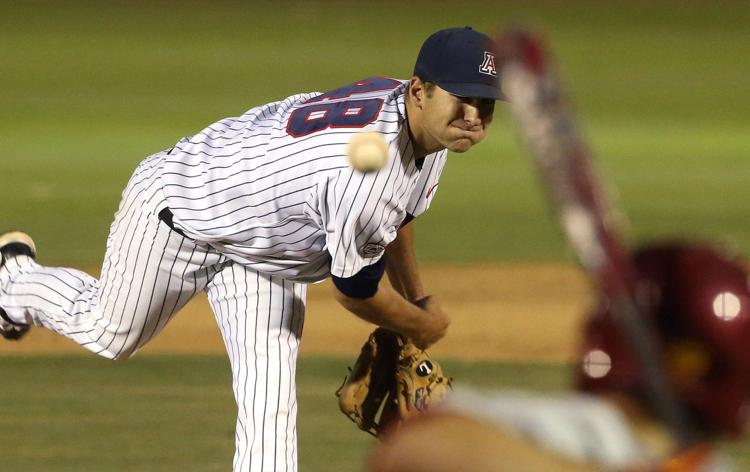 No patience, part II: Konner Wade, a clutch starting pitcher who was a big key to Arizona's 2012 College World Series championship, finally got to the Major Leagues earlier this month, recalled by the Baltimore Orioles from its Triple-A Norfolk Tides affiliate. A day after Wade arrived in Baltimore, the culmination of seven minor-league seasons, he entered a game against Toronto in the fifth inning. He quickly allowed seven hits and six runs in 1 2/3 innings. Not given a second chance, Wade was sent back to Norfolk but has not been put on the active list. Tough business.
A pair of ex-Cochise hoopers to compete in Olympics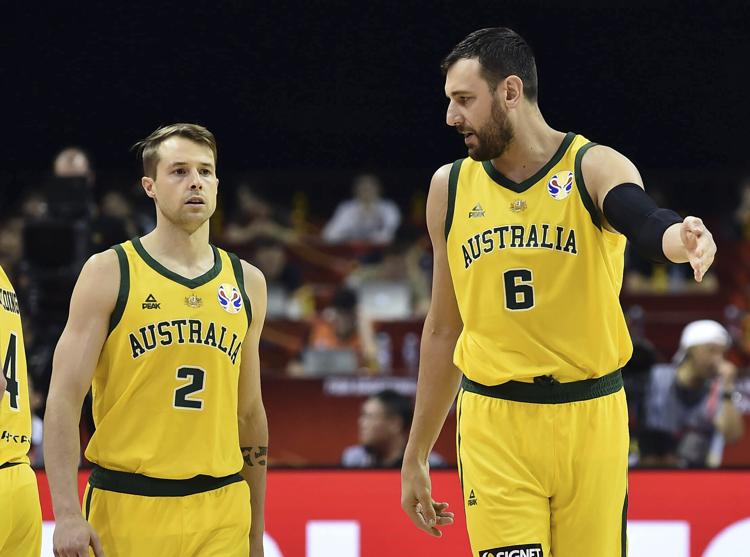 Salpointe Catholic High School and UA grad Jerry Carrillo, who has coached Cochise College's men's basketball team to more than 500 victories, including three berths in the NJCAA championship tournament, will be watching the Tokyo Olympics basketball tournament with great interest.
Two of Carrillo's former Cochise all-ACCAC players — Patrick Samoura and Nathan Sobey — officially became Olympians last week. Samoura, who will play for the Czech Republic, helped Carillo's Apaches win the ACCAC title this season. Sobey, who played for Cochise in 2010-12, made the Australian Olympic team, which will play Team USA this week in Las Vegas. Carrillo will be in the bleachers to watch Sobey and his Aussie teammate, former Arizona Wildcat Josh Green, in final preparations for the Olympics.
My Two Cents: NCAA compliance departments for important than ever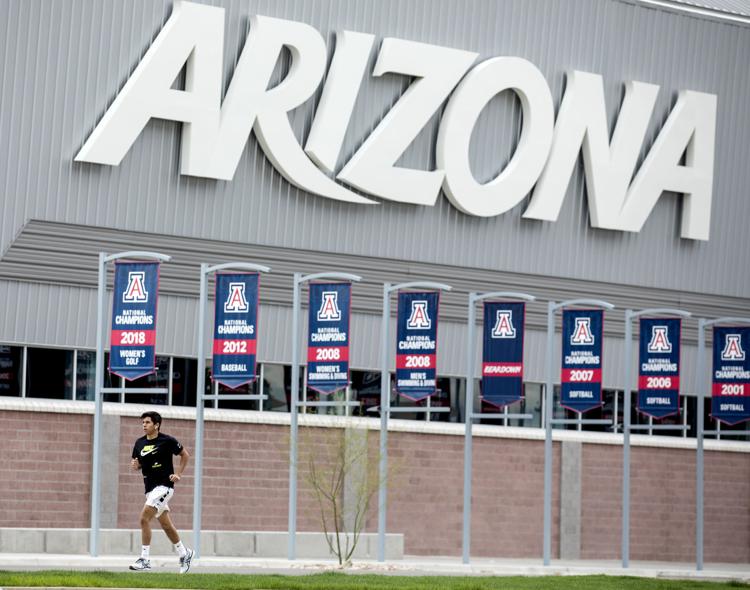 College sports have changed so extensively the last few years that the UA athletic department of 2021 bears little resemblance to that of 2001.
It goes beyond almost $400 million of facility upgrades over those two decades, and includes about 100 more full-time employees. Extras for student-athletes improved so much that the school now provides a full-service restaurant and a barber shop at the Lowell-Stevens football plant.
Now there's the names, image and likeness movement that allows athletes to make money beyond a scholarship and cost of attendance. Now there's the transfer portal, which is essentially free agency.
As such, the UA compliance department has grown to six full-time employees. Twenty years ago it had two. Given changes of the last year or so, especially in eligibility, that's probably considered a thin staff; USC has nine full-time compliance officers.
That UA staff, headed by Brent Blaylock, must maneuver through the great unknown of the fast-changing landscape of college sports. Who's eligible? Who's not? Who's coming? Who's going? Who's paying that quarterback $5,000 for an autograph session? Is it taxed and properly documented? Did a coach break recruiting rules?
The UA's compliance staff, like most, is probably underappreciated and underpaid. And relatively new to the job. Only one person in the department earns more than $100,000, according to the UA's salary database of 2019-20. Compare that to an assistant basketball coach earning more than $300,000.
The UA staff is literally in its break-in period, as is similar across the industry. Five of the six compliance employees have only been at Arizona since 2018. Where do you find able compliance officials? Two on Arizona's staff worked in the NCAA Enforcement division. One is a graduate of the ASU Law School, another of the Tulane School.
There is truly no offseason for compliance departments in college athletics. For better or worse, it is becoming a backbone of a new age of college athletics.
Contact sports columnist Greg Hansen at 520-573-4362 or ghansen@tucson.com. On Twitter: @ghansen711