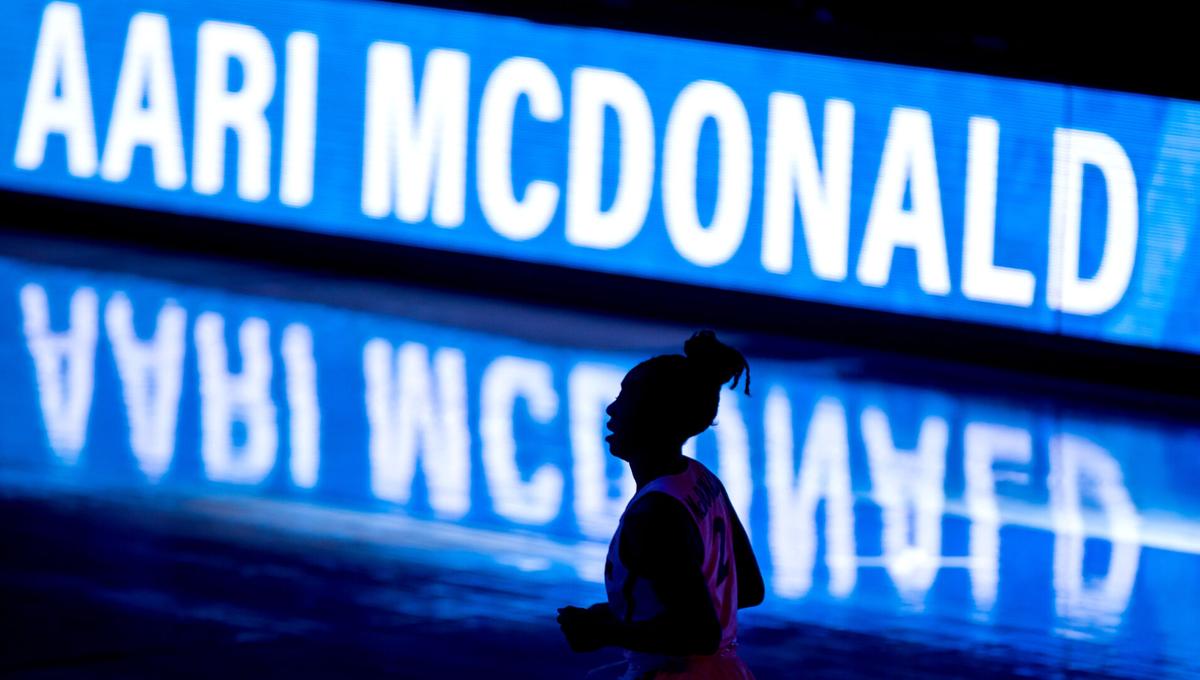 The Star's longtime columnist weighs on Aari McDonald's pro potential, what Sean Miller needs to see from his team over the next four days, why Matt Brase shouldn't be away from basketball long and how Shelley Duncan's new job under Tony LaRussa is well-deserved.
---
Aari McDonald, Wildcats are all-business after taking down No. 9 UCLA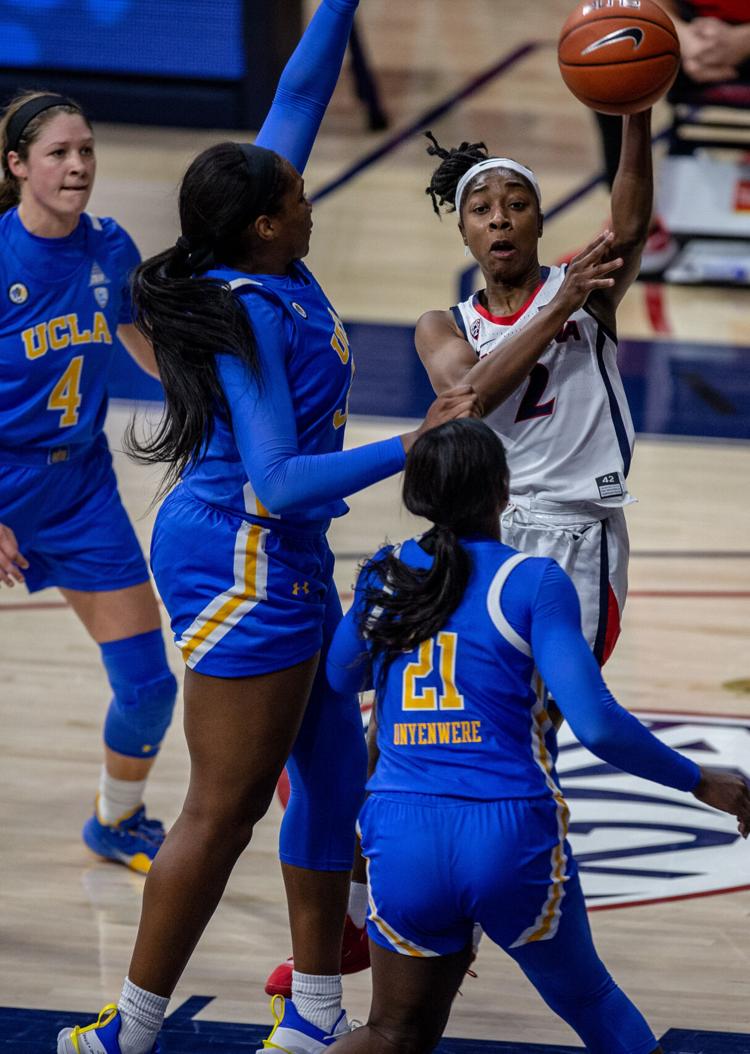 On Friday, ESPN published its first mock draft of the WNBA's April draft. It listed Arizona point guard Aari McDonald as the No. 2 overall choice. That's astonishing.
"At 5-6, she's on the small side," ESPN wrote. "But she's fearless."
This is fearless: against No. 9 UCLA Friday night at McKale Center, McDonald opened the game with two quick fouls and two turnovers and was exiled to the Arizona bench. After McDonald sat out the final six minutes of the quarter, the Bruins took a 25-14 lead and looked every bit a potential Pac-12 champion and Final Four contender.
The last thing UA coach Adia Barnes told McDonald when the second quarter began was "don't foul."
It was understood that McDonald wouldn't back off and play soft because of foul trouble.
Playing soft meant Arizona would lose.
And so 90 minutes later, McDonald had 17 points and, amazingly, only two fouls. She was a defensive force, a game-changing playmaker and, in the clutch, scored seven points in the final four minutes.
"I have to step up," she said in a Zoom conference. "My number was called."
Said Barnes: "Our defense, our hustle and our heart showed how tough we can be."
It's regrettable that fans aren't allowed to be at McKale Center and that the Pac-12 Network telecasts aren't widely available and, for example, won't include Arizona's Sunday game against USC, and many more as the season progresses.
"We would've sold out McKale Center," Barnes said after Friday's 68-65 victory over UCLA. And I don't think she's far off, if at all.
This Arizona team has so much more oomph and pop than last year's 24-7 club, one that finished this season ranked No. 9.
After Friday's game, senior transfer Trinity Baptiste was given the honor of "banging the drum" at center court, a ritual Barnes created last year to motivate her team and the fans.
It was only the second game of the year, so Baptiste's act was limited to two emphatic bangs on the drum. But she got a bit carried away and began a third swing at the drum before stopping inches before impact.
It was symbolic. This Arizona team is eager to get at the business of winning.
---
Wildcats' next four games a time for self-evaluation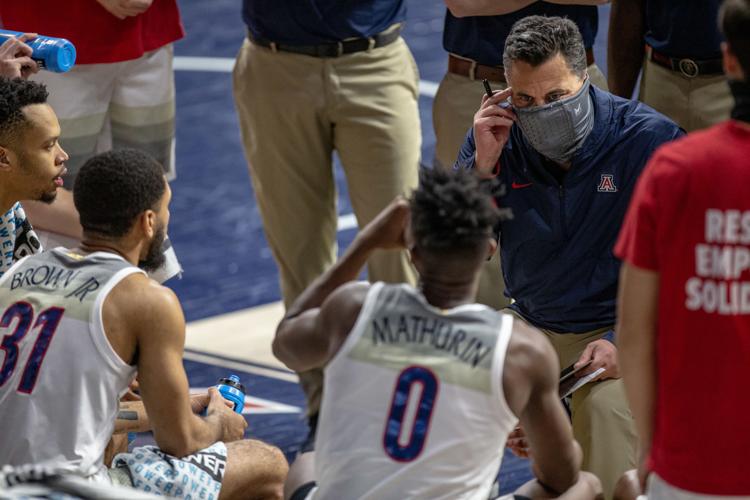 Immediately behind the rearranged seating area for Arizona's basketball team are cutouts of some of noted personalities from the McKale Center years: Gayle Hopkins, Jim Rosborough, Donna Swaim, Becky Bell, George Kalil, Jim Livengood.
If you let your imagination wander, picturing Kalil courtside and Rosborough on the bench, it's not difficult to imagine 14,500 people creating thunderous volume, a homecourt advantage like few others in college basketball.
But when Arizona at first struggled and later rallied to beat Eastern Washington 70-67 Saturday afternoon, there was no thunder. No Kalil. No Hopkins. No Rosborough.
It was unusually tough — a full 40-minute battle — to beat an opponent from the Big Sky Conference.
Things change. Since 1990, Arizona had gone 24-0 against Big Sky teams in Tucson, winning by an average margin of 26.3 points per game.
No homecourt advantage? No 26-point blowout.
This is the dialogue that took place when first-year Arizona players Dalen Terry and Terrell Brown completed a Zoom conference with reporters:
Brown: "We want to prove a lot of people wrong."
Such is the narrative for Arizona in the 2020-21 season. Underdogs. Things have changed.
The former Arizona basketball players and team managers who created a fund to donate cutouts of McKale Center personalities probably couldn't have imagined Arizona struggling to beat Eastern Washington, fans or no fans.
It wasn't a matter of looking past EWU for home games against NAU, Cal State Bakersfield, New Mexico State and Cal Baptist over the next 10 days. It was a combination of two things: One, EWU is good — maybe not top-25 good, but good enough to get a piece of you on a pseudo-neutral court.
Two, UA coach Sean Miller isn't yet sure of what he does (or doesn't) have among the nine players who appear to be the nucleus of the 2020-21 Wildcats.
Brown said "it was ugly" and Terry said "it's on us," but Miller has more expertise on the making of a basketball team. "We respect them a great deal," he said of EWU. "We broke down and they made us pay."
If those four games can be played as scheduled, UA should be much better Dec. 15 than it was Saturday. The potential for improvement, game to game, is realistic.
Arizona won't be an underdog in any of those four games, but it should be able to buy some time and figure out who's good and who isn't — who fits and who doesn't — by January.
That's all that matters now.
---
New Titan Brooks Reed should find himself in Arizona's Ring of Honor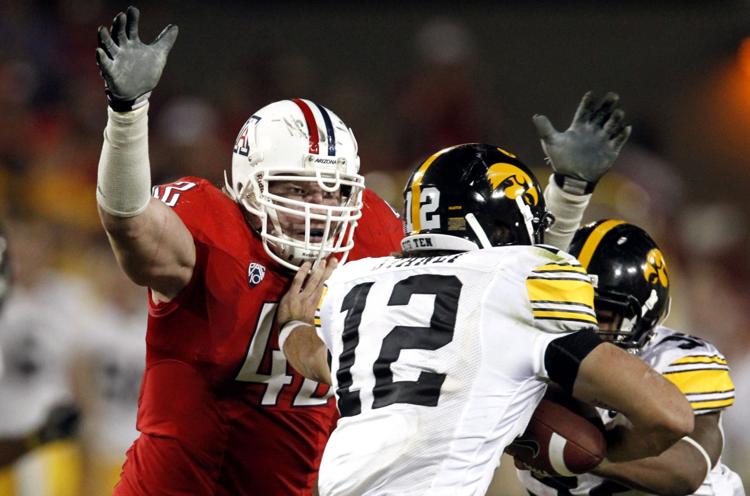 When Arizona's 2011 All-Pac-12 defensive end Brooks Reed signed with the Tennessee Titans last week, it meant more than a return to the NFL. It places him on an NFL roster for the 10th season, which is supposed to mean automatic qualification for the Ring of Honor at Arizona Stadium. Even before joining the Titans, the Sabino High School grad's career was Ring of Honor-worthy. Former UA and Tucson High defensive lineman Mike Dawson qualified for the Ring of Honor in much the same way in 2008 when the UA's research discovered he played nine NFL seasons and was additionally on the injured reserve rosters of Detroit and Kansas City, giving him 11 years.
---
Carlos Villarreal turns attention to Olympics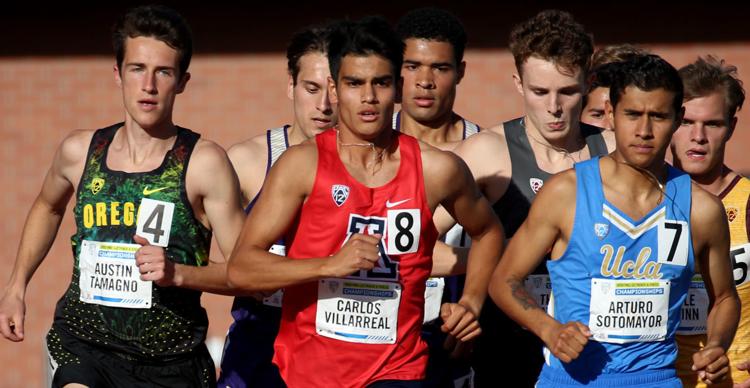 During the COVID-19 shutdown of Arizona's spring and fall sports, All-American distance runner Carlos Villarreal decided not to return for his final semester of eligibility in 2021. He surely would've been a contender to win the NCAA championship at 1,500 meters, but after earning his degree, Villarreal has decided to train solely for the 2021 Tokyo Olympics. Villarreal, who was the state's Gatorade Track and Field Athlete of the Year at Rio Rico High School, was born in Mexico and thus is eligible to be part of Mexico's Olympic team, if he makes the team in qualifying races in late spring. His chances appear to be good: Villarreal won the gold medal at the 2019 Pan American Games. He will continue to be coached by former Arizona distance running coach James Li. …
---
Coaching shuffle has ex-Cat Matt Brase looking for a job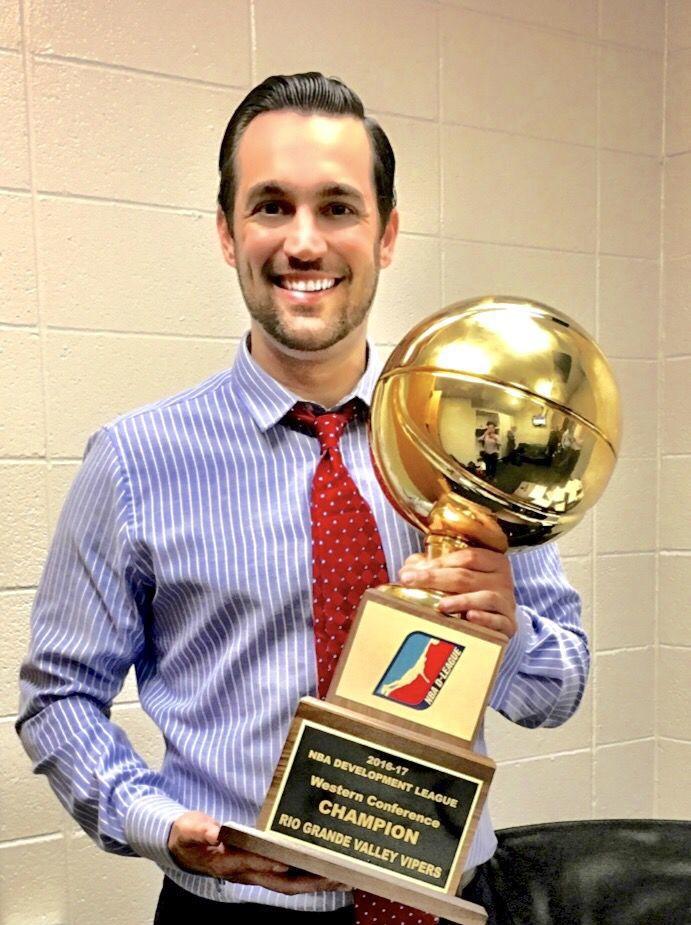 After the Houston Rockets and head coach Mike D'Antoni parted ways, the Rockets coaching staff splintered. D'Antoni joined Steve Nash's new staff for the Brooklyn Nets. But Rockets assistant coach Matt Brase was also affected by the transition and is not yet part of an NBA coaching staff as the 2020-21 NBA training camps began to open. Brase, a Catalina Foothills High School grad and former Central Arizona College and UA player, spent two seasons on the Rockets coaching staff and two previous years as head coach of the Rockets' G League franchise in Texas. The grandson of Lute Olson shouldn't be unemployed long; he is only 38, personable and game-ready. Brase not only has two years of NBA coaching experience but three years as the Rockets' director of operations. …
---
Good to see Shelley Duncan back in the dugout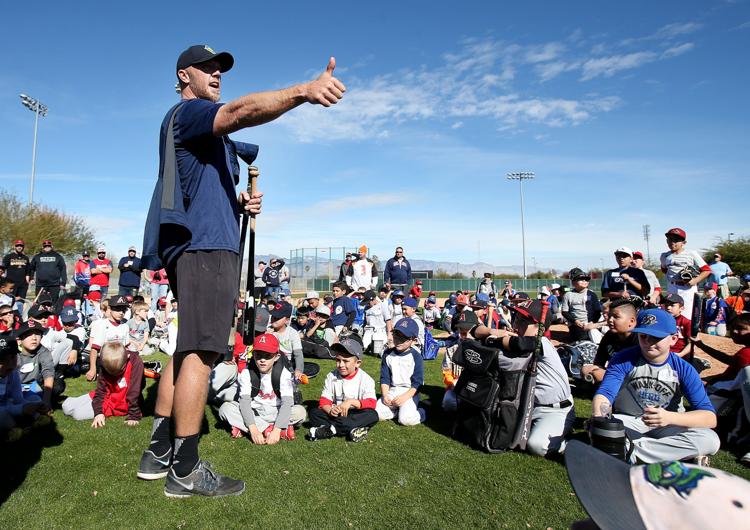 It's good to see Canyon del Oro High School 1997 state champion Shelley Duncan get hired to be part of Tony LaRussa's new staff with the Chicago White Sox. The UA's career home run champion was named the White Sox's director of analytics last week. It's similar to a job he held with the Toronto Blue Jays last year, before parting ways with the club over the summer. The White Sox are among the MLB clubs tardy to the business of analytics. Duncan, who played seven MLB seasons with the Yankees, Rays and Indians and has been a minor-league manager, recently told MLB.com he tried to educate himself beyond being a ballplayer. "I needed to see through a scout's eyes," Duncan said. "To be good at anything, it's important to be able to speak the language of all the departments. Scouts speak in a different language; analytics people speak in a different language; coaches speak in a different language. To speak all those languages — to go and sit in the cafeteria with all those guys and understand how they watch a game and what's important to them, will help you do your job."
---
Tucson golf pros rattle off birdies for charity
Best thing I saw this week in Tucson sports: Golf pros from Southern Arizona's golf facilities raised $54,121 for Ronald McDonald House charities in Tucson by playing 72 holes on a chilly Monday at Rolling Hills Golf Course. Each of the golf pros got pledges from dozens of people, who donated based on the number of birdies each pro made. Rick Price, director of golf at The Views Golf Club, and his partner Todd Crain made 31 birdies and earned $1,403 for Ronald McDonald House. Ventana Canyon teaching pro Susie Meyers raised $995; Stone Canyon Club official Danny Medina raised $725; Josh Wilks of The Gallery Golf Club raised $422; and host Brent Lingel of Rolling Hills raised $294 for charity. Well done guys. …
---
Ex-UA basketball player, business titan Warren Rustand writes book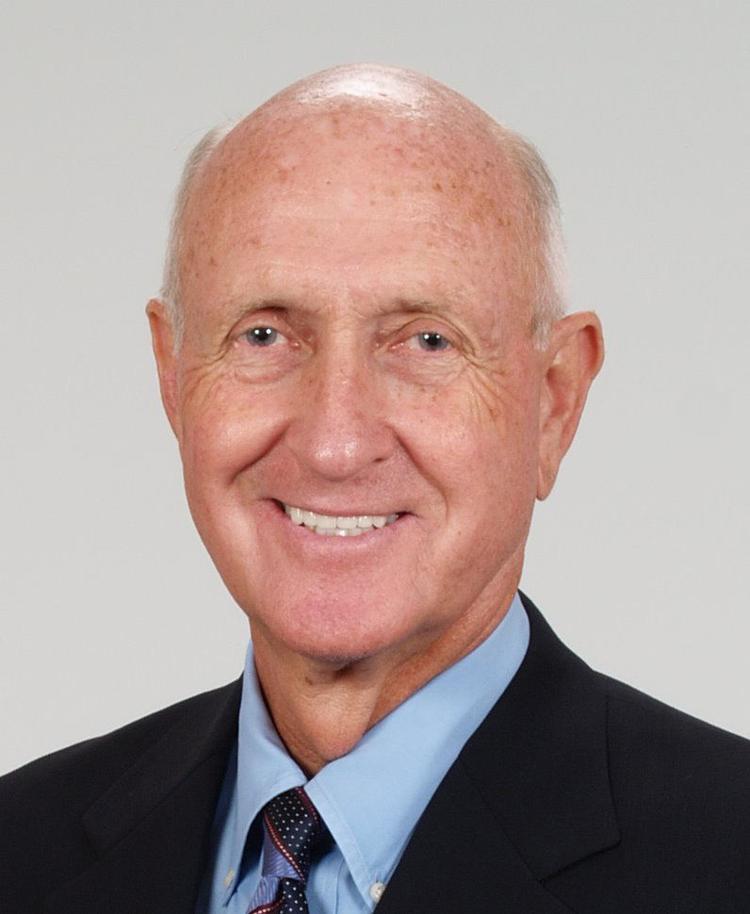 Warren Rustand was an All-WAC guard at Arizona in the Bear Down Gym days of the 1960s, one of the leading pre-McKale Center players in UA basketball history. His post-basketball days are even more impressive. Rustand has written a book "The Leader Within Us," which will be available on Amazon on Jan. 26. After leaving the UA, Rustand served as Appointments Secretary to President Gerald Ford, has been Chairman or CEO of 17 companies and has served on the board of more than 20 others. He was Chairman of the World Presidents Organization and is the Dean of Leadership for the Entrepreneurs' Organization. Rustand probably doesn't remember this, but about 30 years ago I played in a Mormon church basketball game against his LDS ward team. When he walked on the court, at maybe 45 years old, I thought "this will be easy." Not even close. He worked me over, physical and dominant, a team leader playing hard to the final buzzer in a blowout. I could see why he has been such a success.
---
My two cents: Armando Rios created himself at a young age, impressing ex-teammates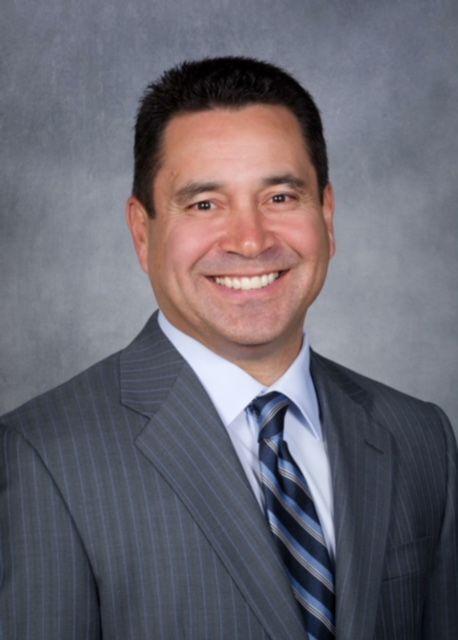 Jimmy Tucker was an Arizona defensive back from 1987-90, playing for Dick Tomey and secondary coach Duane Akina, a young man who took away much more from his college football days than blocking and tackling.
He was also a close friend of Armando Rios, 52, a former Tucson High and UA defensive back who died last week at his Tucson home.
Tucker has a strong perspective on the death of his Wildcat teammate. He grew up in South Central Los Angeles, and even though USC offered him a scholarship in 1986, he signed with Arizona, hoping he could start a new life away from the racial tension.
While at the UA, Tucker broke his leg and had difficulty regaining his speed and quickness. He mostly played special teams. But it didn't mean he stopped growing and learning.
He learned from Armando Rios.
"There is a saying that youth is wasted on the young, but with Armando that was never the case," Tucker says now. "Watching him engage with every aspect of life and taking every situation as an opportunity was a concept about life that, at that point, I couldn't grasp.
"Being a student-athlete became my identity. At a time most young adults were trying to find themselves. Armando was busy creating himself."
Tucker, now a mental health counselor in the Seattle area, learned that winning games wasn't the most important thing.
"It was the long hours of practice, travel, Coach Tomey and Coach Akina and bonding with the guys that outlasted any score of any game — except the ASU score," he says.
Tucker's son, also named Jimmy, is now being widely recruited by, among others, ASU. He is a 6-foot-3-inch, 197-pound receiver at Bothel High near Seattle.
"Jimmy a better person, better student in the class as well as on the field then I ever was, so I feel he is listening to me," his father says. "He will pick his own path, but I have to be honest, I cringe seeing mail from ASU on my table.
"I always tell my son about my time at the UA. I let him know it's not my sliver of playing time that means so much to me. It's the abundance of wonderful people, relationships and interactions with people like Armando while living in Tucson that matters most in my life."
A private funeral service for Rios will be held Wednesday at 10 a.m. at the Most Holy Trinity Church. A celebration of his life will be held in 2021.
Contact sports columnist Greg Hansen at 520-573-4362 or ghansen@tucson.com. On Twitter: @ghansen711