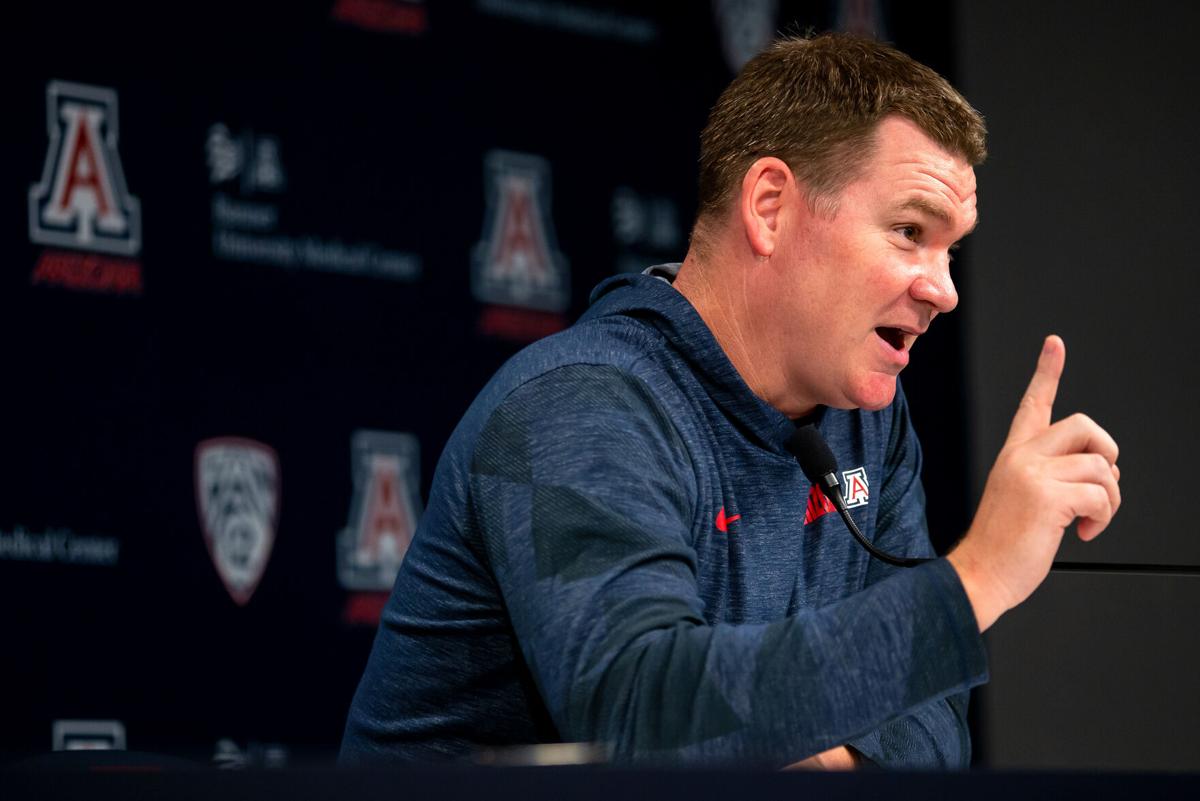 The Star's longtime columnist checks on Tommy Lloyd's relaxed vibe, Matt Brase's new job, and how Steve Kerr's son has found a home on "Ted Lasso." Plus: Where Bijan Robinson fits among Tucson running backs in college football and why the UA and ASU's home men's basketball schedules are sure to disappoint fans.
---
Tommy Lloyd shows that relaxed works, too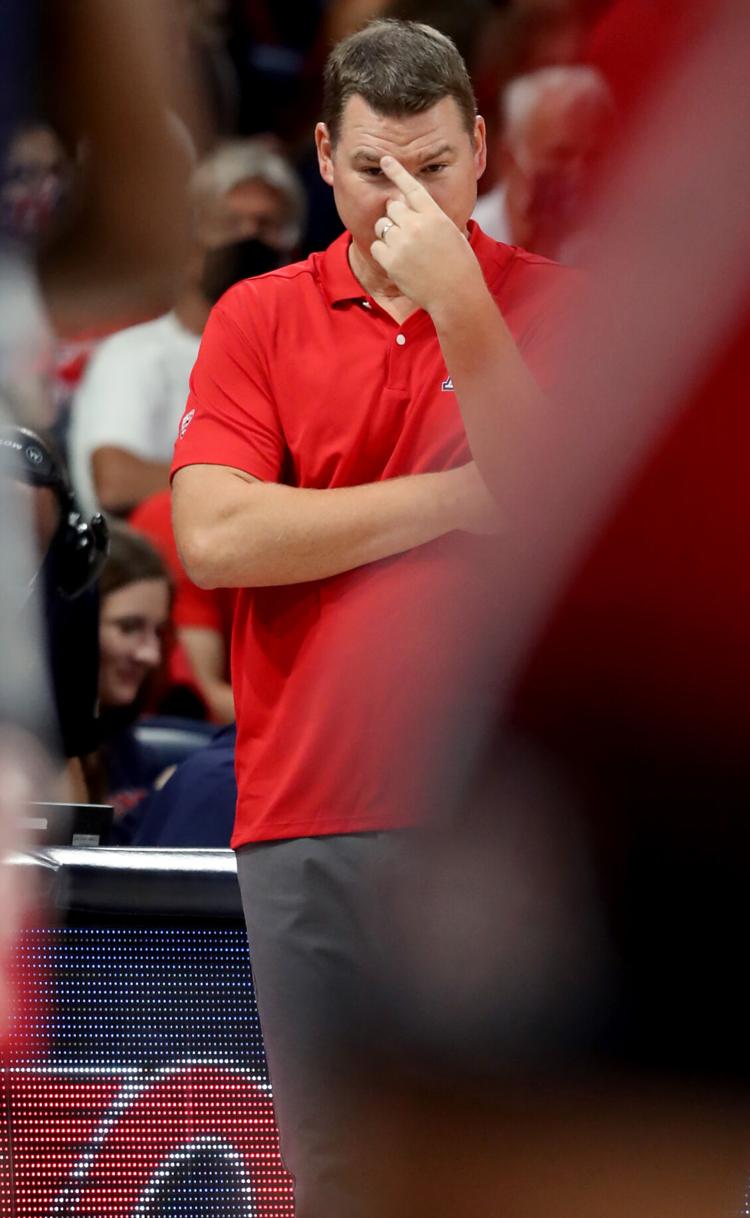 For a dozen years, Arizona's pregame video at McKale Center ended with a resolute Sean Miller declaring "This is … Arizona.''
You won't get that with Tommy Lloyd. If he was a baseball player, his walk-up music would be something out of the Beastie Boys' 1989 album "Paul's Boutique." That's his go-to sound. This will be a different type of ride through the basketball season.
In a UA-produced podcast last week, Lloyd said that what he likes most about Tucson is that "no one's pretentious down here. … I don't want to be in a flashy community."
A few minutes after Lloyd's welcome-to-Tucson press conference at McKale Center, he walked into a media room with me and several of my Star colleagues and began a Q&A session by saying: "I want you to know I'm not a contentious person."
Times change. It's a good thing. This is 2021, not 1985. You don't have to be Bob Knight or Bobby Hurley, agitated and indignant.
Tucsonans got their first look game-day glimpse of Lloyd when he walked out of the tunnel at McKale Center at the Red-Blue Game as if he were filming a Tommy Bahama commercial. No tie. No button-down shirt. He looked as if he had just played 18 at a muni golf course.
"I'm not a shoe guy. I'm not a uniform guy," he said after the game. "So let's just make that clear. You guys probably see that I wear the same gray shoes every day."
It's not that Lloyd doesn't know what he's getting into. "The full force of McKale comes down on your shoulders," he said in the podcast. "It's a responsibility I'm going to be accountable for."
When Arizona president Robert C. Robbins and athletic director Dave Heeke hand-picked the career assistant coach from Gonzaga to take on the "full force of McKale," they couldn't have known the odds of Lloyd succeeding in the Pac-12 were overwhelmingly long.
Overwhelming odds? How about 2 for 14.
Lloyd is the 15th man with no college head coaching to be hired as a full-time Pac-12 basketball head coach since Arizona joined the league in 1978. Eight were busts: Cal's Wyking Jones and Todd Bozeman; Oregon State's Jimmy Anderson and Jay John; UCLA's Larry Farmer; ASU's Steve Patterson; Oregon's Jim Haney; and Washington State's Len Stevens.
Two others were ultimately fired for losing too much: UCLA's Steve Lavin and Colorado's Ricardo Patton. Stanford's Johnny Dawkins bailed out for a lower-level job at Central Florida after going 66-78 in Pac-12 games. Washington's Mike Hopkins appears to be in over his head; the Huskies have gone 9-29 in Pac-12 games the last two seasons.
The two career assistants who excelled as Pac-12 head coaches were UCLA's Gary Cunningham and WSU's Tony Bennett. But Cunningham, who went 50-8 at UCLA, grew weary of the pressure of trying to match his boss of 11 seasons, John Wooden, and quit after Year 2, taking a job as the athletic director at small-town Western Oregon College.
Bennett, thus, is the only career assistant to beat the odds and thrive. He went 69-33 at WSU, easily the league's best rebuilding job of the last 30 years, before going to Virginia, where he won the 2019 national championship.
Of the failed (or failing) first-time head coaches, some came from elite stock: Hopkins coached at Syracuse for 23 years. Anderson spent 25 years on the Oregon State bench, the man hand-picked to replace Hall of Famer Ralph Miller. Anderson went 79-90 in Corvallis. Dawkins was Mike Kryzyzewski's co-pilot for 11 years at Duke, but he struggled for eight years at Stanford.
Working for Olson didn't help John finish any better than 72-97 at Oregon State, and playing for Wooden didn't mean much when Patterson went 25-47 in Pac-10 games at ASU.
It will be fascinating to see if the pressure of coaching Arizona changes Lloyd. How will he react in the final 90 seconds of a UCLA game, tied at 77, with 14,664 people standing, screaming, expecting him to prevail over Mick Cronin's McDonald's All-Americans?
Lloyd has about a month to come up with a fitting declaration to cap the pre-game video at McKale. I doubt he'll say much more than "Bear Down." Lloyd reminds me a lot of Bennett: calm, casual and confident that his guys can beat your guys.
---
Matt Brase back in the NBA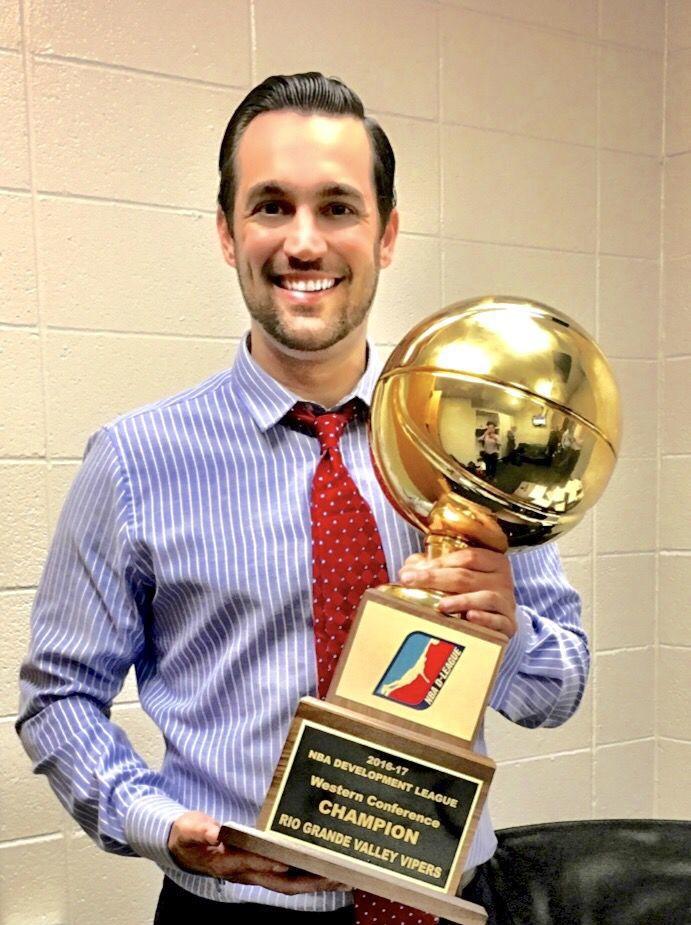 It has been a good month for Catalina Foothills High School principal Jody Brase and her husband, Jon, a Tucson dentist.
Their son, Matt Brase — Lute Olson's grandson — returned to the NBA and is now the lead offensive assistant coach under new Portland Trail Blazers coach Chauncey Billups. Brase, who was earlier on the Houston Rockets staff, sat out the 2020-21 NBA season after the staff of Mike D'Antoni was dismissed.
Brase said he'll work day-to-day with Larry Nance Jr., Robert Covington and CJ McCollum to supervise Portland's offense and film preparation. "It's a great situation," said Brase, who spent three years on Houston's staff. "I love being out here."
In Portland, Brase lives about 10 minutes away from Arizona's 2005 All-Pac-10 center Channing Frye. They were both part of the UA's 2004-05 Elite Eight team. Frye is an analyst for TNT's coverage of the NBA, doing pregame, halftime and post-game studio analysis.
"Chauncey is a phenomenal human," said Brase. "I didn't know him before the interview process and he's been great. True leader, knows his stuff and a good husband and father. Always good to be surrounded by great people."
The Brase family added to the month's good news when Matt's sister, former Catalina Foothills and UA basketball player Julie Brase Hairgrove, part of the Phoenix Mercury's coaching staff, qualified for the WNBA Finals on Friday. Hairgrove, in her 16th year in the WNBA, has already helped the Mercury win three WNBA championships.
---
Steve Kerr's son finds success with 'Ted Lasso'
Steve Kerr's youngest son, Matthew Kerr, did not follow the path of his older brother, Nick, who is part of the Golden State Warriors' staff, working in player development and game preparation. Instead, Matthew, who graduated from USC's film school, is a writer for the popular streaming-video program "Ted Lasso." Matthew Kerr has been a writing assistant, living in England, during filming and production of "Ted Lasso." How's it going? The show has won seven Emmy Awards. "I'm not at all a sports person," Kerr told reporters last week. He said he got to know actor Jason Sudeikis, the soccer coach who leads the cast of "Ted Lasso," at a 2016 Warriors game. Sudeikis later phoned to offer him a job on the set. Matthew Kerr said he began to develop interest in comedy and writing while watching "The Simpsons" when he was a kid.
---
Warriors land Sahuaro grad Nate Renfro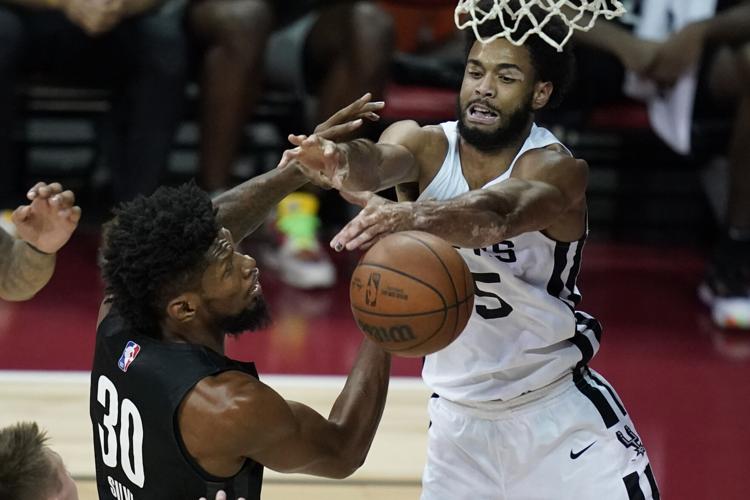 Sahuaro High School grad Nate Renfro, one of Tucson's top high school basketball players of the last decade, signed a 10-day contract to workout with Kerr and the Warriors during the ongoing preseason schedule. Renfro, a four-year starter for the San Francisco Dons, played for the San Antonio Spurs' G League team last season and is hopeful he will be signed by the Warriors or Spurs for the 2021-22 G League season.
---
Rondae Hollis-Jefferson heads overseas
Rondae Hollis-Jefferson, a big part of Arizona's 2014 and 2015 Elite Eight basketball teams, is out of the NBA after six years. Hollis-Jefferson is now the sixth man for the Besiktas Icrypex of the Turkish EuroLeague. Hollis-Jefferson earned $9.6 million in the NBA, starting 154 games for the Nets and Raptors before playing 11 games for Portland last season.
---
Ex-Cat Will Bynum part of fraud bust
Former Arizona shooting guard Will Bynum, who transferred to Georgia Tech during his sophomore season in Tucson, earned $17.1 million while playing eight years in the NBA from 2005-15, and also played three seasons in the EuroLeague. Bynum, who lives in his native Chicago, was one of 18 former NBA players arrested and charged Thursday in New York with participating in a scheme to defraud the NBA's health care program for players. The 32-page indictment unsealed in New York charged the former players with defrauding the NBA's Health and Welfare Benefit Plan, which is funded largely by the league's 30 teams, out of approximately $4 million. Former Washington Husky Tony Wroten was the other ex-Pac-12 player arrested and released on their own recognizance.
---
Arthritis Center fundraiser on Thursday
Among the worthy causes Lute Olson embraced during his Arizona coaching days was taking a part in the UA Arthritis Center's annual celebration and fundraising event. Olson began working with the Arthritis Center in 1983. This year's event will be held Thursday from 11 a.m. to 12:30 p.m. Arizona women's basketball coach Adia Barnes will be the featured speaker. Although the event is sold out, it will be available for free live-streaming at arthritis.arizona.edu/uaac-bear-down-celebration. Arizona athletic director Dave Heeke will also speak at the event. The deadline to register for the livestream is Wednesday.
---
Ex-Lancer Bijan Robinson in elite company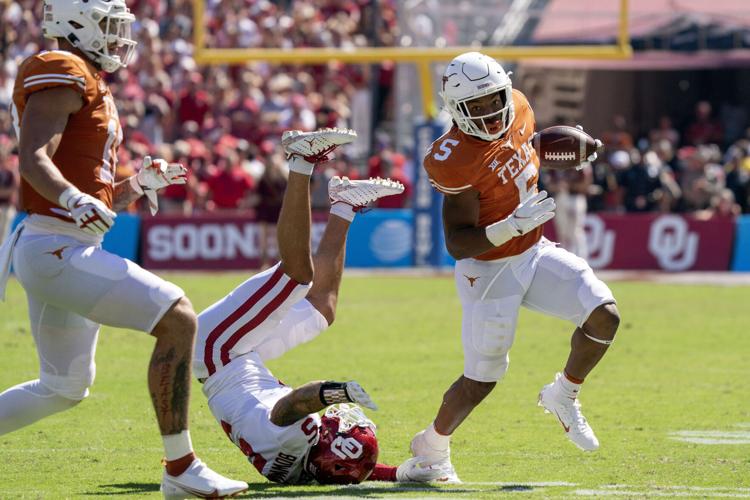 Former Salpointe Catholic High School running back Bijan Robinson, a Heisman Trophy candidate this season, rushed for 217 yards a week ago in Texas' victory over TCU. It couldn't match former Canyon del Oro running back Ka'Deem Carey's single-game rushing totals of 366 (Colorado, 2012) and 236 (Utah, 2013), but it surpassed ex-Amphitheater back Mario Bates' college best of 214 yards for ASU against Washington in 1992. The only other Tucsonan to rush for more than 200 yards in a FBS game is Pueblo's David Eldridge, who gained 205 yards in UA's 1989 victory over UCLA. Robinson, who gained 137 yards in Texas' stunning 55-48 loss to Oklahoma on Saturday, now has 652 yards rushing this season. He'll have to push the accelerator to reach Carey's total of 1,929 in 2012.
---
Chip Hale's baseball connections span generations, nations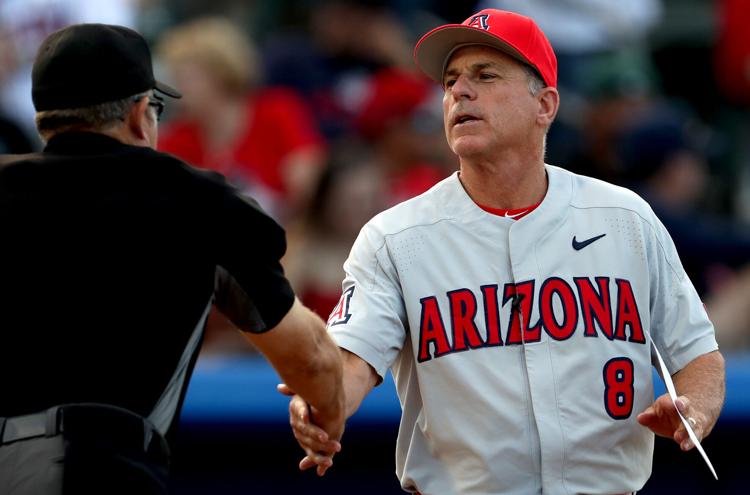 First-year Arizona baseball coach Chip Hale's baseball background is so extensive — he was an MLB coach and manager for 15 years before returning to his alma mater this year — is that he has crossed paths with thousands of pro ballplayers. When the Wildcats played an exhibition game in the Vamos a Tucson Mexican Baseball Fiesta last week against Obregon, Hale immediately recognized an outfielder in Obregon's starting lineup — Michael Choice, who played in the Oakland A's minor league system, 2011-12, when Hale was an assistant coach. Hale also knew Obregon's pitching coach, Tavo Alvarez, who led Tucson High School to back-to-back state championships in 1987 and 1988, and pitched for the Montreal Expos in 1994 and 1995.
---
Ex-Cats Annika Sorenstam, Jim Furyk team up
Small world: Jim Furyk and Annika Sorenstam were on Arizona's men's and women's golf teams of 1991 and 1992, when the men's team won the '92 NCAA title and the women's team finished No. 2. When Furyk became the host of the ongoing PGA Tour Champions' "Furyk and Friends'' Classic, he invited Sorenstam to play in Saturday's Celebrity Shootout, with baseball star Ozzie Smith and football legend Lynn Swann. Furyk and Sorenstam both turned 50 this year. Both have been captains of the men's Ryder Cup and women's Solheim Cup, respectively. This year Furyk won the U.S. Senior Open and Sorenstam won the U.S. Women's Senior Open. Quite a legacy for the former UA classmates.
---
My two cents: ASU, UA foist bad home schedules on fans
A few years ago — before the FBI and NCAA began an investigation into the UA's men's basketball program — it would've been unthinkable that Arizona, and to a lesser degree, ASU, would not be involved in the Dec. 17-18 Jerry Colangelo Classic in Phoenix.
But the appeal and the brand of Gonzaga basketball is such that the Colangelo Classic will be carried on with the Zags as the big-name draw. The 10-team event will also include Texas Tech, USC, Georgia Tech and San Diego State.
It would be hard to imagine of Arizona and ASU foisting more undesirable home basketball schedules on their fans than they will in 2021-22.
The Sun Devils' non-conference games are: Portland, UC Riverside, North Florida, Grand Canyon, San Francisco and Florida A&M. Arizona's non-conference home schedule is equally unappealing: NAU, Texas-Rio Grande, North Dakota State, Sacramento State, Northern Colorado and Cal Baptist.
Contact sports columnist Greg Hansen at 520-573-4362 or ghansen@tucson.com. On Twitter: @ghansen711