The Star sports columnist shares Arizona's unique connection to Gonzaga assistant coach Tommy Lloyd, Dave Rubio's relentless recruiting, Jessie Harper chasing UA softball history and why Sean Miller was a one-man band. 
A member of Lute Olson's 2004 team, walk-on guard Jason Ranne was a co-captain even though he scored just 30 points in four seasons.
Ranne arrived at Arizona in 2001 on an academic scholarship, discovered at an AAU camp in Florida by former UA assistant coach Jim Rosborough.
Ranne ultimately earned his UA degree, graduated from law school at Minnesota and over the years has become COO and Executive Vice President of the powerful Wasserman sports agency in Los Angeles.
The list of clients at the Wasserman group ranges from basketball's James Harden and golf's Rickie Fowler to baseball's Nolan Arenado.
It also includes Arizona basketball coaching favorite Tommy Lloyd and UA football coach Jedd Fisch, both of whom are represented by agents in Wasserman's stable of 175 representatives. Despite his UA ties, I learned Sunday that Ranne, the vice president, does not represent either Lloyd or Fisch. Lloyd is represented by Wasserman's Brad Williams, while Fisch is represented by Wasserman's Doug Hendrickson.
True, Lloyd has a contract that guarantees he will replace Gonzaga head coach (and fellow Williams client) Mark Few, but Few is 58. As valuable as Lloyd is to the Zags — a blue-ribbon recruiter with few equals in college basketball — Few is the type of man who would tell Lloyd it might not be wise to wait another 10 or 12 years for him to retire.
"You're hot," Few might say. "Get that Arizona job. You can always come back to Spokane."
Besides, Few has another ace assistant coach, Brian Michaelson, who did much work recruiting Gonzaga Final Four standouts Drew Timme and Jalen Suggs. Michaelson is 38. He would replace Lloyd and, in his own right, put himself in position to become a Power 5 conference head coach sooner rather than later.
Because it is a private school, Gonzaga does not have to share financial records publicly. A chance to be the head coach at Arizona, with an entry salary somewhere near $2.5 million, is the chance of a lifetime. How could Lloyd resist? It's not like the Lloyds are forever locked into Eastern Washington. His son, Liam, is a freshman basketball player at Grand Canyon University.
Becoming the head coach at Arizona, given its history, its brand and its beloved status in Tucson, keeps it in a bracket with Gonzaga, Oregon and UCLA as the top four men's basketball programs west of Kansas. It isn't like being tempted to be the head coach at USC or ASU.
The risk for Lloyd is that he — or whoever Arizona hires — would have to serve any punishment ultimately delivered by the Independent Accountability Resolution Process for alleged rule-breaking during the Sean Miller years. The severity of that ruling is a great unknown.
Beyond that, hiring a career assistant to run a Pac-12 program isn't for everyone.
The gamble for Arizona? Washington coach Mike Hopkins, the one-time coach-in-waiting under Syracuse's Jim Boeheim, has slumped to 9-29 his last two Pac-12 seasons at UW. Johnny Dawkins, the lead assistant to Duke's Mike Krzyzewski for a decade, went 66-78 in conference games at Stanford, playing in just one NCAA Tournament.
Would hiring Tommy Lloyd be too risky, or a shrewd, save-the-program move by Arizona? Is he willing to weather a gathering storm? We are about to find out.
Editor's note: This post has been updated to include the names of Fisch's and Lloyd's agents.
---
Rubio's recruiting diligence scores big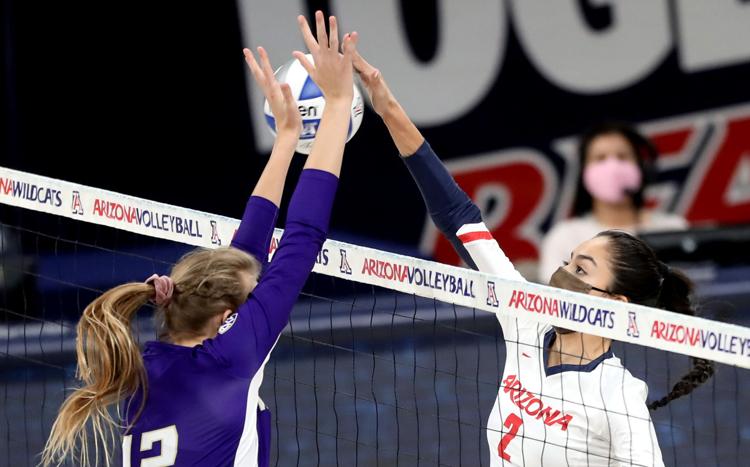 Dave Rubio first got a glimpse of volleyball prospect Sofia Maldonado Diaz in February 2018 during Mexico's Team Guadalajara's only USA volleyball competition of the year, in Las Vegas.
"Someone had said 'Dave, you should check her out,'" Rubio remembers. "At the end of the match, I went to Sofia's coach, but she didn't speak English. So I handed her my card with a note and hoped for the best."
The best? Last week, Maldonado Diaz was named Pac-12 Freshman of the Year, the UA's first player so honored since Olympian Kim Glass in 2002. Maldonado Diaz was also selected to the All-Pac-12 first team.
"The fact Sofia is as good as she is this early, is completely unexpected on my part," says Rubio. "We think she's going to be pretty special with time. She's someone we normally wouldn't be able to get."
After his initial scouting view of Team Guadalajara in 2018, Rubio didn't hear anything from Sofia or her coach for a year. He went back to Las Vegas in 2019; this time he again gave Sofia's coaches a note stating his interest. It got the ball rolling. Finally, a few months later, Sofia's mother emailed Rubio. He got an interpreter and responded but communication remained spotty.
Finally, in July 2019, upon returning from the UA's two-week exhibition tour in Italy, Slovenia, Austria and the Czech Republic, Rubio landed at the Tucson airport, slept four hours, and caught an early flight to Monterrey, Mexico. He met Sofia and her mother for the first time. One of her teammates acted as interpreter for the recruiting visit. She committed to become a Wildcat. She arrived on campus last fall, having learned to speak English and became an impact player in the formidable Pac-12.
In a normal year, Arizona would've qualified for the NCAA Tournament, but this isn't a normal year. The NCAA reduced the volleyball field from 64 to 48 teams. According to RPI and rankings, UA was probably the second or third team to miss the cut.
But with Maldonado Diaz returning next year — with only two seniors leaving the team — Arizona is likely to open the season in the Top 25 and take it from there.
Rhoades wins it all at Baylor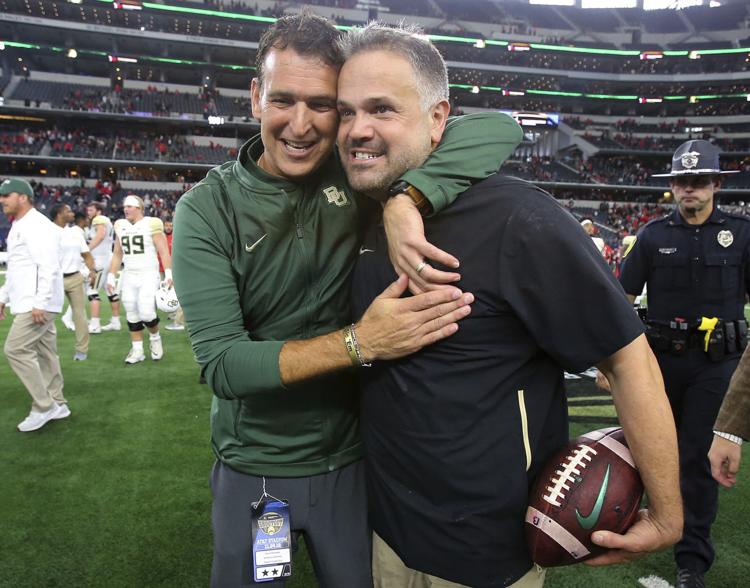 If you looked closely at the TV screen while Baylor was celebrating the NCAA men's basketball championship Monday night, you could see Baylor athletic director Mack Rhoades soaking in the confetti and celebration.
Talk about a long road to the top. Rhoades' grandfather, Mack B. Rhoades Jr., moved to Tucson in 1941 and spent 36 years as an engineer for the Southern Pacific Railroad. His father, Mack B. Rhoades III, is an engineer who worked at the UA's campus observatory.
Mack became more interested in sports than driving a train or becoming a stargazer. He was a basketball starter for iconic coach Roland LaVetter at Rincon High School in the early 1980s and a baseball prospect whose career was scuttled by a broken ankle. By 1993, after graduating from Arizona, Rhoades became the head coach of the Green Fields High School girls basketball team.
Rhoades one day arranged to meet Arizona's Cedric Dempsey, one of the leading athletic directors in the country at the time. Dempsey encouraged him to follow his dream. And so Rhoades did. He wanted to be the next Ced Dempsey.
He worked at low levels in the athletic departments at Yale, Marquette and UTEP, then became the AD at Akron, Houston and Missouri. In 2016, he was hired at Baylor.
How'd he do? In 2020, Rhoades was named the national AD of the year by the NACDA. Last week, his men's basketball team won the national championship.
Rhoades' parents still live in Tucson, in the foothills near the Rincon mountains. But it is their son who made it to the mountaintop of college sports.
The chase is on for Cats slugger Harper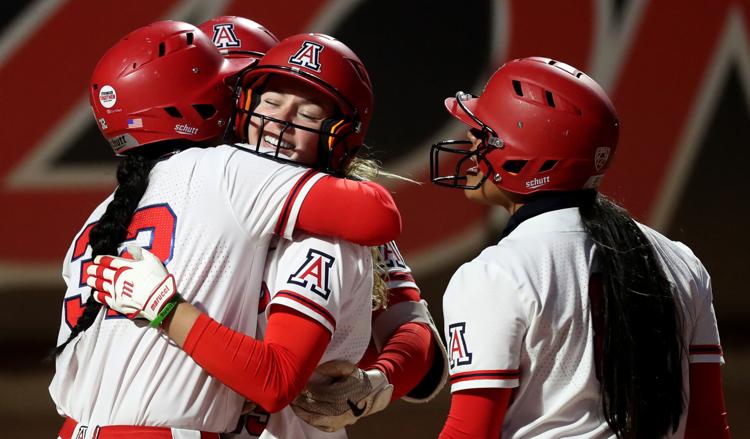 Arizona senior shortstop Jessie Harper hit her 85th career home run Friday night, drawing within 10 of NCAA record holder Lauren Chamberlain of Oklahoma, who hit 95. After this weekend, Arizona has 22 regular-season games remaining, and possibly eight to 12 postseason games.
It seems that Harper has a relatively good chance to end her career as softball's career home run queen. But the UA still has eight games remaining against No. 2 UCLA and No. 3 Oregon, whose pitching staffs include Bruins' All-American Rachel Garcia and the Ducks' Brooke Yanez, who was 14-0 after shutting out UCLA on Friday. As in any sport, most athletes build their statistics against those not named Rachel Garcia and Brooke Yanez, or in the postseason. When Harper hit a career-high 29 home runs in 2019, she hit 18 against nonconference teams and four against bottom-feeding Oregon State. In any event, the chase is on. 
Pima Aztecs in contention to win a NJCAA Division II championship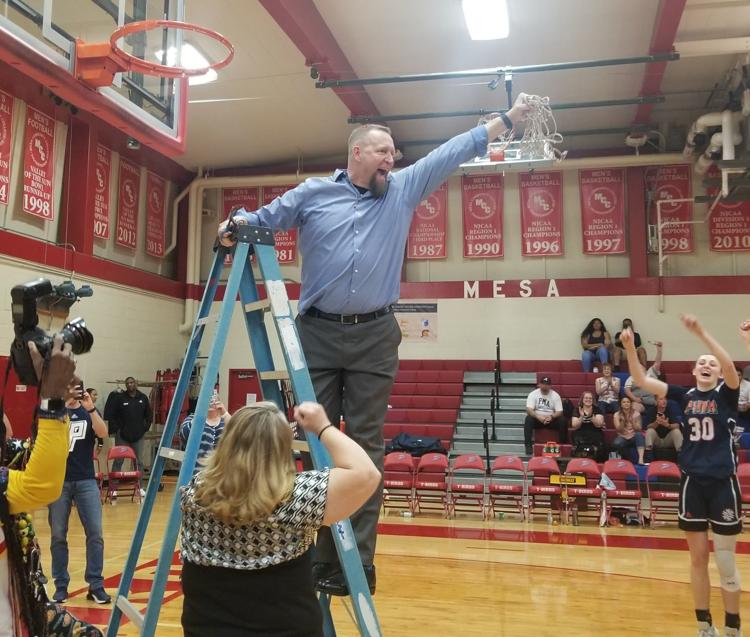 Pima College's women's basketball team was originally scheduled to open the season Jan. 26. Instead, it was pushed back to March 17. Todd Holthaus' Aztecs played just five games before advancing to the NJCAA District playoff game Friday against Mountain View College in Dallas. The Aztecs rolled impressively, winning 79-51, as Tanque Verde High School grad Nikya Orange had a double-double with 12 points and 17 rebounds.
Talk about basketball justice. In March 2020, PCC won the region championship with a rousing victory at Mesa College to go to 25-7 overall and qualify for its seventh NJCAA championship berth under Holthaus. But those games were canceled. Now, 13 months later, Holthaus and the Aztecs will fly to Hickory, North Carolina, for the NJCAA Division II championships April 20-24. Talk about perseverance.
Former Arizona QB's daughter thriving at UCLA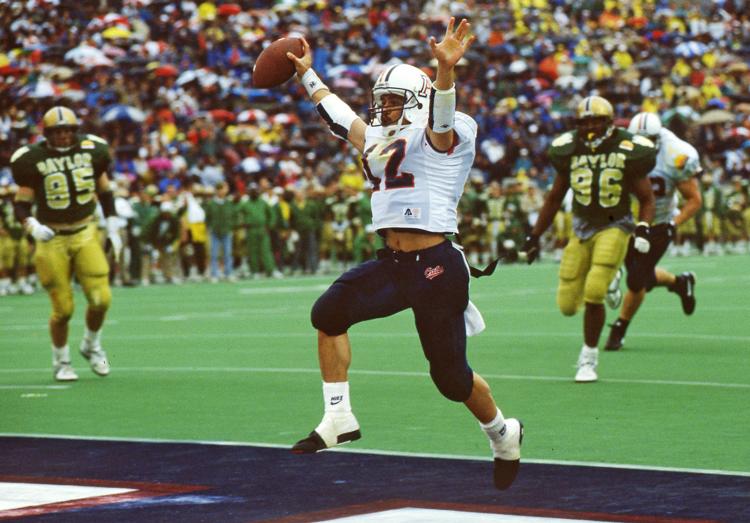 George Malauulu was Arizona's starting quarterback from 1990-92, a lefty with toughness who fought through injuries to help the Desert Swarm era get started. Now his daughter, Thessa Malauulu, is a part-time starting third baseman for UCLA's softball powerhouse. A freshman, she started against No. 2 Oregon on Friday and was batting .571 as a part-time player. She's a lefty, too.
George Malauulu is president of the AIGA Foundation, a nonprofit group that helps to showcase Polynesian high school football players to college recruiters. Good timing: last week Arizona coach Jedd Fisch got a commitment from Class of 2022 Noah Fifita of Servite High School in Southern California. It is a strong indication that Fisch will reconnect Arizona to its once-strong Polynesian pipeline that diminished under Rich Rodriguez and Kevin Sumlin.
Ex-Lancer expected to represent USA in Olympics
Tairia Mims Flowers, a Salpointe Catholic High School grad who was part of coach Mike Candrea's 2004 Athens Olympic gold medal softball team, is expected to be back to the Olympics this summer in Tokyo. Now the head softball coach at Loyola Marymount, Flowers is an assistant coach for Team USA, a club that includes UA senior catcher Dejah Mulipola. Flowers was inducted into the Pima County Sports Hall of Fame in 2010. She was an All-American at UCLA with 61 career home runs.
My two cents: Miller was one-man recruiting band until the end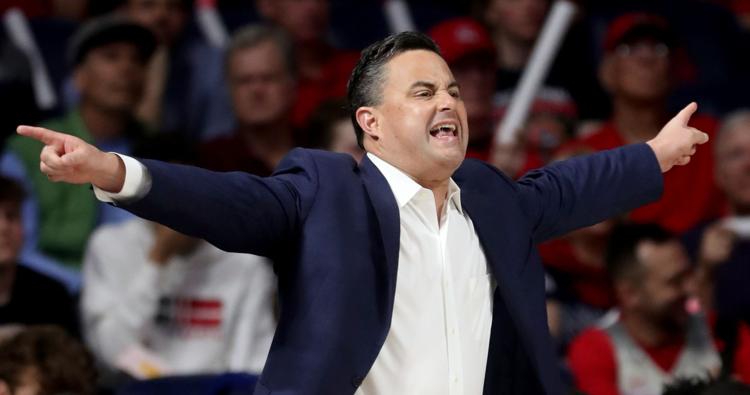 A few years ago, one of Arizona's most accomplished basketball assistant coaches of an earlier time, Jerry Holmes, approached Sean Miller with what he felt was relevant information. He had a connection to a top-100 recruit who had interest in Arizona.
Miller rebuffed the former UA coach, a man who helped recruit Fred Snowden's leading players such as Al Fleming, Eric Money and Herman Harris build Arizona's elite recruiting platform. Instead of accepting the contact information and following up, Miller coldly said "Still recruiting, huh?" and walked away.
That player, Pat Connaughton, became a four-year starter at Notre Dame, leading the Irish to a 32-6 record and the 2015 Elite Eight. He now plays for the Milwaukee Bucks.
It's odd. Miller was so consumed with recruiting, working tirelessly, yet he was a One Man Band to a fault — and to the end.
Contact sports columnist Greg Hansen at 520-573-4362 or ghansen@tucson.com. On Twitter: @ghansen711