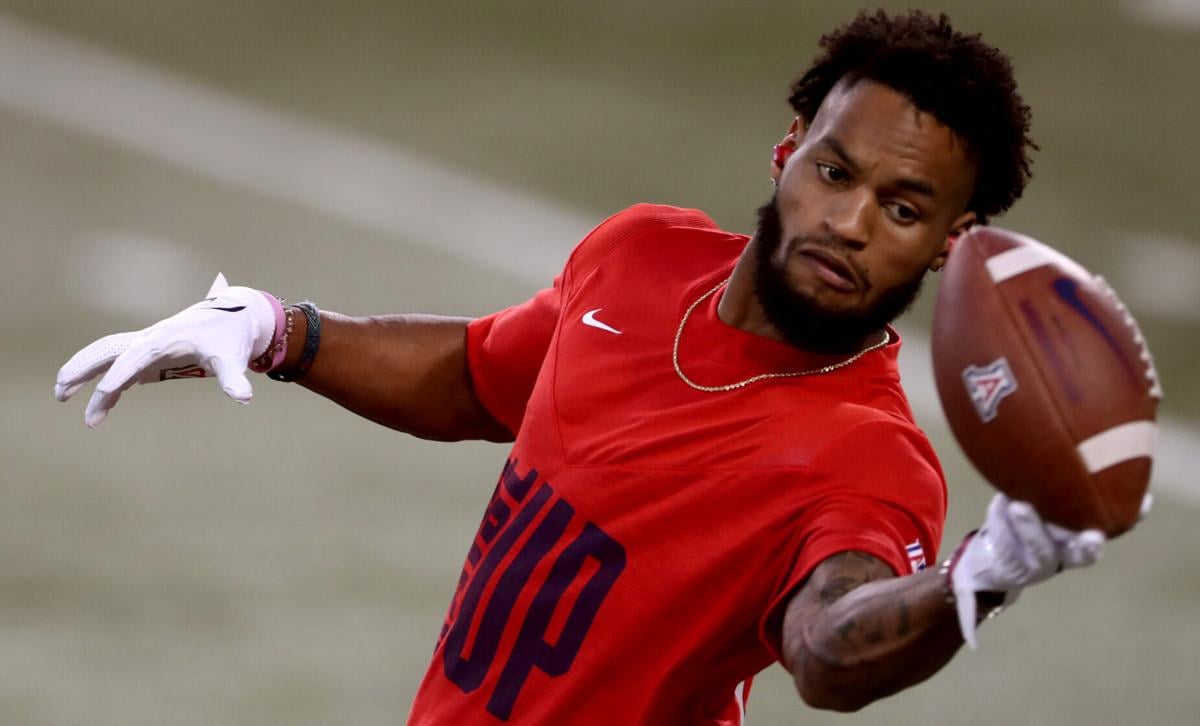 The Star's longtime columnist explains why Stanley Berryhill will stick in the NFL; remembers "Jackrabbit Joe" Hernandez; and examines why a good Jedd Fisch hire and the New York Giants' trip to Tucson could both help the Wildcats in recruiting.
---
Stanley Berryhill will stick in NFL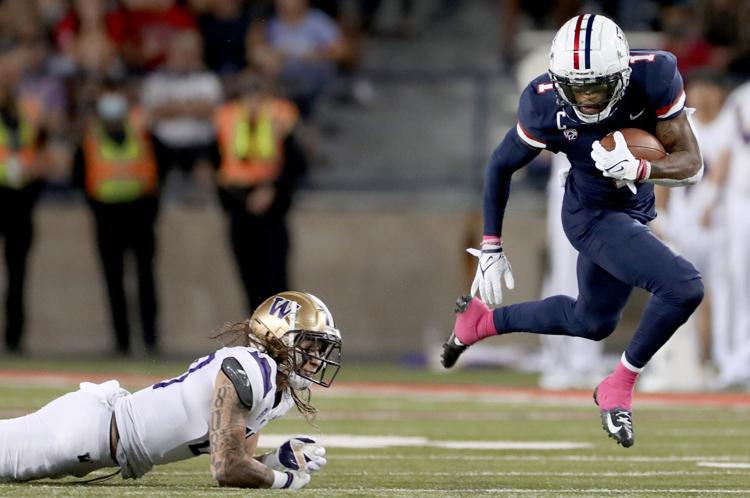 If history is an indication, Arizona receiver/special teams standout Stanley Berryhill will become the 35th athlete from a Tucson high school to play in the NFL.
Berryhill, who played three seasons at Mountain View High School, was selected to the All-Pac-12 first team last week. He became the 11th Tucsonan to be a first-team all-conference player. The 10 previous first-team picks all played in the NFL: Vance Johnson, Jeff Kiewel, David Adams, Rodney Peete, Sean Harris, Mario Bates, Steve McLaughlin, Mike Saffer, Ka'Deem Carey and Blake Martinez.
It's not that Berryhill is a deep threat or has overpowering size. He is maybe 5 feet 11 inches and 190 pounds. He wasn't even close to the fastest or most highly-rated UA receiver. And although he caught 84 passes from a group of raw, newcomer quarterbacks, he only averaged 8.9 yards per catch. That won't get anybody drafted. He caught just one touchdown.
That per-catch average isn't even near the UA season record. In 1976, senior Keith Hartwig caught 54 passes for 11 touchdowns and an average of 21 yards per catch. When Dennis Northcutt became an All-American in 1999, he averaged 16.2 yards per catch. Northcutt went on to play 10 seasons in the NFL.
Berryhill wasn't a big play guy. He was a get-the-job-done guy. It was just as important, if not more.
Berryhill has the "it" factor. He has been a willing special teams dynamo, seemingly in the right place at the right time. He is a lot like former UA defensive back Demetrius Flannigan-Fowles, an undrafted free agent from Tucson High who has become the leading special teams player for the San Francisco 49ers. Flannigan-Fowles actually started at linebacker for the 49ers last week.
Berryhill wore jersey No. 1 last season, which coach Jedd Fisch said was awarded to the player who most exhibited a combination of character, team work, hard work and academic achievement in the off-season.
It's unlikely Berryhill will be drafted next spring, but he'll soon be signed and in training camp with an NFL team, who will like what they see of No. 1.
---
'Jackrabbit Joe' will be missed
When Arizona recruited Joe Hernandez out of Bakersfield Junior College in 1960, he was an under-the-radar 155-pound sprinter and long-jumper who had overcome a troubled life to earn a college scholarship.
By the time he became a starting Wildcat halfback in 1960, his teammates affectionately called him "Jackrabbit."
"At first I didn't like it," Hernandez told me in a 1998 interview. "But I soon realized it was a compliment."
"Jackrabbit Joe" was so good in his two UA seasons, a leader on the historic 8-1-1 club of 1961, that he went on to play for the Washington Redskins and for eight seasons in the Canadian Football League. He was inducted into the UA Sports Hall of Fame in 1985. After his CFL career, Hernandez returned to Tucson and worked in the insurance industry for 38 years before returning to Bakersfield.
Sadly, Hernandez died of COVID-19 complications last week.
"My dad did a lot more than play football and sell insurance," his son Jon Hernandez said. "He and my mom (Marianne) established Jackrabbit Ministries. They helped people in the prison system and all over the world, going as far as Africa to help needy people."
Joe Hernandez's parents moved to the Bakersfield area from Sinaloa, Mexico, in the 1950s. His father, Catarino, died when Joe was 2. His mother, Esperenza, who raised eight children, did not speak English. Joe grew up working in the fields, picking grapes, plums and peaches, supporting his family with his meager paychecks.
He went on to become an American success story.
Hernandez is survived by his wife and four children. A celebration of his life is tentatively scheduled for the spring.
---
Ricky Hunley's return a success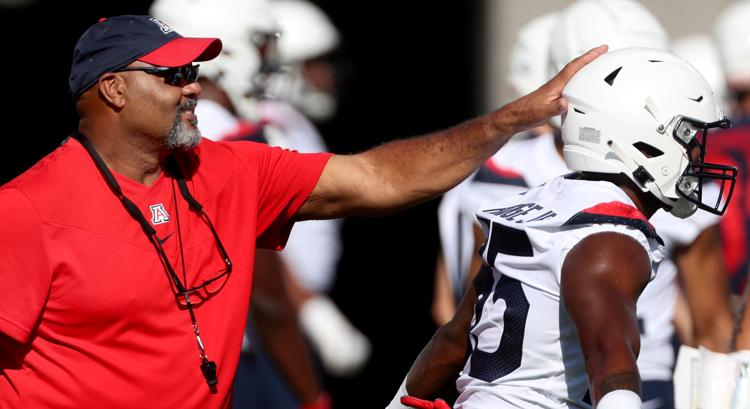 Ricky Hunley's return to coaching after five years working in the advertising industry in Southern California was a notable success. The UA's defensive line coach took charge of an unproven and inexperienced defensive line, yet sophomore Kyon Barrs — who had only made four career starts — was voted to the All-Pac-12 second team. Unheralded Trevon Mason completed his senior season as an honorable mention all-conference selection. Arizona's defensive line was the most productive position group of the UA's 2021 season. Jedd Fisch arranged to hire Hunley even before he was officially announced as the UA head coach. Good hire.
---
Jedd Fisch gets to work
Fisch has again been proactive and decisive in replacing defensive coordinator Don Brown. Not only did he get 13-year Pac-12 assistant coach Johnny Nansen off of Chip Kelly's staff at UCLA in a week's time, it appears that Fisch also will get linebackers coach Jason Kaufusi off of UCLA's staff. One of six sons of Petelo and Eveline Kaufusi, who moved from Tonga to Salt Lake City about 50 years ago, Jason Kaufusi and his siblings all played college football, either for BYU or Utah. Five of his nephews also played at either BYU or Utah. Jason Kaufusi was recruited to Utah in 1996 by former Arizona offensive line coach Ron McBride, who is responsible for starting the Polynesian connection to the Utah program, which has been a critical part of the Utes' rise from the Mountain West Conference to the Rose Bowl. Part of Arizona's plunge to last place in the Pac-12 can be traced to Rich Rodriguez's and Kevin Sumlin's lack of a presence in recruiting Polynesian linemen and linebackers.
---
Joe Salave'a in limbo
Among the Oregon assistant coaches left in limbo by UO coach Mario Cristobal's move to the Miami Hurricanes is ex-Arizona assistant and All-Pac-10 lineman Joe Salave'a, who was Oregon's assistant head coach and co-defensive coordinator. But his contract stipulates that he will be paid 70% of his 2021 salary of $700,000 if he sits out the 2022 season. Nice job if you can get it.
---
Dave Lawn in good company
UA pitching coach Dave Lawn has a ton of respect in the baseball industry. He was a guest speaker at last week's USA Baseball coaching clinic in Scottsdale. Lawn, who has also coached at USC and Cal, was the only college coach in a day of clinics at Salt River Fields with coaches from the Diamondbacks, Tigers, Rockies and Dodgers.
---
Renee Boulware's son an elite prospect
Renee Espinoza Boulware was the Star's 1992 Tucson softball player of the year. She twice pitched Tucson High School to the state championship game and later was the No. 1 pitcher at a Florida State team that reached the NCAA Regional finals, losing to Mike Candrea and Arizona. Now Boulware's son, high school sophomore Simeon Boulware, is an elite football prospect. Even though he doesn't graduate until 2024, he was offered a scholarship last week by Wake Forest, as a linebacker-lineman from Dacula High School in Georgia. Talk about athletic genes: Simeon's father is Peter Boulware of Florida State, a four-time NFL Pro Bowl linebacker. Renee Boulware now operates a softball pitching school in Georgia. Her parents live in Tucson.
---
Nick Folk sets UA record
Nick Folk last week played in his 190th NFL game, breaking a tie with Tedy Bruschi as the former Arizona player with the longest NFL career. Bruschi played in 189 games. Tackle Glenn Parker (174 games) and linebacker Lance Briggs (173 games) fill out the top four. What's hard to fathom is that this looks to be Folk's best season. At 37, after being cut three times and even missing a season, Folk leads the NFL in made field goals (33) and accuracy on field goals (91.7%). Folk played in the 2007 Pro Bowl and seems a lock to be in this year's Pro Bowl as well. He has earned an estimated $18.5 million in his career and was the last Arizona place-kicker to make the All-Pac-10 first team.
---
Cameron Miller now at St. Mary's
Cameron Miller, a Salpointe Catholic point guard who helped coach Brian Holstrom's teams win 41 games in his final two seasons as a Lancer, is now a graduate assistant coach on Randy Bennett's staff at St. Mary's. Miller, the son of former Arizona coach Sean Miller, scored 991 points in his three seasons on the Salpointe varsity.
---
Steve Kerr inherits Team USA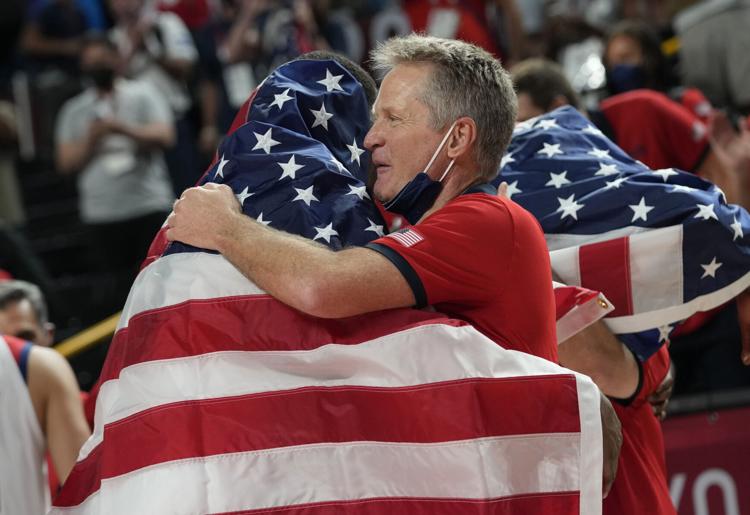 Steve Kerr, who appears to be the choice to succeed Gregg Popovich as the USA Olympic basketball coach in 2024, will join a small but distinguished list of American Olympic basketball coaches. Since Cal national championship coach Pete Newell was hired to be Team USA coach for the 1960 Olympics, the roll-calll has included, in order, Oklahoma State's Henry Iba, North Carolina's Dean Smith, Indiana's Bob Knight, Georgetown's John Thompson, Providence's Dave Gavitt and then NBA coaches Chuck Daly, Lenny Wilkens, Rudy Tomjanovich, Larry Brown, Duke' s Mike Krzyzewski and Popovich. The first-ever USA men's Olympic basketball coach, at the 1936 Berlin Olympics, was James Needles, who had coached the AAU Universal Pictures Studios AAU team. Yes, the game has sure changed since Berlin.
---
Giants' trip could help UA recruiting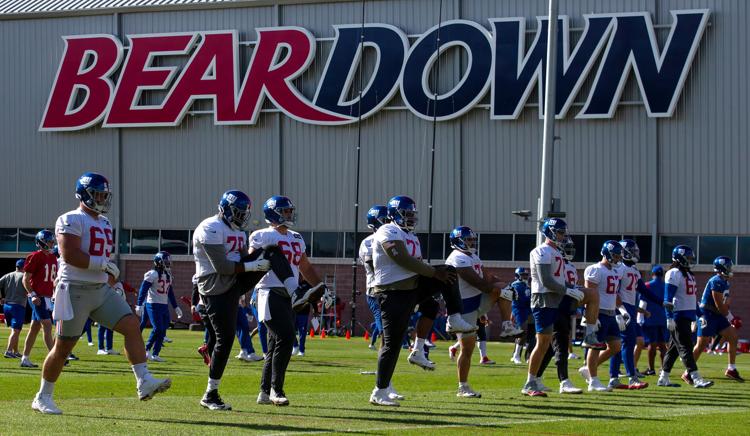 The New York Giants' week of practice on the UA campus — preparing for Sunday's game at the Los Angeles Chargers — didn't draw as much attention as the famous Minnesota Vikings and the "Purple People Eaters" defense of 1977. The Vikings, who had played in three recent Super Bowls, practiced at Arizona Stadium over Christmas weekend in 1977, preparing for a first-round playoff (victory) over the Los Angeles Rams. That Vikings team included historic NFL names Bud Grant, Fran Tarkenton, Alan Page and Carl Eller. It was a good move by the UA football department, which surely turned the Giants' presence at their facility into a plus recruiting factor.
---
Auburn ruling could help Cats — or not
On the surface, the NCAA's decision not to give Auburn's men's basketball program an additional postseason ban would appear to bode well for Arizona. But since the IARP and not the NCAA will decide Arizona's penalty, it might be misleading or false hope. Yet I think the IARP will ultimately decide Arizona has been in its own version of NCAA jail since September 2017, when FBI agents showed up on Book Richardson's doorstep at 6 a.m., battering rams in hand. Isn't that long enough? Arizona fired Sean Miller. It hasn't won an NCAA Tournament game since 2017. It's recruiting has been negatively affected. There are now usually 2,000 to 3,000 empty seats at McKale Center. Any further punishment would seem excessive.
---
My two cents: Coaching turnover hides larger problem
Flowing Wells High School last week decided to change football coaches again, relieving Scott Cortese of his head coaching duties after a 4-7 season.
You wonder if the ever-active coaching cycle at Tucson's resources- and size-challenged high schools will ever stop. Or if it makes much difference who the coach is, given declining enrollment and participation numbers in football.
In the last 10 seasons, the football programs at Palo Verde, Santa Rita, Cholla, Catalina, Rincon/University and Flowing Wells have struggled mightily. Those six schools have combined to employ 36 coaches since 2005, which seems to be a higher turnover ratio than the ever-changing NFL and Power 5 football teams.
Rincon/University has had eight coaches since 2005, Santa Rita and Cholla seven. Catalina six.
The AIA wrongly placed Flowing Wells in a Class 5A division with Salpointe Catholic, which routinely beat the Caballeros 49-0 this season. That's absurd. Give the kids a chance.
Until the AIA or Tucson's sports-challenged school districts become proactive in dealing with the diminished nature of football at most non-suburban schools — combining schools or placing them in lower classifications against, say, Benson, Bisbee, Safford, Thatcher and Coolidge — this type of losing and coaching turnover will only continue.
Contact sports columnist Greg Hansen at 520-573-4362 or ghansen@tucson.com. On Twitter: @ghansen711