Dear Mr. Football: Who is Adrian Koch?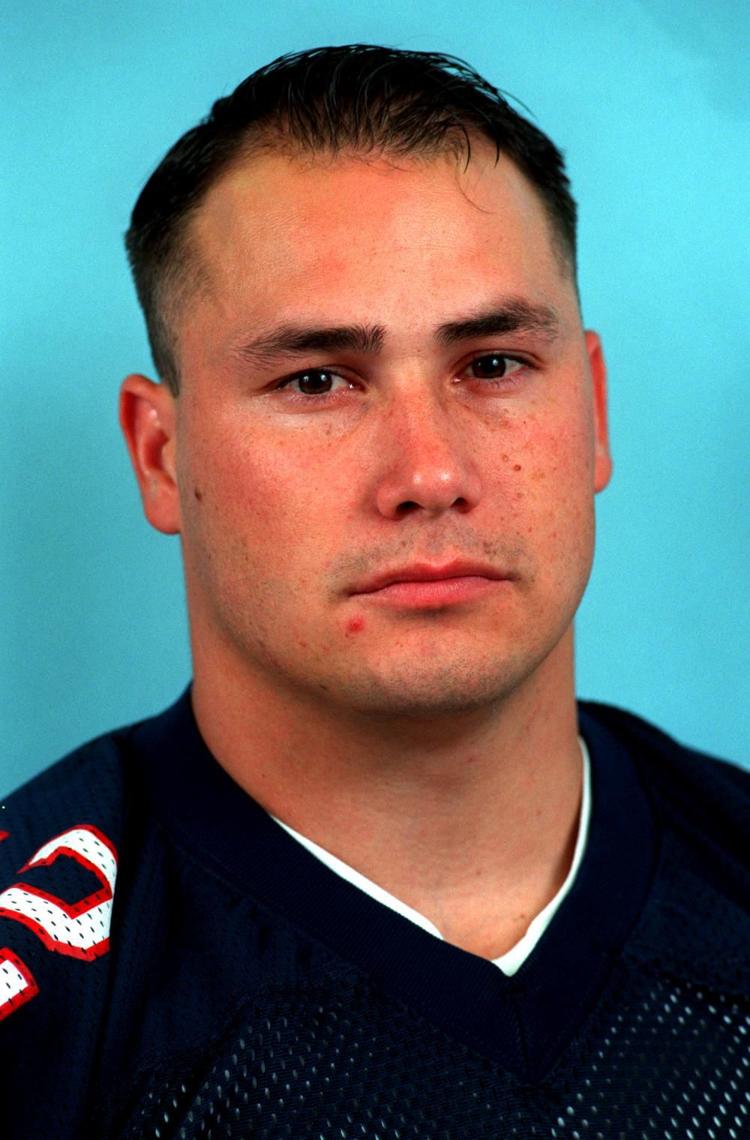 A: He is Exhibit A of Dick Tomey's "The Team. The Team. The Team" mantra, the hallmark of Tomey's 14 coaching seasons at Arizona. The sub-title should be "The Guys. The Guys. The Guys," because Koch was the type of guy who made it all work.
When the UA dedicated its practice fields in Tomey's memory on Friday, Koch was among 20 or 30 former Tomey players to attend.
Koch, a Desert View High School grad, was 5 feet 10 inches and 145 pounds when he left school. No college football team had a spot for him. Koch enlisted in the Marines, served in Somalia, Cuba, Bosnia and Haiti, was promoted to infantry sergeant, gained 40 pounds, and returned to Tucson for the 1997 season. He made Tomey's team as a walk-on. Three years later, he was starting. In the 2000 season opener at Utah, Koch made a jarring tackle, forced a fumble and returned it 10 yards for a touchdown, the difference-making play in a 17-3 victory.
And by the way, he was playing with a torn ACL, aided somewhat by a big knee brace.
When Tomey was inducted into the Pima County Sports Hall of Fame a year ago, he talked about Koch. He had to stop to compose himself when he spoke about the 1998 afternoon that he awarded Koch a scholarship. It was a glimpse into what Tomey was all about.
"I think Dick was more appreciated after he left, and especially now," former Arizona athletic director Cedric Dempsey said before Friday's ceremony to name Arizona's outdoor practice fields after Tomey. It was Dempsey who hired Tomey away from Hawaii on New Year's Day, 1987.
In 1992, the UA faculty named Tomey as the school's "Teacher of the Year." That's how much respect he had within the institution. Tomey told me several times it had more impact than being named the 1992 Pac-10 Coach of the Year.
For the last decade or so, Tomey's "Teacher of the Year" plaque was on display on the first floor of the Main Library, tucked into a corner of the west-wing study hall. It gathered dust out of public view.
That room at the Main Library is now under a massive reconstruction. Let's hope UA president Robert C. Robbins makes sure that when the Main Library is back at full operation that Tomey's trophy will be reconditioned and properly displayed.
Dear Mr. Football: Does new UA defensive coordinator Chuck Cecil know anything about winning on short notice?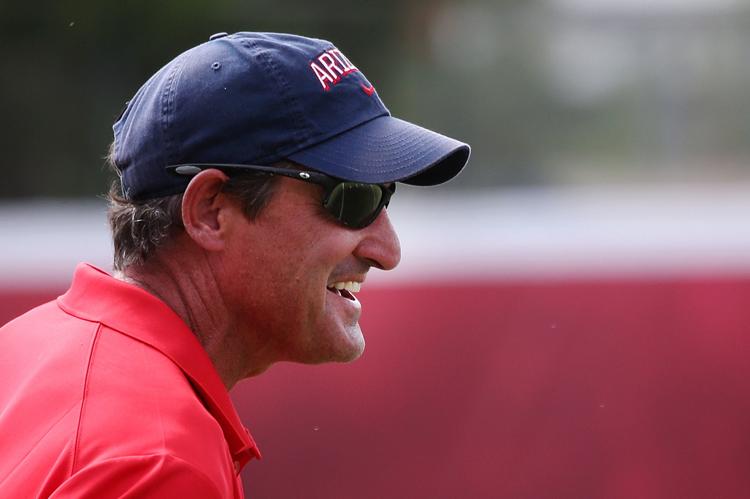 A: In his final three seasons at Arizona, Cecil had a different defensive coordinator every season: 1985, Moe Ankney; 1986, Chris Allen; 1987, Larry Mac Duff. Not only that, he had a different defensive backs coach in each of his final three Arizona seasons: 1985, Ankney; 1986, Bobby April; 1987, Duane Akina.
Did it work? Arizona went 21-10-4. Cecil was a consensus All-American and the Pac-10 defensive player of the year. Coaching football doesn't have to be medical school.
Dear Mr. Football: Is Cecil smart enough to figure this out?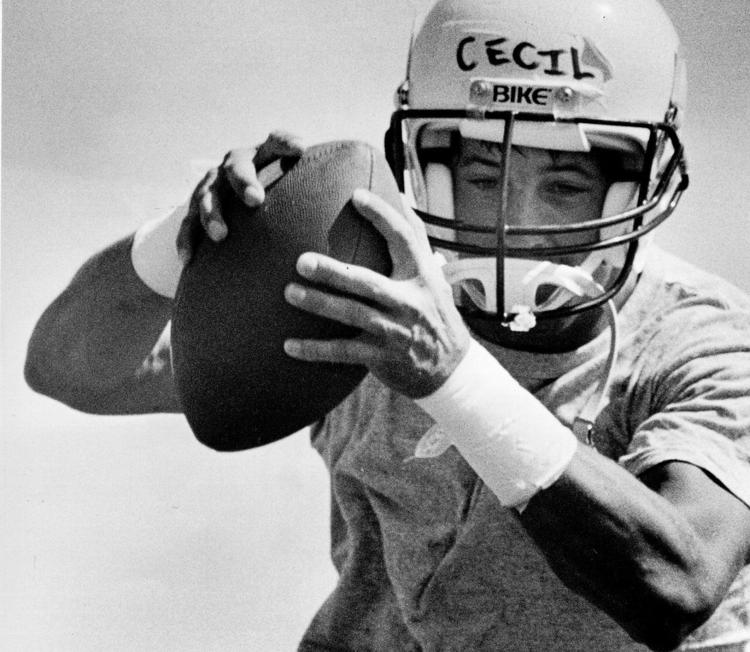 A: As a sophomore in 1985, Cecil, a first-time starter, was a biology major carrying a 3.95 GPA. "I plan to attend medical school and be a surgeon," he said. His coach, Larry Smith said: "Chuck is the heart of our defense. He is intelligent and a team leader." Cecil was 19.
At the conclusion of Cecil's Arizona career, he was selected one of the NCAA's Top VI scholar-athlete winners, emblematic of the six leading college student-athletes in any sport, men and women. That's 1 in about 12,000. He'll figure it out.
Dear Mr. Football: Does Cecil have a degree in football coaching?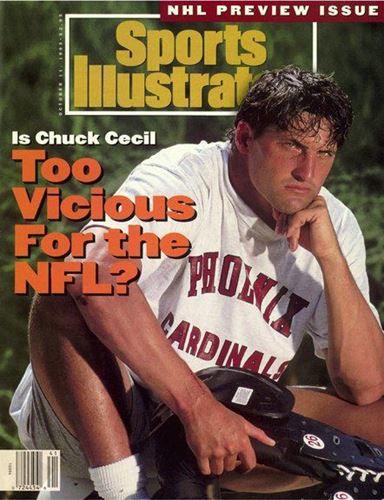 A: When Cecil played for the Green Bay Packers from 1988-92, the defensive backs coach was Dick Jauron — said by some to be the most accomplished secondary coach in NFL history. Jauron was an NFL position coach, defensive coordinator and head coach of the Chicago Bears and Buffalo Bills from 1985-2012.
Cecil went on to be a, or more than 240 NFL games. Let's put it this way: In the 35 years since he was a walk-on freshman safety at Arizona, Cecil has not only learned what to do, he has learned what NOT to do.
Moreover, Cecil is probably one of the three most qualified assistant coaches ever hired by Arizona.
He fits in rare company with offensive coordinator Homer Smith, hired in 1996 after being the offensive coordinator at Alabama, UCLA and the head coach at Army and Pacific, and with Jim Young, hired in 1992 after being the defensive coordinator at Michigan and head coach at Army, Purdue and Arizona. Smith was 64, Young 57 when they became Arizona assistants. Cecil is 54.
This isn't just some hometown hero thrown into an impossible situation, buying time before Kevin Sumlin can find someone more qualified.
Dear Mr. Football: Does Oregon State have a capable defensive coordinator?
A: Tim Tibesar was part of the Wisconsin defensive staff when the Badgers went 34-7 in three seasons. He has been the defensive coordinator at Kansas State and coached for the Chicago Bears.
Tibesar is typical of Pac-12 football coaching. Unless a new coach has an NFL pedigree, as Arizona offensive line coach Kyle DeVan and running backs coach DeMarco Murray do, you'd better make sure you hire someone like Oregon State offensive line coach Jim Michalczik, who, in my opinion, was the most effective Arizona assistant coach in the Rich Rodriguez years.
Michalczik was a rare outsider on RichRod's Arizona staffs, not one of the Old Gang from West Virginia that had peaked and began a career slide by the time they started coaching in Tucson. By the time Michalczik was hired at Arizona, he had worked more than a decade in the Pac-12 as well as with the Oakland Raiders.
Dear Mr. Football: Does Kevin Sumlin know a good assistant coach when he sees one?
A: As a beginning head coach at Houston, Sumlin hired former Dallas Cowboys defensive coordinator Brian Stewart as his DC. Bingo. Then Sumlin actually stepped it up; at Texas A&M he hired Kliff Kingsbury as his offensive coordinator. Yes, that Kliff Kingsbury.
He also pursued and was able to sign former Tennessee and LSU defensive coordinator John Chavis as the Aggies' DC. It cost a bundle: Chavis signed a three-year deal for $4.6 million.
Things have changed. Before he was promoted to DC last week, Cecil was being paid $100,000 a year as a defensive analyst.
Dear Mr. Football: What do Oregon State and Arizona have in common?
A: Both are struggling to be relevant in Pac-12 football. When their fans run a finger down the schedule, both stop at OSU/Arizona and say "that's a win."
The similarities between the Beavers and Wildcats are closer than ever. OSU just announced it will spend about $175 million to tear down and rebuild the west grandstands at Reser Stadium. Arizona recently said it would spend about $150 million to tear down the west grandstands at Arizona Stadium and start over.
What's more, OSU and the UA both recently released a "Strategic Plan" for athletics, vowing excellence in every aspect, taking it to the point that Oregon State said its plan is to "lead the country in Holistic student-athlete development" and "attain national recognition annually in all sports."
Holistic? That's a big word that doesn't apply to Saturday's football game.
Oregon State is a school known for baseball, gymnastics and women's basketball. Arizona is a school known for softball, swimming and men's basketball.
Saturday's winner might soon be known as a leading contender for the 2019 Walk-On's Independence Bowl in Shreveport, Louisiana. The Rose Bowl will again have to wait.
Arizona 34, Oregon State 30