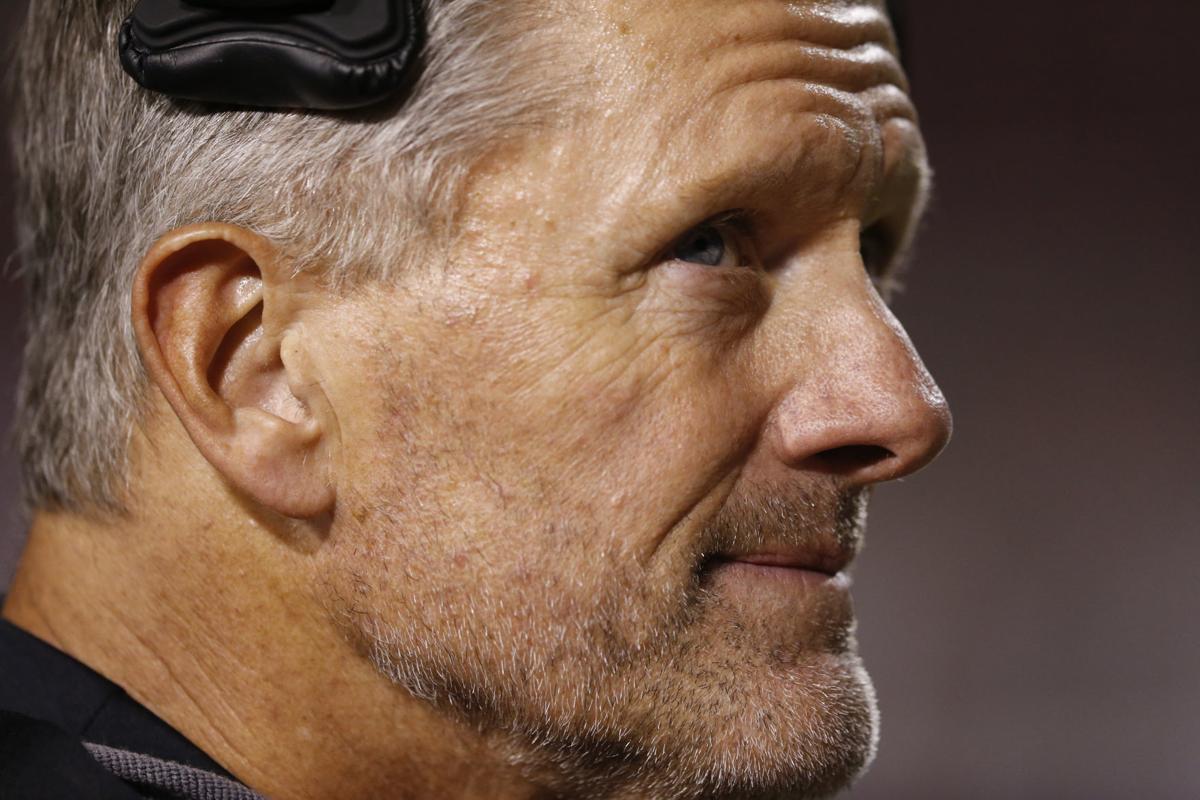 Not one Arizona football player would start for Utah. Not a guard, not a safety, not a punter, not a slot receiver. Put it down: 0 for 24.
This is what I believe to be true. It is also close to incomprehensible.
On the summer day in 2011 that Pac-12 commissioner Larry Scott announced Utah and Colorado would be absorbed by the league, one of the first reactions of Tucson's football community was that the Wildcats would now have a gimme each season — Utah.
It has all changed. Since that summer day, Utah is 42-37 in Pac-12 games. Arizona? 32-47.
At Kyle Whittingham's press session on Monday, he was asked how many NFL prospects are part of Utah's imposing defense.
"Let's see, one, two, three, four, five, …. seven, eight," he said. "Somewhere in there."
The Utes are so formidable defensively heading into Saturday's late, late game at Arizona Stadium that their four starting linemen — Bradlee Anae, Leki Fotu, John Penisini and Mike Tafua — have been the Pac-12's defensive line players of the week since Oct. 21.
Quality defensive linemen are the most difficult players to recruit in college football. Utah has four of them. What's more, the Utes have a linebacker, Francis Bernard, who has twice been chosen Pac-12 defensive player of the week, and another, safety Julian Blackmon, who was last week's defensive player of the week.
Incredibly, four of those star-level players are from within 40 miles of the Utah campus: Penisini, Fotu and Bernard are from the Salt Lake valley; Blackmon is from nearby Layton.
How did this happen? How did Utah become the "Desert Swarm defense" of 2019? It happened because the Polynesian community in the greater Salt Lake City area has become a college football recruiting stronghold fluid enough to keep the Utes in the Top 25 in the foreseeable future.
But mostly it's because the Utes hired the right man during a period that Arizona's acumen at hiring head football coaches has been abysmal.
Whittingham is just what a geographically challenged school like Arizona needs to coach winning football: a man whose program is based on toughness, a man whose work ethic is almost unmatched, a man who has equity and connection to the community, and a man who surrounds himself with a quality coaching staff that understands that you can't be USC or Oregon and that you must play defense first to have a chance in Pac-12 football.
Arizona has blundered by hiring coaches who were once big names at Texas and Michigan and Texas A&M or came from the tree of a famous coach at Oklahoma.
Do you know how Utah got Whittingham? It essentially got him through Dick Tomey. Unreal.
When Tomey built Arizona's offensive line into one of the most effective in the Pac-10 in the late 1980s, churning out difference-makers like Joe Tofflemire, Glenn Parker, John Fina, John Brandom and Rick Warren, he put his trust in offensive line coach Ron McBride.
McBride was not only a skilled coach with a history of developing average players into good players, he displayed head coaching chops as a communicator, a recruiter and as an X's and O's guy. In 1990, long-slumping Utah hired McBride to be their head coach.
McBride won 71 games in the 1990s, at the time the most wins over a decade by any Utah coach. His 1994 team went 10-2 and finished No. 10 in the AP Top 25, the first time the Utes had been ranked in the final AP poll. Ever.
Not only that, McBride's Utes beat No. 15 Arizona in the Freedom Bowl.
Before the '94 season, McBride hired Whittingham, then a low-level assistant at Idaho State, to the Utes staff.
Explaining the acquisition of Whittingham, McBride told the Salt Lake Tribune: "He's a blue-collar guy who gets down in the trenches. The kind of guy I was looking for."
Forget for a second that Whittingham had played for hated rival BYU 13 years earlier.
"Kyle is the kind of coach who can take a kid who doesn't think he's any good and make him believe he's pretty good," said McBride. "He brings a toughness to our program."
McBride, now 80, still lives in Salt Lake City and he's still coaching. He's the line coach at Juan Diego Catholic High School. In addition to turning the long-average Utes into a football school, much of his legacy is that he hired Whittingham, who is, in many respects, a modern day combination of Tomey and Larry Smith, Arizona's most successful coaches of the Pac-10/12 era. They were men who won with toughness, defense, kicking, field position and a sense of community.
Whittingham viewed Utah as a destination job and has made it a destination job. His wife and four kids are part of the community. His late father, Fred, an accomplished boxer and weightlifter, was a respected assistant coach at both Utah and BYU. His son adopted his values and his I'll-give-you-my-best-shot approach.
When Urban Meyer was hired to replace McBride in 2003, one of the wisest decisions he made was to keep Whittingham as his defensive coordinator. It took Meyer six days to research the coaching staff and ask Whittingham to stay.
After Meyer went 22-2 and took the job at Florida, both Utah and BYU offered Whittingham their head coaching jobs. BYU wanted him so badly that Cougar legends LaVell Edwards and Steve Young called Whittingham and asked him to be a Cougar again.
But Whittingham stayed at Utah and has become a legend like few in school history, in a class with Final Four basketball coaches Jack Gardner and Rick Majerus, and football coach Ike Armstrong, the Utes' "Pop" McKale-type figure of the pre-1950s.
Since Whittingham took charge at Utah, the Pac-12 has had 42 head football coaches. A lot of them — USC's Pete Carroll, Oregon's Chip Kelly, Stanford's Jim Harbaugh — were more immediately recognized on TV. But now Whittingham is the league's dean of coaches and also the toughest out.
The Utes have never been better. They are playing at a level that Arizona can't hope to duplicate. The Utes have won the last three meetings by a combined score of 108-57.
Now the Wildcats have become Utah's yearly gimme.
Contact sports columnist Greg Hansen at 520-573-4362 or ghansen@tucson.com.
On Twitter: @ghansen711.