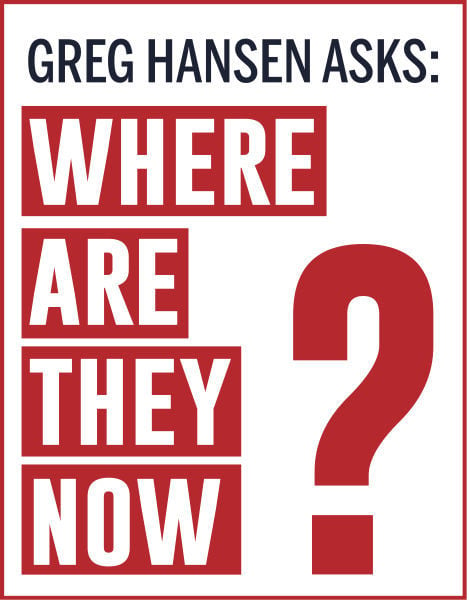 On Nov. 27, 1991, a man operating the Rolex Junior Golf Classic phoned to ask if I would be interested in an interview with 15-year-old Tiger Woods after his practice round at La Paloma Country Club.
There was a conflict. The NCAA Cross Country Championships would be held the same day at El Conquistador Golf Club. Tiger Woods or Martin Keino?
I chose Martin Keino. It wasn't a difficult choice.
In the '80s and '90s, Arizona was one of America's four or five leading distance-running programs, a succession of NCAA champions and Olympians under coach Dave Murray, and no one had a pedigree to match Murray's super sophomore of 1991, Martin Keino.
The Keino name is gold in distance running history. Martin's father, Kip Keino, became a legend at the 1968 Mexico City and 1972 Montreal Olympics, winning four medals and launching 50 years of world championship runners from his homeland, Kenya.
On that beautiful autumn morning at El Conquistador Golf Club, Martin Keino, who was just beginning to realize his potential, finished fourth in the NCAA finals, becoming a first-team All-American.
Before he graduated from the UA in the spring of 1995 with a degree in interior design, Keino had won the NCAA Cross Country championship, the NCAA 5,000 meters, and in 1993 and 1995 completed an unprecedented sweep of the Pac-10 championships, winning the 1,500, 5,000 and steeplechase in the same meet.
He was undefeated in his senior year, 1994-95, winning every cross country race in the fall and every race in 1,500, 5,000 and the steeplechase in the spring.
Today, at 47, Martin Keino is CEO of the Keino Sports Group Ltd., in his hometown of Eldoret, Kenya, having excelled at a career in marketing and sports management, and as a motivational speaker.
What makes his career so compelling is that he never had a plan to follow his father's path or to make a name in distance running. Martin entered Fork Union Military Academy in Virginia in 1985 and concentrated more on academics than on running.
But by his senior year, even though he didn't train as fully as most national-level teenage distance runners, he finished sixth in the biggest race of the year, the Kinney Championships. Murray offered him a scholarship to Arizona, and although Keino shot to the top of all the recruiting lists, he chose the Wildcats.
There was some good fortune, and weather, involved.
"It just so happened that my recruiting trip to Tucson was immediately after coming from Iowa State that spring of 1990 and the weather differences between Ames and Tucson made it a lot easier for Dave to convince me to sign with the Wildcats," Keino says now.
It also helped that Murray had recently coached NCAA distance running champions Matt Giusto and Marc Davis.
Keino increased his training regimen at Arizona and for the first time viewed himself as an athlete first. Pressure from the outside, real or imagined — hey, this is Kip Keino's son, he's supposed to win everything — preceded him in each of his races as a Wildcat.
By 1994-95, he met those expectations and then some.
"I had a fabulous senior year going into those championships, being undefeated throughout the season and I was determined not to lose, whichever way the race unfolded," he remembers.
"I still replay the (1995 NCAA finals in the 5,000 meters) in my head occasionally and remember the crowd booing during the race and laugh because it was the slowest-ever final. I also remember battling my main rival, Mark Carroll of Providence, at the homestretch and getting the measure of him, which gave me huge satisfaction as he was truly world-class."
Keino's academic work, his athletic accomplishments and his legacy drew the attention of Phil Knight at Nike. After leaving the UA, Keino was hired as a Nike retail designer. He moved to Portland, Oregon, and not only ran for Nike's stable of world-class runners, but began a career in design and marketing, one that turned out to be more fruitful than any of his championships.
But before Keino could concentrate solely on his off-track career, he had a goal bigger than anything he had experienced in sports. He wanted to make Kenya's 1996 Olympic team. Do you know how difficult it is to make a Kenyan Olympic track team? To finish in the top three in the 1,500 or 5,000 meters?
It immediately became manifest to Keino.
"The pressure and expectations were high, none more than of myself, of wanting to compete for Kenya in the Atlanta Olympics," he says. "But the depth of Kenya's runners that year was mind-boggling. I was ranked eighth in the world but the fourth Kenyan."
He finished fourth, a fraction of a second from the Olympics.
He spent much of the next decade splitting his time between working for Nike, a global position, and becoming one of the most accomplished "pace-setters" in world-class running.
He often earned in excess of $10,000 to set a determined pace for the world's top distance-runners and Olympic medalists. It wasn't that he lost his speed; He ran a career-best mile of 3 minutes, 52.23 seconds in the Bislett Games, Oslo, Norway, in 1996.
Was it his best race ever?
"I honestly can't think of what would be my greatest race, but one race stands out for me, even though I didn't win it, was that Dream Mile in the Bislett Games back in '96. I ran it in one shoe."
With both feet on the ground, Keino now spends most of his time in Kenya but travels occasionally through Africa and Europe for business. He has two sons, Kigen, 17, and Kilel, 12. Both are active in sports, but neither has chosen to follow their father or grandfather's running careers.
When Keino was a UA freshman in 1990, he said he liked running "because it enabled me to go to college, but I'm not sure where it can take me in the future."
Now, 29 years later, it has taken him on a journey around the world.
Contact sports columnist Greg Hansen at 520-573-4362 or ghansen@tucson.com. On Twitter: @ghansen711