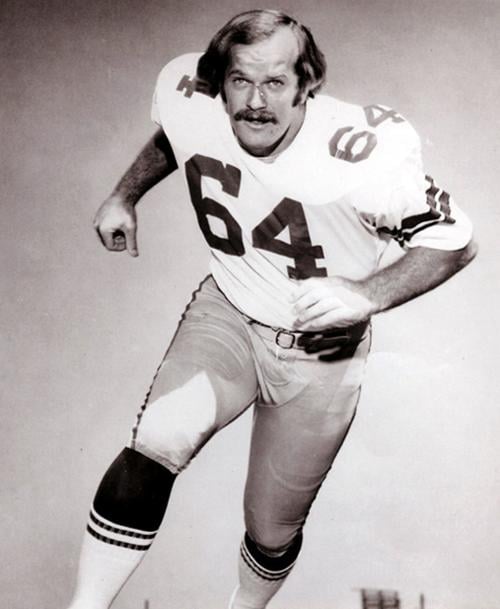 One of three telephones in the Dallas Cowboys' old clubhouse rang in the fall of 1973. Jim Arneson, a rookie offensive lineman from Palo Verde High School, picked it up.
"Hi, I'm Bob Lilly's wife; do you know who he is?" the woman asked.
"I sure do," said Arneson, who then alerted the 13-time Pro Bowl defensive tackle — a future NFL Hall of Famer — that he had a call.
"Everywhere I looked around our clubhouse I'd see Hall of Famers," Arneson says now. "Bob Hayes, Mel Renfro, Mike Ditka, Rayfield Wright, Roger Staubach, and of course Tom Landry. I had to block against Bob Lilly every day in practice. Did I know Bob Lilly? Ha, ha, ha, ha, ha."
Arneson, now 68 and a retired COO of Meritage Homes, so enjoyed his days with the Dallas Cowboys that the gymnasium he built in the basement of his Tempe-area home has two large banners: one for the Cowboys and one for the Arizona Wildcats.
The odds of Arizona's 1972 all-WAC guard making the Cowboys imposing roster were overwhelming.
"It wasn't realistic," he says. "I was a 12th-round draft pick. The Cowboys had all those big-name offensive linemen coming back for another year: Ralph Neely, John Niland, Blaine Nye, Rayfield Wright."
But Jim Arneson wasn't a wide-eyed rookie. His brother, Mark Arneson, one of the most celebrated players in UA football history, had started 10 games as a St. Louis Cardinals rookie a year earlier. Their shared genes — their football instincts and aggressive approach — eliminated the typical rookie awe of playing for Tom Landry's Cowboys.
"They tried me out as a long-snapper on punts the day before a televised preseason game and I snapped one 35 yards in the air, hitting the stadium wall," Jim Arneson says with a chuckle. "But I didn't let it get me down. The next day I made a solo tackle on the kickoff team and our special teams coach, Mike Ditka, took me aside and told me, 'You've made the team, so act like you've made it.'"
Arneson played three NFL seasons, surviving a 1975 trade to Cleveland and a detour to the Washington Redskins. He was only 25 when Cleveland coach Forrest Gregg, a former Green Bay all-pro, proposed to trade him to the Packers to help his former Packers quarterback and Green Bay coach Bart Starr.
Arneson thanked Gregg but told him all he wanted was a plane ride back to Tucson.
"People have told me, 'Were you crazy? You could've been a Packer,' " Arneson says. "But I started working in the home building industry in Dallas and later in Phoenix and had a great career. I had a good run; I've got no regrets."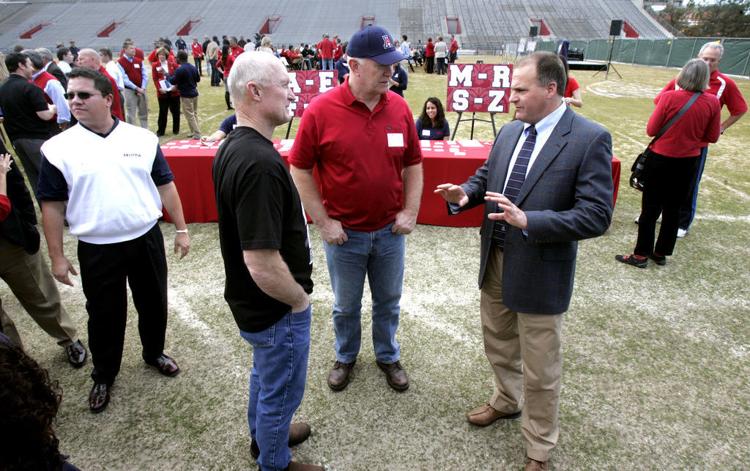 The Arneson brothers — Mark, Jim and youngest brother Tom, all who played for iconic Palo Verde state championship coach Van Howe — are believed to be the only three brothers from a Tucson family to accept football scholarships to Arizona.
They grew up in rural Roland, Iowa, the son of Gene Arneson, a farmer who moved to Tucson in 1958 when a doctor advised Gene that a warm and dry climate would benefit his health. As Gene worked as an airplane mechanic at Davis-Monthan Air Force Base, his three sons emerged as football prospects.
One of the better recruiting stories in UA history involves the Arnesons. Arizona State coach Frank Kush sent an assistant coach to recruit Tom in 1971. Blocked first by Mark, the Sun Devil coach never got in the front door at the old Arneson house near Broadway and Wilmot.
"It's funny, but Kush recruited all three of us and we all told him we were Wildcats; but he just wouldn't give up," Jim Arneson says. "A few years ago I was at Sun Devil Stadium for a football game, saw Kush and introduced myself. He gave me a grin and said 'Oh, I know who you are.'"
Arneson played not only for Howe, Landry and Gregg, but George Allen. Yet he says that Arizona offensive coordinator Eddie Wilson — the same Eddie Wilson who quarterbacked Arizona's epic 8-1-1 team of 1961 — ranks with any coach in his career.
The two had an expected reunion at the Lowell-Stevens Football Facility in January 2018, when both drove from Phoenix to attend a press conference announcing the hiring of Kevin Sumlin as Arizona's football coach. On most Saturday nights during football season, you can see Jim Arneson in his seats near the Sands Club.
"I get involved, I get worked up," he says. "I'm a Wildcat."
Being drafted by the Cowboys, being a first-team All-WAC lineman and playing on two NFL playoff teams would often be the highlight of anyone's football career. But for Arneson, his singular moment came at the most unexpected time.
When Dallas traded him to the Browns before the '75 season, Landry announced the transaction to the assembled Cowboys team before practice.
Late that night, one of his closest friends, Dallas tackle Bruce Walton — Bill Walton's brother — phoned to wish him the best.
"Bruce told me that when Coach Landry stood at the podium in the meeting room and announced that I had been traded, that Coach Landry started to cry. He told the team that he was grateful for what I did on the field, but he also liked what he saw of me off of the field."
Even now, 44 years later, Arneson's voice cracks as he tells the story.
"I've received no greater honor in football that what coach Landry said that day," Arneson says. "I was privileged to play for a man like that."