On the day of the 1993 MLB draft, Marc Barcelo was in his Omaha, Nebraska, hotel room at the College World Series. It had only been what seemed like a few minutes since Alex Rodriguez was the No. 1 overall draft pick.
Someone from the Minnesota Twins told Barcelo they had selected him with the No. 33 overall pick.
"I had no clue that was going to happen, I was floored," Barcelo says now. "I thought I'd go maybe in the first five or 10 rounds, but nobody in baseball had said anything about the first round. Not a peep."
Three years earlier, Barcelo won six games for Sahuaro High School. His fastball was clocked in the low 80s. His sports reputation came from basketball; he was twice an all-city basketball player, scoring more than 1,000 points for coach Dick McConnell across the 1989 and 1990 seasons.
By 1992, Barcelo pitched Pima College to the NJCAA national championship game. He won 20 games for the Aztecs in two seasons. His fastball was clocked at close to 90 mph.
By the time he answered his phone in the Omaha hotel, he was throwing heat — 94 mph — and was Pac-10's co-pitcher of the year. He was throwing that heat not for Arizona but for rival Arizona State, the No. 2 overall seed at the '93 World Series.
In May of '93, Barcelo pitched a complete game to beat Arizona, clinching the Pac-10 championship.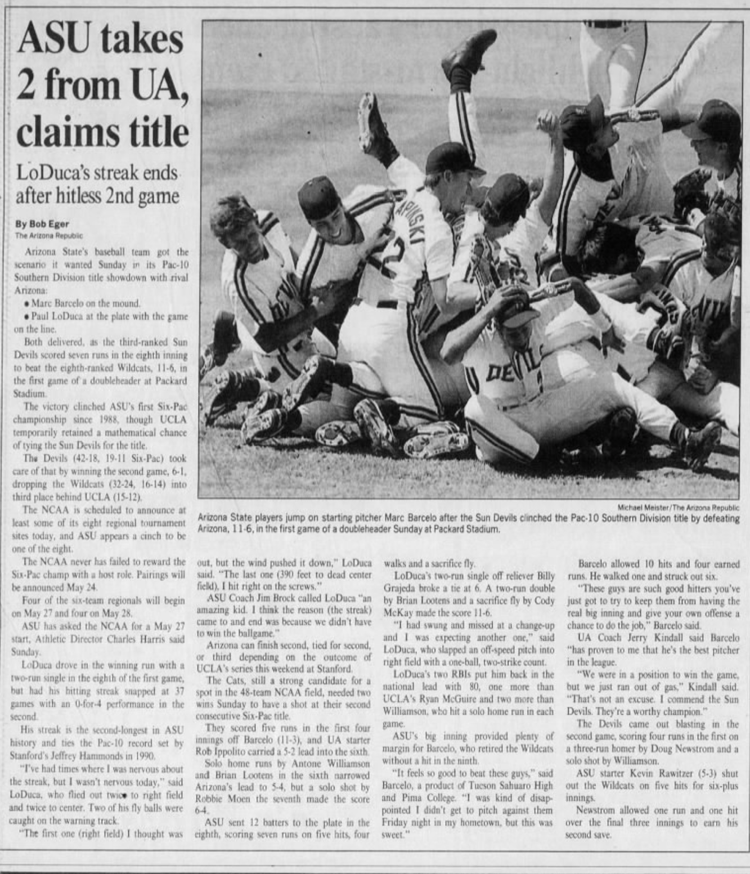 He had come a long way since attending Wheeler Elementary School and winning the 1982 kids' Southern Arizona swimming championship in the 50-yard butterfly at Amphitheater High School.
"I was a late-bloomer, I was always told I'd never play pro baseball," he says with a laugh. "When I got out of high school, my only options were to play at Pima or Yavapai College. You never know."
This is what he means by "you never know": By 2010, Barcelo was a golf pro at the PGA Tour's Doral Golf Resort and Spa in Miami.
Today he's a real estate agent in Sarasota, Florida, specializing in golf course properties and waterfront living. He's also the varsity golf coach and a baseball coach at the Out-of-Door Academy, a private school in Sarasota.
More? He owns a painting business, is the father of three girls, aged 16, 15 and 10, and when he gets time for golf it is often with his brother, former PGA Tour pro Rich Barcelo, the head pro at Tiger Woods' grand Bluejack National Golf Course in Houston.
"I reached Triple-A baseball in the Twins organization in two years, but I tore up my shoulder in spring training and that pretty much ended my baseball career," says Barcelo. "So I had to reinvent myself. I was 25."
He returned to Tucson, spending a year working toward a finance degree at the UA, but ultimately decided he couldn't picture himself sitting in an office, managing money, sitting by a computer.
"Working in an office wasn't my calling," he says. "Being out of baseball at 25 was a tough pill to swallow for a long time — I was on the fast track to the big leagues — but it all came apart. I couldn't sit around and sulk."
So he followed his younger brother's lead and got into golf, first in an entry-level position at Arizona National, later at a high-end golf course in Jackson, Wyoming, then the TPC Prestancia in Florida, and ultimately at what is now President Trump's Doral course in Miami.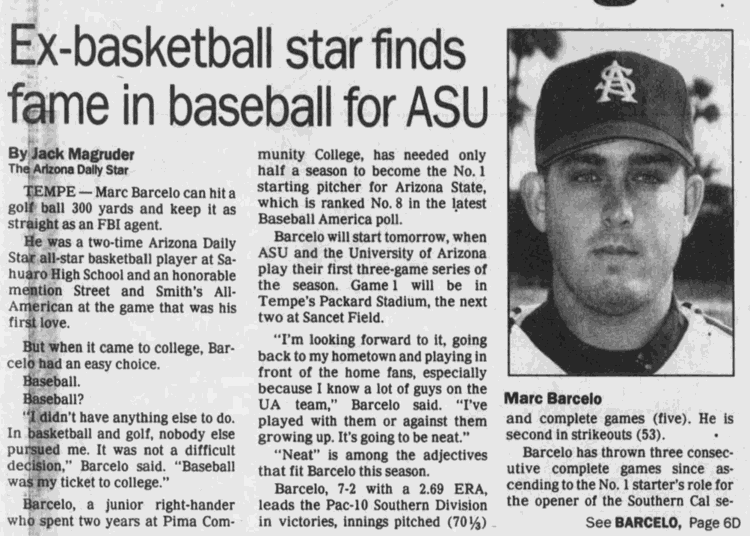 The fireballing right-hander who opened the 1994 Double-A season with a 9-2 record for the Nashville Sounds, making the Southern League All-Star team before tearing the rotator cuff in his shoulder, re-routed his life and made it work.
"I'm a firm believer everything happens for a reason," he says. "I've been in real estate for three years. We do full renovations, flipping homes, gutting kitchens and putting them back together. I do a lot of painting. If you had told me 25 years ago this is what I'd be doing I'm not sure what I would've thought, but I'm my own boss and I love it."
Barcelo had the good fortune of attending Sahuaro High School at a time it was blessed with two Hall of Fame coaches, basketball's McConnell and baseball's Hal Eustice. He further hit the sports mother lode by playing baseball for Roger Werbylo at Pima College and Jim Brock at ASU.
"Those were great men, great coaches," he says. "It's kind of indescribable how it all came together, and that I was able to make it professionally in two sports.
"It all hasn't been rainbows and unicorns, but I'm happy and healthy. I couldn't ask for anything more."