Three days before Rincon High School played for the 1965 state basketball championship, Rangers coach Dick King and his star player, guard Jim Johnson, invited a photographer into the team's locker room.
King had written "STATE CHAMPS 1965" on a blackboard. King and Johnson posed next to the brave words. A day later it was on the cover of the Arizona Daily Star sports section.
On March 8, 1965, Johnson scored 25 points against Phoenix North High School and Rincon won its only state basketball championship. It remains one of the singular performances in Tucson prep basketball history.
"As it turned out, I became a baseball guy," Johnson says now. "But those days playing basketball at Rincon — do you realize Dick McConnell was our assistant coach? — were pretty damn special. Great memories."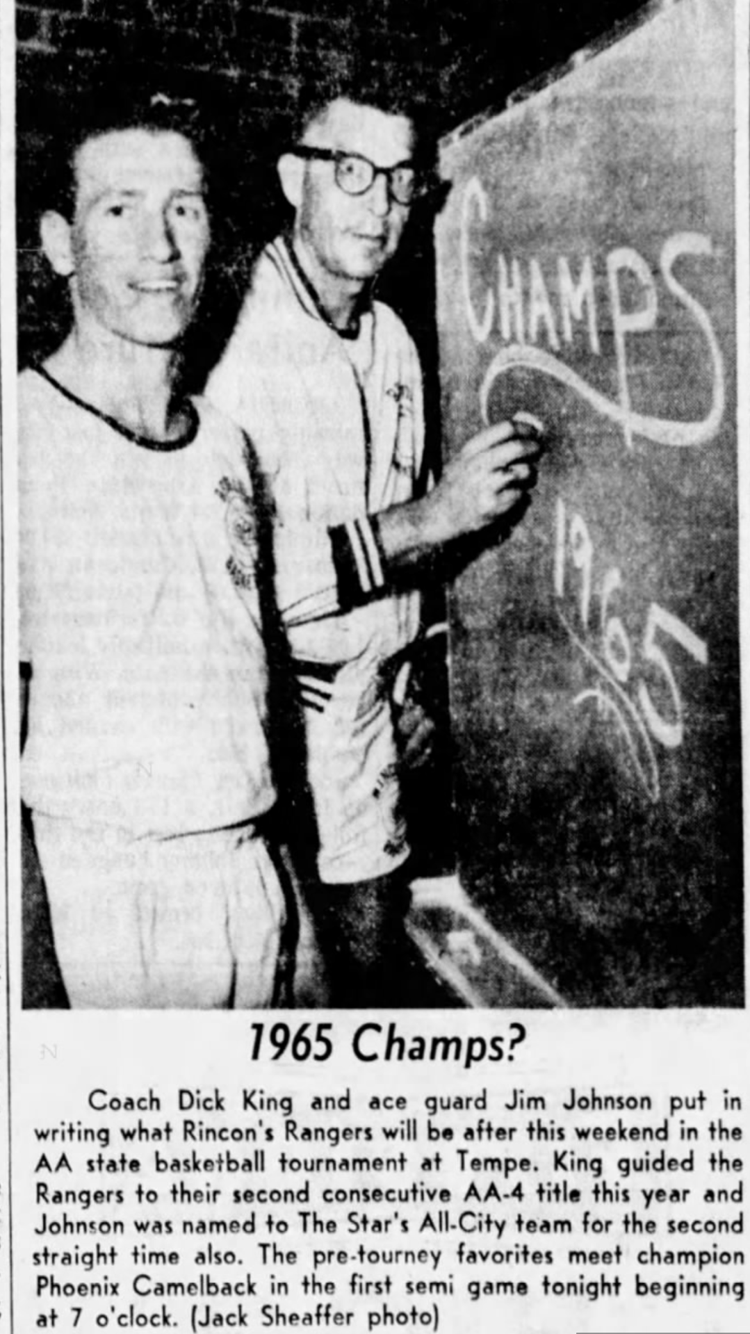 How did the young man who scored 25 points in the state championship basketball game become a 50-year "baseball guy?"
Johnson was also at the center of Rincon's 1963 and 1964 state championship finals baseball teams, an skilled infielder from a generation of two- and three-sport athletes who would make a living as a coach, scout and manager for, among other organizations, the Houston Astros, New York Yankees, Los Angeles Dodgers, Colorado Rockies and Kansas City Royals.
A year ago, Johnson was the part of the coaching staff of the Chinese National Team in its attempt to qualify for the 2020 Olympics.
"It's been a nice ride," he says, retired for the first time and living in Phoenix. "If you had told me in 1965 I'd be able to spend my life coaching baseball, I'd have said, 'Give me the paper, where do I sign up?'"
If someone was to write a book about Jim — or JJ or Jimmy — Johnson's career, a good title might be "The Summer of 1980."
After playing the bulk of his minor-league career in the Astros' organization, reaching Triple-A with the 1973 Denver Bears, Johnson realized his playing days would be over before he turned 30.
He had graduated from the University of New Mexico, a baseball standout who turned pro in 1969, and hoped to get into coaching. He enrolled at Arizona State, earned a master's degree and mailed out résumés.
"I asked people from the Astros organization if I could use them as references," he says. "They responded with 'how'd you like to be a manager of our Single-A team at Cocoa Beach?'
"It's funny. I thought, 'What the hell; I'll do it for a summer.' The next thing you know I'm in baseball for life."
Even though the Cocoa Beach Astros of 1977 were an awful 42-93, a team built around catcher Bruce Bochy, a future Hall of Famer managing the San Francisco Giants, the Astros liked what they saw of their young manager.
In 1980, Johnson was promoted to be the manager of the Triple-A Tucson Toros, a homecoming that turned into a summerlong celebration.
The Toros of 1980 were the best team in the Pacific Coast League, 87-59, deploying names that have become familiar to Tucson's long baseball history: Tom Spencer, Brent Strom, Gary Woods, Tom Wiedenbauer, Jim Pankovits, Danny Heep and Alan Knicely.
"I was a young manager and maybe we just got lucky, but that 1980 Toros team was exceptional," Johnson remembers. "Everything seemed to work. It was like I was living in a dreamworld."
At another time and another place, Johnson would've been promoted by the Astros and become a big-league manager. But the timing was wrong. The Astros of the early '80s were loaded, with Joe Morgan, Cesar Cedeno, Nolan Ryan, J.R. Richard, Jose Cruz and an established manager Bill Virdon. When Virdon left, the Astros promoted his third base coach, Bob Lillis.
After managing the Toros in 1985, Johnson changed directions. He's since been a roving instructor, a field coordinator, a hitting coach, you name it. After 25 years, he left the Astros and signed with the Yankees. The timing was right.
The Yankees sent him to their Single-A team in Tampa to work with their young shortstop, Derek Jeter.
"I worked with Jeter every day. Lo and behold, he became a Hall of Famer, ha, ha, ha, ha," says Johnson. "He was going to be a Hall of Famer anyway, but I got some of the credit. I also got a 1996 World Series ring from the Yankees. Joe Torre made sure I got one. Pretty sweet."
Johnson grew up playing with many of the top names in Tucson baseball history — Eddie Leon, Rich Alday, David Jacome. He played for legendary coach Hal Eustice.
A year ago, while giving coaching lessons in Phoenix, Johnson went to a Paradise Valley Community College game to watch several of the young players he coached. Pima College was the opponent.
"I looked into the dugout and there was Rich Alday," Johnson says. "I had played with him 50 years ago. He had been one of my best friends. I said 'Rich, what are you doing?' He said he had come out of retirement to coach at Pima for a second time. Small world, huh? It's been a great way to make a living."