A courtesy shuttle stopped at the Pebble Beach Golf Links a year ago, and U.S. Amateur contestants Cameron Meeks and Carter Toms took their seats. So did their fathers, Eric Meeks and David Toms.
"We were there to caddie for our sons," Eric Meeks remembers. "I didn't say anything about what happened 30 years earlier."
At the 1988 U.S. Amateur in Hot Springs, Virginia, Meeks — who had recently completed his eligibility and earned a sociology degree at Arizona — and Toms, a first-team All-American at LSU, met in the semifinals. Toms was strongly favored.
"Beating David was my ticket to the Masters," says Meeks, now 54, operator of the Eric Meeks School of Golf in Las Vegas.
It was also a ticket to a life in golf.
Winning the U.S. Amateur doesn't often do for you what it did for Jack Nicklaus, Arnold Palmer, Phil Mickelson and Tiger Woods, but it is an opportunity like few in sports.
A year ago, Meeks returned to the Augusta National Golf Club for the first time since he teed off at the 1989 Masters. Winning the '88 U.S. Amateur got him through the door.
"I was having dinner in the Masters clubhouse with my brother-in-law, who is the CEO of NetJets," says Meeks, a third-team All-American in 1988. "I looked around at the other tables and saw Fred Ridley — the chairman of Augusta National. He was the captain of our 1989 Walker Cup team. We were able to share a lot of memories."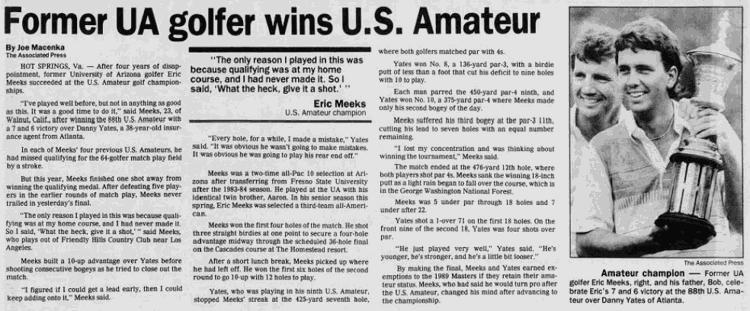 Few UA athletes have a more compelling back story than Eric Meeks.
After beginning his college career at Fresno State in 1984, the son of a Southern California real estate appraiser transferred to Arizona to join his twin brother, Aaron, who had separated from his brother a year earlier, both hoping to pursue separate identities.
The timing couldn't have been better. They became Wildcats during a period coach Rick LaRose's golf program began a climb to prominence, joining future PGA Tour regulars Mike Springer, Larry Silveira and Robert Gamez, a group soon followed by All-Americans Jim Furyk, Ted Purdy, Jason Gore and Rory Sabbatini.
The Wildcats of 1988, rising to No. 2 in the national rankings, were so good that Meeks was the No. 4 golfer in LaRose's lineup. That didn't stop him from thinking big.
He delayed his launch into a professional career to play in the 1988 U.S. Amateur. He had failed to qualify for the 1984-87 finals by a single stroke.
"Four years in a row, I missed by one stroke each year," Meeks says now. "I was determined to make it before turning pro later in the year."
It was the week of Meeks' golf life. He had to shoot a 65 in the final round of qualifying to make the 64-man match play field. It got better. Meeks then came from behind to beat two-time U.S. Amateur champion Jay Sigel, and, later, Gamez, his Arizona teammate, who would become the 1989 NCAA golfer of the year.
Then came the biggest test, Toms, who would go on to win 13 PGA Tour events and earn $41.9 million.
"He was the favorite, and it was a huge match," says Meeks. "But by the time I got there I had gone through Sigel and Gamez and it was like 'OK, game on. I can do it. Looking back, it was a special day, just a special day."
Meeks never did earn full-time playing privileges on the PGA Tour, but it doesn't mean he wasn't a full-time golf pro.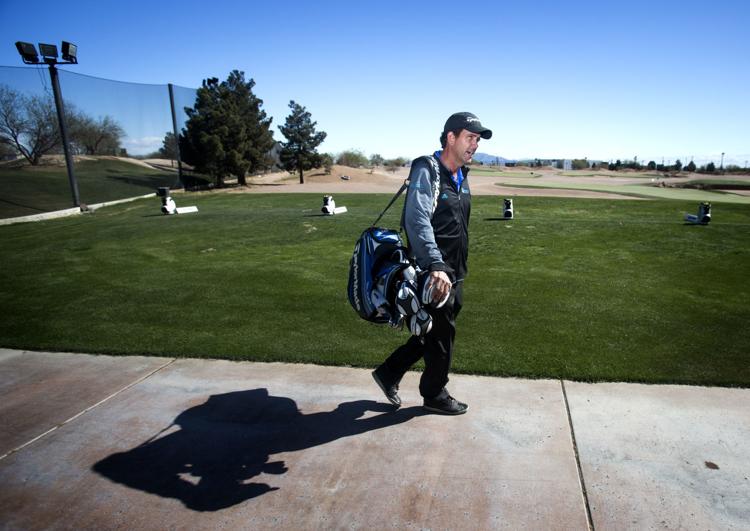 He played every conceivable golf tour available: in Asia, South Africa and the previous incarnations — Nike Tour, Web.com Tour, Nationwide Tour — of what is now the Korn Ferry Tour.
"I did well everywhere, played all over the world and had so many fun experiences," he says. "I played pro golf for 21 years, from 1988 to 2009, and looking back I accomplished a lot of my goals. It was a lot of work, but I definitely was doing something right."
About 10 years ago, Meeks opened a golf school in Las Vegas and today teaches scores of young golfers, boys and girls, who want to be the next Eric Meeks, or something similar.
His son, Cameron, who will be a junior at Loyola Marymount, is one of many from Meeks' golf school who have been recruited to play college golf.
"Is he as good as his dad? Oh yeah," Meeks says. "He's heading in the right direction."
Eric and his twin brother, Aaron, both live in Las Vegas, separated by a few miles. Like their father, Bob, the man who taught them the game at SoCal's Friendly Hills Country Club, Aaron is a real estate appraiser.
"It seems funny to say this now, but I initially went to Fresno State because at the time it had a better golf program than Arizona," Eric says. "But that soon changed and I joined Aaron in Tucson just as Arizona became into a national power. It was good timing. Becoming a Wildcat was one of the best decisions I've ever made."