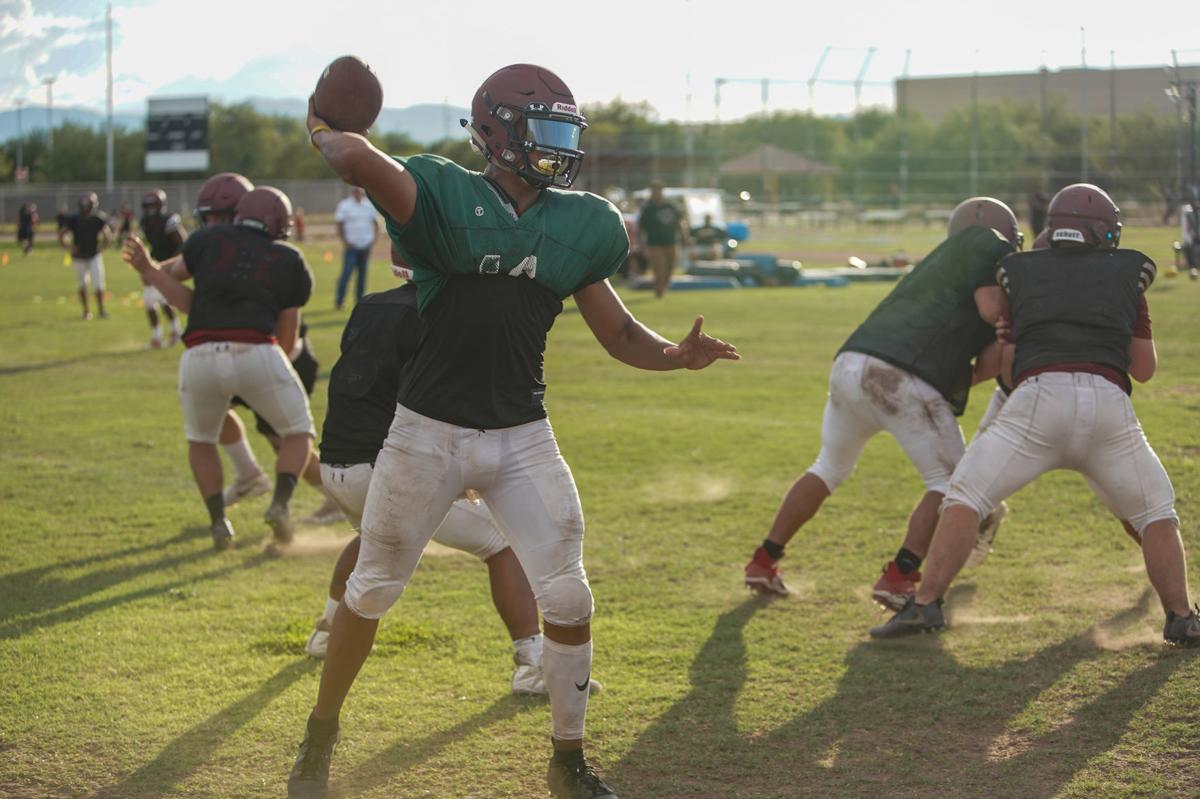 Walden Grove routed Rio Rico 42-9 last Friday behind quarterback Alex Lopez's arm. Lopez, the Red Wolves' quarterback, completed 21 of 24 passes (87.5%) for 282 yards and three touchdowns.
He spread the ball away around. Junior Ty McDermott and senior Hector Najar combined for 214 receiving yards. Jordan Lopez, Alex's twin brother and the Red Wolves' top receiver most weeks, finished the night with two catches for 41 yards and a touchdown.
At the midway point of the high school football season, Alex Lopez leads Southern Arizona with 1,330 passing yards and 15 touchdowns.
Lopez's performance against Rio Rico was enough to earn him Arizona Daily Star High School Football Player of the Week honors. He joined the Star's Justin Spears on ESPN Tucson earlier this week leading up to Walden Grove's matchup against Douglas.
Normally it's Jordan as the top wide receiver. What have the other wide receivers done to make this offense more potent?
A: "It's always good to have other (wide) receivers to throw to and get more yards to guys other than Jordan. Last year, Jordan was the playmaker and everyone knew who he was; and now this year, it's opened up to some more guys."
How is life with a twin brother?
A: "When I was little, I was always in the front yard throwing the football (with him). Backyard, front yard, park, it doesn't matter, we were always throwing around the football."
How many times have your parents ever called the other twin the wrong name?
A: "My mom will say 'Alex—Jordan,' and I'm like 'Mom, you know I'm Alex.'"
Which quarterbacks did you idolize growing up?
A: "My favorite one is (Titans quarterback) Marcus Mariota and that's why I wear No. 8. At Oregon, I was like 'Damn, this guy is super-good and I want to be like him when I'm older.'"
How have you stepped up a leader?
A: "We had a quarterback, Nick Flores, who kind of paved the way for me and when I stepped in as the starter, nobody knew who I was so I just wanted to show everyone that I can be a leader for this team. … Going into my sophomore, I knew I was going to be the backup quarterback so day-by-day, I wanted to see how it was and adjust to the speed of playing varsity football. I got so much information to take into my junior year to do what I do."
What did your team take away from the loss to Casa Grande a few weeks ago?
A: "After the Casa Grande loss, we had to change who we are. We don't lose and we had to get back to our winning ways."