Ava Parker was 10 years old when she first slayed The Beast.
Over two days in San Manuel, Parker swam the 200-meter butterfly, the 400-meter individual medley and the 1,500-meter freestyle. The Beast, a USA Swimming-sanctioned event, took place in a 50-meter pool. It was a change from the 25-meter pools Parker, a Tucson swimming prodigy, was used to.
"My coach is like, 'You haven't done it, so you're going to do it,'" Parker said. "He just said, 'Go do it and see how you do' …It ended up being a lot of fun."
Parker's success in San Manuel set the tone for the next several years, in which she'd break records in various events, distances and age groups.
Parker, now 14, set state records for her age group in the 400-meter and 100-meter individual medleys earlier this year. Now, she's back in the water with her club team, the Oro Valley Pirates, and swimming for Pusch Ridge Christian.
When you've beaten The Beast as a 10-year-old, anything seems possible.
New people, new places
Jennifer and Jeff Parker brought baby Ava to DeMont Family Swim School when she was 9 months old. It wasn't long before she was swimming.
Jennifer Parker, owner of a local equestrian training center, said Ava was born with long feet, causing a nurse at the hospital to make a joke about Ava's potential as a swimmer.
By age 6, Ava Parker was racing other kids in the pool. She said she loved the environment at DeMont, which is run by former Olympian and UA coach Rick DeMont, but wanted to swim with a club team. She joined the Oro Valley Pirates the next year.
After that first summer with her club team, Parker began swimming year-round. She's been in the water constantly ever since.
Parker was the Southern Arizona Aquatic Association High Point champion at age 10, and again when she was 12. At age 11, Parker traveled to Orlando for the Next College Student Athlete championships, making the finals in the 200 butterfly.
"Everyone was buzzing with excitement," Parker said of the trip, which she said was her favorite event.
Last February, Parker competed in nine events at the Arizona Junior Olympics regional meet in Sahuarita. She took home gold in seven of them and silver in the other two.
Parker made her high school debut last week in a meet held at Sahuarita Aquatic Center. She said she was a "little nervous" to be competing again after a seven-month break from competition. Parker won all her heats, and Pusch Ridge won the 400 freestyle relay event with Parker as the lead-off swimmer. Results for individual events were not immediately available.
But for all her success in competition, Parker's favorite thing about swimming isn't setting records or raking in medals.
The Parkers are a busy family. Ava's dad is a neurology surgical area sales manager for Medtronic and Ava's brother, Zane, excels in many sports, including baseball, soccer, golf basketball and most recently, kick-boxing and jiujitsu.
"I like getting to meet new people and seeing how I'll do in different situations with new people, new places and different settings," Ava Parker said. "I've made lifelong friends and have had so many great experiences."
Parker was preparing to head to Australia for a senior swim trip with the Pirates when the COVID-19 pandemic shut down both sports and travel.
While the missed opportunity stings, Parker is optimistic that it won't be her last.
'I felt like one of the 6-year-old kids'

Parker was in between her spring and summer club seasons when the pandemic hit.
Oro Valley closed its aquatic center in response to Gov. Doug Ducey's April 3 order, and Parker's training routine drastically changed. The Pirates moved to "dry land" practice that consisted mainly of running, lunges, squats, push-ups and planks. That the Pirates were locked out of the pool during what soon became Tucson's hottest summer ever seemed especially cruel.
Towards the end of the shutdown, a neighbor went out of town and Parker suddenly had a private lap pool all to herself. The pool was short, so she used a resistance belt for efficiency. She found the new way of swimming to be incredibly difficult.
Parker and her teammates returned to the pool in June. After three months away from her routine, returning to the water was challenging.
"I felt like one of the 6-year-old kids just learning how to swim," Parker said.
'She's amazing at every stroke'
Pirates coach Stan Valacer calls Parker "one of the most versatile kids that I've ever had the pleasure of dealing with."
"Ava does not really have a weakness," he said. "She's amazing at every stroke and every distance. She's very good at everything she does."
Even during a shortened 2020 swim season, Parker managed to rack up achievements. She set two state records at the Ride the Wake meet in Lake Havasu City in January; in February, she swam well in the Arizona Swimming Short Course Senior Open Championship.
The Senior Open Championship features kids ages 15 and older, but younger swimmers with qualifying times are allowed to compete. As a 13-year-old, Parker placed 19th out of 37 in the mile with a time of 18 minutes 49.91 seconds — nearly 38 seconds faster than her previous personal best. A week later, at the Arizona Age Group State meet, she dropped her time by another 22 seconds.
Parker's name is all over the Pirates' record book. She ranks in the top-10 for her age group in almost every single event, Valacer said.
"Even swimming as 13 year old, she was placing high in the 13-to-14 age group and setting some records," Valacer said.
Valacer called Parker a "big meet swimmer" who thrives under pressure.
"She loves bringing home the relays as the last person on the team when all eyes are on her," Valacer said. "She's clutch, which is also kind of unusual for a kid of her age to be that good that often in high pressure situations."
'She just wants everybody to be happy'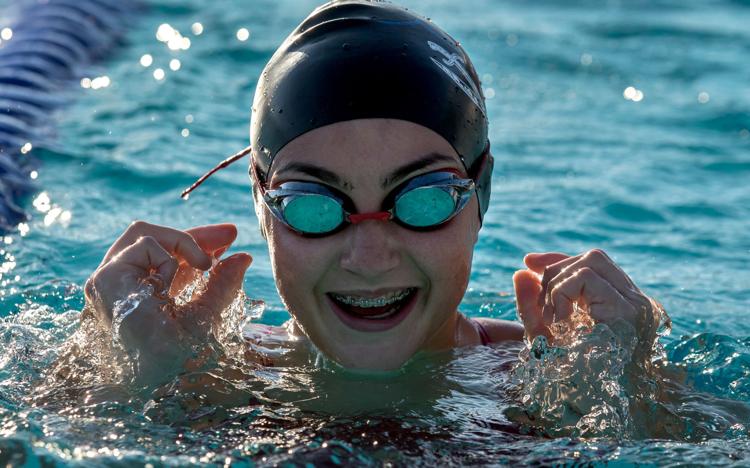 When talking about her success in the pool, Parker keeps referring to the people she's met — including a small sisterhood that exists within the Pirates.
Parker began swimming with a bunch of girls as 7-year-olds, and they've been together ever since.
The swimmers are now scattered across town, attending Canyon del Oro, BASIS, Salpointe Catholic, Ironwood Ridge and more. Parker and her old friends are likely to cross paths in high school meets soon.
"They're like my sisters," Parker said. "We push each other, because most of the time we pace off of each other. The faster person pushes everyone else to be faster and grow in their swimming."
Many times, Parker is that faster person. She doesn't offer that piece of information up herself.
"Ava is very humble but also very great teammate. She's not one to think of herself as great or amazing. She's just one of the girls and wants other people to be successful," Valacer said. "She's the type of kid that wants other people to win and to drop time, more so than she wants it for herself."
For how competitive Parker is, that last part is a bit strange, Valacer said.
"She's feisty, but she's very grounded," Valacer said. "She just wants everybody to be happy."
Get in the game with our Prep Sports Newsletter
Sent weekly directly to your inbox!