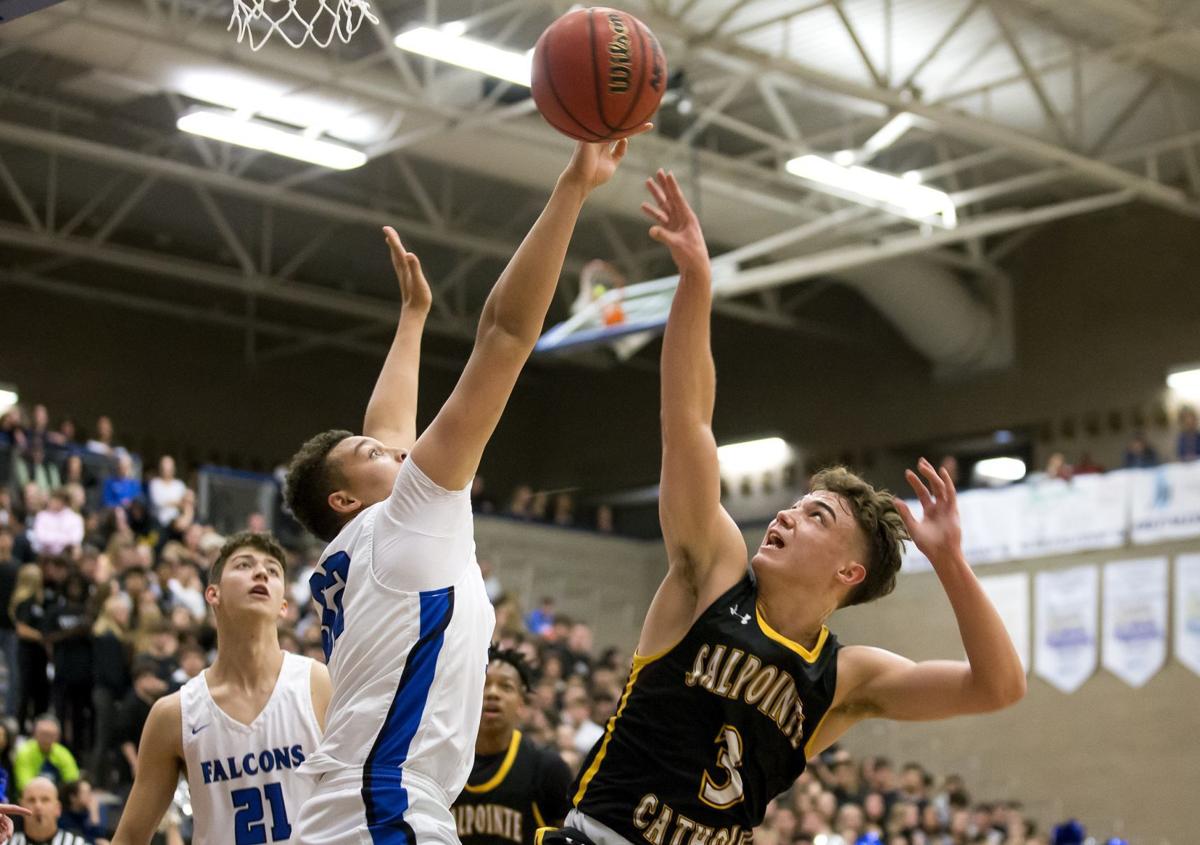 Catalina Foothills High School won the first matchup against Salpointe Catholic this year on its home court, but now, with the regular season winding down, the Falcons (21-1) have the tough task of trying to beat the talented Lancers on the road.
The winner of Friday's contest will be in good position to become Class 4A's top-ranked team. Salpointe (22-1) currently holds the top spot thanks to having played a slightly stronger schedule, according to MaxPreps.
Salpointe is ranked third overall in the state while Foothills is fifth.
Meanwhile, the third-ranked Tucson-area squad, Sierra Vista Buena (22-2), continues to roll along despite a close call on Thursday in Nogales where the Colts needed a last-second deep 3 by Brock Fenton to tie the game and then near-perfect free-throw shooting, nine of 10, by Fenton and Jovany Featherston down the stretch to hold off the Apaches, 72-67.
Featherston and Isaiah Baugh both had 20 points for the winners who are the area's hottest team, having won 17 consecutive games. Nogales' Stephen Legleu led all scorers with 28 points.
Despite its impressive record to date, Buena faces a more difficult road to a state championship in the highly competitive 5A division. Currently they rank sixth behind five powerhouse Phoenix-area schools.
Fellow Tucson 5A competitor Cienega (18-5) fills out the final spot in the division's top-10 behind three other Phoenix-area teams. Locally, the fifth-ranked Bobcats have three games remaining, including one in Nogales and a home game against sixth-ranked Ironwood Ridge on Feb. 11.
In addition to the Cienega game, the Nighthawks have a tough closing schedule with home games on Tuesday and Thursday of this week against Sunnyside and Buena. Ironwood Ridge is 14th in 5A.
The No. 4 team, Sabino (19-3), has the busiest schedule with four games remaining, starting with a road game against Pusch Ridge Christian and ending with a home match against Tanque Verde.
Sabino is third overall in 3A.
Seventh-ranked Tucson High closes out its schedule with back-to-back games against lower-ranked Phoenix Alhambra and Phoenix North. The Badgers rank 15th in 6A.
For eighth-ranked Cholla, the toughest game in their closing schedule may well be against the newest member of the Tucson-area top 10, Flowing Wells, on Tuesday. The Caballeros close out their season with another top-10 matchup versus sixth-ranked Ironwood Ridge.
The Chargers (11-6) are 17th in 5A while Flowing Wells (13-9) is 25th in the same division.
Ninth-ranked Sahuaro ends its season at Catalina Foothills on Feb. 11, following games this week against Casa Grande Vista Grande and Casa Grande. The Cougars are 14th in 4A.