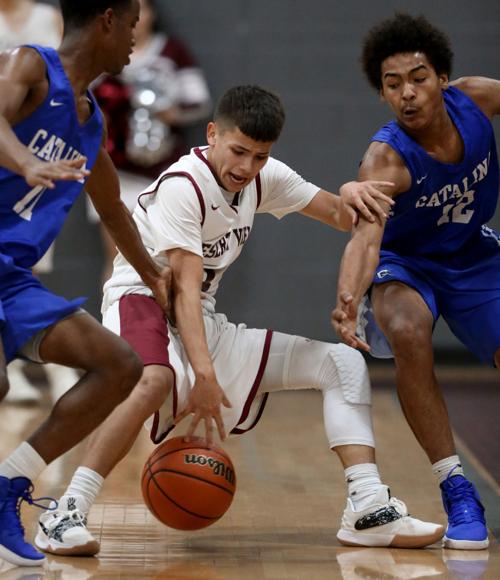 Not unlike the Pac-12, the start of the new year marks the beginning of the real season for boys high school basketball as local teams square off in key rivalry and region matchups.
Kicking off the first full week of play is a Tuesday night game between Cienega, ranked fifth among local teams by MaxPreps, at fourth-ranked Sabino. Both squads ended the 2019 calendar year with 9-2 records.
The game is one of two tough games this week for the Bobcats, who also play host Thursday night to third-ranked Sierra Vista Buena (14-2). Later in the month the two will hook up for a return contest in Sierra Vista.
The other tough matchup for the Colts will be against Sunnyside (10-5), ranked 11th among local teams.
It will be one of three important games within seven days on the Blue Devils' schedule beginning on Jan. 16 with sixth-ranked Ironwood Ridge (10-5), followed by away games at Cienega on Jan. 21 and Buena two days later.
For the Nighthawks, their biggest game of the season also is scheduled for this week as they play host Tuesday to Glendale Ironwood (15-2). The Eagles hold down the No. 8 ranking among Phoenix teams.
Sabino plays Pusch Ridge (8-5) on Jan. 16 and Feb. 4.
Arguably the biggest home-and-away series this year will be between top-ranked Salpointe Catholic and second-ranked Catalina Foothills, but it won't take place until later this month when the Lancers visit the Falcons on Jan. 21, followed by a home game at Salpointe on Feb. 7.
But before that series, Salpointe will face two top-10 teams in back-to-back games this Thursday and Friday as it plays host to eighth-ranked Cholla (6-3) and then visit No. 10 Sahuaro Cougars (8-4).
Catalina Foothill also matches up with the Cougars on Jan. 23 and Feb. 11.
Rounding out the top-10 Tucson teams are seventh-ranked St. Augustine (14-1) and No. 9 Tucson (9-6).
St. Augustine's schedule is the lightest of any of the top 10 with its toughest match coming Friday when it hosts San Manuel (10-3). Four days later it travels to play Miami (8-5).
Tucson, which also has a light schedule, faces Laveen Cesar Chavez in a home-and-away series on Jan. 17 and Feb. 4. Sandwiched in between will be the Badgers' toughest match of year at home to Salpointe on Jan. 20 when it will try to avenge its earlier loss to the Lancers in the Salpointe Tip-Off Classic final, 73-35.
Local stats leaders
Points per game: Uriel Olivares, Desert View (25.0); Koto Benson, Sells-Baboquivari (20.6); Thomas Reyna, St. Augustine (19.7); Josiah Prior, The Gregory School (19.3); Steven Legleu, Nogales (18.3)
Rebounds per game: Vince Edwards, The Gregory School (8.8); Josiah Prior, The Gregory School (8.5); Isaac Garcia, Cholla (8.0); Julian Grijalva, Nogales (7.6); Will Menaugh, Catalina Foothills (7.3)
Assists per game: Koto Benson, Sells-Baboquivari (5.5); Evan Nelson, Salpointe (4.5); Josiah Prior, The Gregory School (4.3); Cody Blumenthal, Catalina Foothills (4.2); Grant Weitman, Salpointe (3.6)
Steals per game: Thomas Reyna, St. Augustine (3.7); Koto Benson, Sells-Baboquivari (3.6); Josiah Prior, The Gregory School (3.0); Mark Hunter, Tucson (2.5); Steven Legleu, Nogales (2.5)