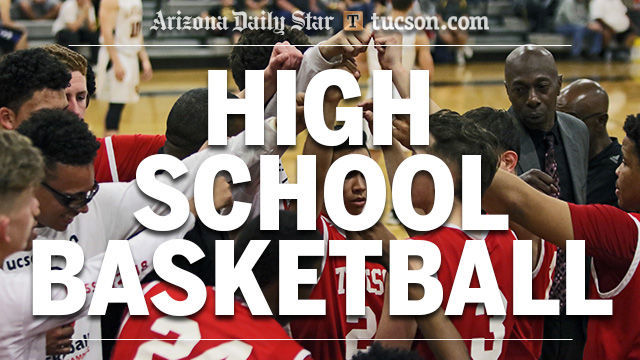 Three of Tucson's top high school boys basketball teams completed the fall portion of their seasons on a high note.
Only Sabino finished on the short end of a tightly-contested battle Monday night.
For the Sabercats (9-2), the 54-51 defeat at the hands of talented Catalina Foothills (10-0) proved to be a tough loss as the home squad held the lead briefly in the four-minute overtime, which featured a key 3-pointer from Falcons senior guard Charlie Curtis, his only field goal of the game.
Senior Sabercat Pablo Gutierrez led all scorers with 18 points while fellow senior Cesar Saenz adding 16, seven of which came in the last minute of regulation and the first couple minutes of overtime.
The winning Falcons featured four players in double figures, led by Carson Peabody's 14. Trace Comeau finished with 12 while Hayden Moser and Cody Blumenthal each contributed 10.
Tucson's top squad, Salpointe Catholic (9-0), continued to roll over its opposition last week, recording a 81-48 victory over Sierra Vista Buena and a 92-52 win over Sunnyside in its final tuneup before the holiday Mesa Tournament, which starts Dec. 26.
In one of the more lopsided contests this season, St. Augustine Catholic demolished San Miguel 81-28 on Friday.
The Wolves took a 75-26 lead into the fourth period before easing off the accelerator in the final quarter.
Junior Thomas Reyna paced the winners with 27 points, five assists, four rebounds and four steals.
Sophomore David Campa added 18 points.
St. Augustine (13-1) has one more game on its schedule before shutting down for the holiday break.
Fab freshmen
The Gregory School's 61-54 win over Sells Baboquivari provided a preview of two ascending freshmen, Koto Benson and Vince Edwards.
Benson has already become a key player on the Hawks (5-4), despite having an older brother Bright, a senior, in the starting five.
Koto Benson is already averaging 20 points, 5.1 rebounds, 6.9 assists and 3.5 steals. He plays with a degree of control that belies his actual speed of play. How much more he will grow beyond his 6 feet in height and slender build over four seasons of high school ball remains to be seen.
Hawks center Edwards' role is not as significant although he leads the team in rebounds at 9.9 per game and is second in scoring to senior guard Josiah Prior.
The 6-foot-3-inch Edwards is averaging 10.4 points and his rebounding capability puts him in double-double territory in many games.
Get in the game with our Prep Sports Newsletter
Sent weekly directly to your inbox!