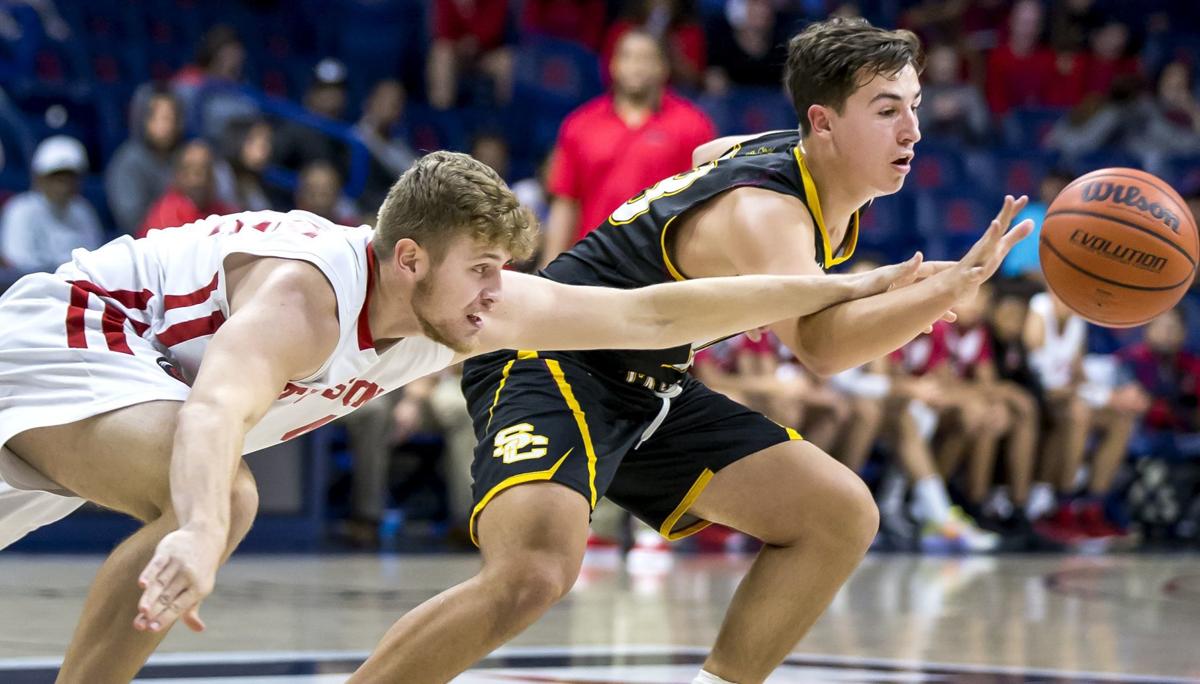 It was playoff-style, tough and often not pretty, but Salpointe Catholic (25-1) avenged its only loss of the season Friday, grinding out a 48-39 victory over visiting Catalina Foothills (22-2) before an overflowing capacity crowd on Senior Night in a battle of the top two teams in Tucson.
The pregame included a cameo appearance by Arizona coach, Sean Miller, father of Lancers starter Braden Miller, one of nine seniors on the team.
For three quarters, the lead rotated back and forth between the two teams with the visiting Falcons holding on by a point at the half, only to see the Lancers take a one-point advantage into the final quarter.
Immediately, the Falcons struck back, running off five unanswered points to start the final eight minutes, including two free throws by its leading scorer Will Menaugh (11 points) and a 3 by Carson Peabody, who finished with nine points. But over the last five-plus minutes, Foothills managed only a solitary two as Evan Nelson sparked Salpointe's comeback.
Grant Weitman added five points as part of an overall 10-point run to give the Lancers a six-point lead, which they never relinquished.
Weitman led the winners with 15 points while Jordan Gainey with 14 and Nelson, 13, provided the bulk of the remaining points.
Winning coach Jim Reynolds paid tribute to the losers.
"We had a rough shooting night for sure," he said. "Give Foothills credit. They play outstanding defense."
But his team's defense also drew praise from the coach.
"Proud of our guys to play hard on defense when the offence was a struggle," he said, adding that Weitman, Tommy Irish and Myles Hersha did a good job guarding the much taller, 6-foot-9 Menaugh.
Falcons coach Doug D'Amore acknowledged that the Lancers deserved full credit for the win.
"In big games, little things make the difference and I believe Salpointe edged us out by taking advantage of our mental errors," he said.
Foothills had beaten visiting Salpointe 70-67 on Jan. 21.
Both teams wrap up their regular seasons Tuesday.
• In other top-10 play last week, third-ranked Sierra Vista Buena (23-3) rebounded from a streak-ending 73-60 upset loss to Catalina (13-13) on Tuesday to defeat seventh-ranked Ironwood Ridge, 69-65, before a large crowd on Senior Night for the Nighthawks.
Ironwood Ridge handled Sunnyside 66-52 in its other game of the week.
Fourth-ranked Cienega (20-5) completed a winning week with victories over Nogales 71-68 and Marana 67-64.
Sabino (21-3) slipped to fifth despite back-to-back wins over Safford 73-63 and Pusch Ridge Christian 55-37.
Sixth-ranked Tucson (17-8) defeated Phoenix Alhambra 70-62 in its only game.
No. 8 Sahuaro (13-10) was upset by Casa Grande (8-17) 61-59 after beating Casa Grande Vista Grande 65-45.
It was a tough week for Cholla (12-8) as the No. 9-ranked squad dropped back-to-back games to Mountain View 52-48 and Flowing Wells 62-58.
The victory solidified the Cabelleros' top-10 standing, as they won earlier in the week over Empire 59-48 and are now 15-9.