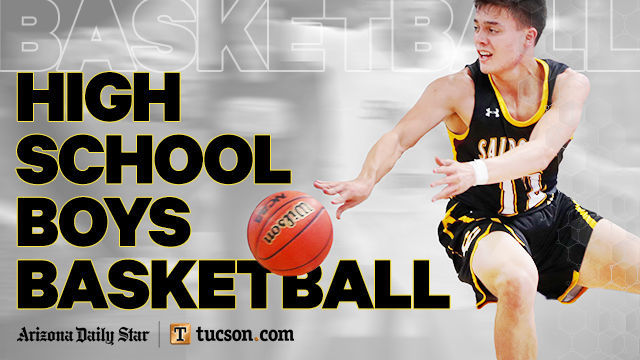 Dave Glasgow is not a man to mince words, and before the holiday break in December the Sierra Vista Buena High School boys basketball coach observed that his team was better than its MaxPreps' Southern Arizona ranking of eighth.
One full week into 2020, it appears he was absolutely right as his Colts squad vaulted from eighth to fifth after holiday play, and then to third following a decisive win at Cienega last Thursday, 81-59.
The Bobcats dropped from third to fifth following the game.
Senior guard Jaylen McFadden paced the winners with 25 points and 12 rebounds as the Colts used an 18-5 run in the first period, after falling behind 5-0 in the early minutes, to establish a lead they never relinquished.
McFadden was aided by three fellow senior guards — Isaiah Baugh, Jovany Featherston, and Brock Fenton — who contributed 16, 15 and eight points respectively. Jose Santiago-Rivera paced the Bobcats with 18 points.
Referring to the game's leading scorer McFadden, who missed 11 of the team's first 17 games with an injured ankle, Glasgow noted that he has not completely recovered.
"The ankle is still bothering him," Glasgow said. "When he is right he is very athletic and can get to the rim."
For Cienega, last Thursday's game ended a hectic two weeks for the Bobcats, who earlier in the week won an away game against fourth-ranked Sabino 68-62 after winning three of four games at the 2019 Southern California Christmas Classic in San Diego.
Unfortunately, their loss in the fourth game came after leading rebounder JT Elder was injured early in the match. Last week he was wearing a boot and no timeline has been established for his return.
"Our team has shown a great deal of toughness and grit thus far and we lost to a very good Buena team who absolutely shot the ball very well (Thursday) night, as they tend to do very often," Cienegea coach Farbod Safavi said following the Buena game.
Looking forward, the coach placed the loss in a positive light.
"Our region is very good and these tough games will make us better for future games and hopefully prepare us for state playoffs," he said.
In other games last week, the top-two ranked Tucson teams, Salpointe Catholic and Catalina Foothills, continued their winning ways with the Lancers defeating 10th-ranked Sahuaro 65-45 on Friday. Evan Nelson, with 19 points, and Jordan Gainey, with 18, were the top scorers. Grant Weitman had nine rebounds and six assists to go with 13 points.
Salpointe also defeated seventh-ranked Cholla 65-52. The Lancers were led by Nelson with 19 points and Weitman with 14.
In its only game of the week, second-ranked Foothills downed Canyon del Oro 70-49.
MLK Classic features powers
Monday marks the holding of the annual Martin Luther King Classic with five highly-ranked teams possibly participating.
The Classic kicks off with ninth-ranked St. Augustine playing Desert Christian at 11 a.m., followed by fifth-ranked Cienega and Queen Creek Casteel at 2 p.m., top-ranked Salpointe and eighth-ranked Tucson High in the feature game at 5 p.m. and Nogales and seventh-ranked Cholla at 8 p.m.