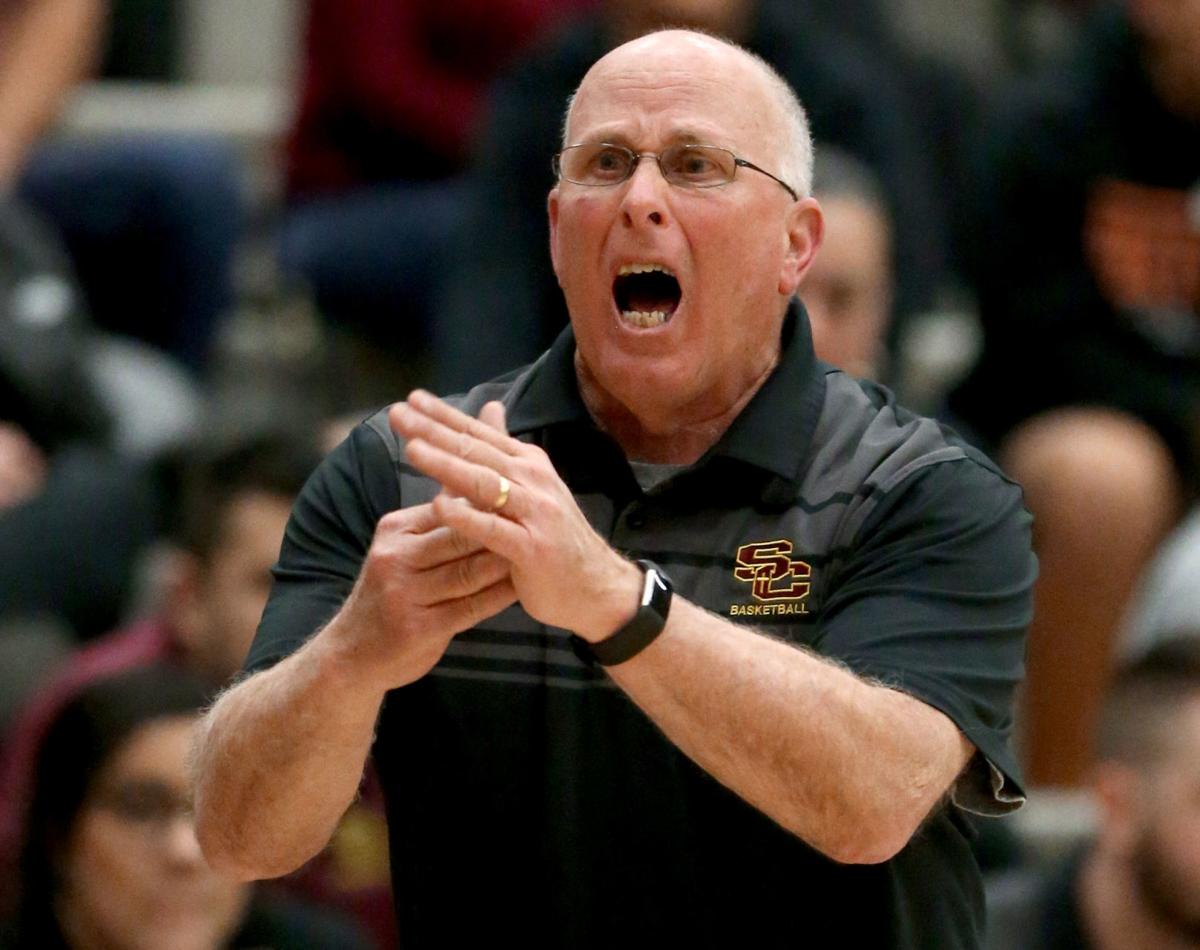 With a 9-0 start under its belt, the Salpointe Catholic High School boys basketball team expects to face a tough opponent in Game 1 of the Mesa Holiday Invitational on Thursday against St. Patrick-St. Vincent Bruins of California.
The Vallejo-based school is ranked fifth in California's North Coast Division 3 with a 4-3 record.
One of the challenges the Lancers will face in the first game is Dishon Jackson, a towering 6-foot-11-inch center. New Mexico, Saint Mary's and Washington State have all checked in on him, but Arizona's interest is described as "cool," according to 247sports.com.
The game, which starts at 2:30 p.m., will be streamed live on the NFHS Network.
Salpointe also plays Arizona's 12th-ranked Gilbert Perry (9-3) on Friday followed by a Saturday game against Brophy Prep (4-4).
Three seniors — Evan Nelson (17.9 points per game), Grant Weitman (16.8) and Jordan Gainey (13.8) lead a balanced Salpointe attack with seniors Jake Cioe (6.0) and Braden Miller (6.7) filling out the starting five.
"We are off to a solid start with all three phases of offense, defense and transition being effective," coach Jim Reynolds said of the club's impressive play to date.
In other tournament play this week, Sierra Vista Buena (9-2) takes on Honolulu's Mid-Pacific Institute Owls (7-5) in the Central Arizona Holiday Classic on Thursday followed by two games on Friday, against Apache Junction (1-8) and Casa Grande Vista Grande (5-6).
Buena coach Dave Glasgow welcomed back senior Jaylen McFadden last week. McFadden scored 17 points in a 51-50 victory over Gilbert Williams Field. Three seniors — Jovany Featherston (19.2 points per game), Brock Fenton (15.0) and Isaiah Baugh (12.3) pace the Colts in scoring.
"We are trying to get ready for the Power Point and Region schedule," Glasgow said, noting the Colts start the new year off against Mountain View (3-5) but then play Cienega (9-1).
A third local team, Tucson (8-3), takes on Queen Creek American Leadership Academy, 5-5, in the Williams Field Blackhawks Holiday tournament on Thursday. Senior Mark Hunter (16.7 points per game), and juniors Kaden Luna (14.3) and Yahir Garcia (13.7) lead the Badgers.
Also, Catalina Foothills (10-0) faces California's De La Salle (7-0) on Friday in the Max Preps Holiday Classic. Hayden Moser leads the Falcons in scoring with 15.5 points per game, while Will Menaugh is averaging 6.8 rebounds and Cody Blumenthal has dished out 5.8 assists per contest.
In another Friday game, The Gregory School (6-4) will battle Flowing Wells (4-6) in the Sabino Holiday Tournament.
Rim shots
In Maxpreps' Tucson rankings, No. 1 Salpointe and No. 2 Foothills remain atop the Tucson rankings but Cienega and Tucson moved up to third and fourth respectively with Sabino (9-2) slipped to to fifth.
The bottom half of the Top 10 is headed by St. Augustine (14-1), followed by Ironwood Ridge (8-4), Buena, Sunnyside (7-4) and Cholla (6-3). Strength of schedule is a key factor in determining the rankings, not just win-loss records.