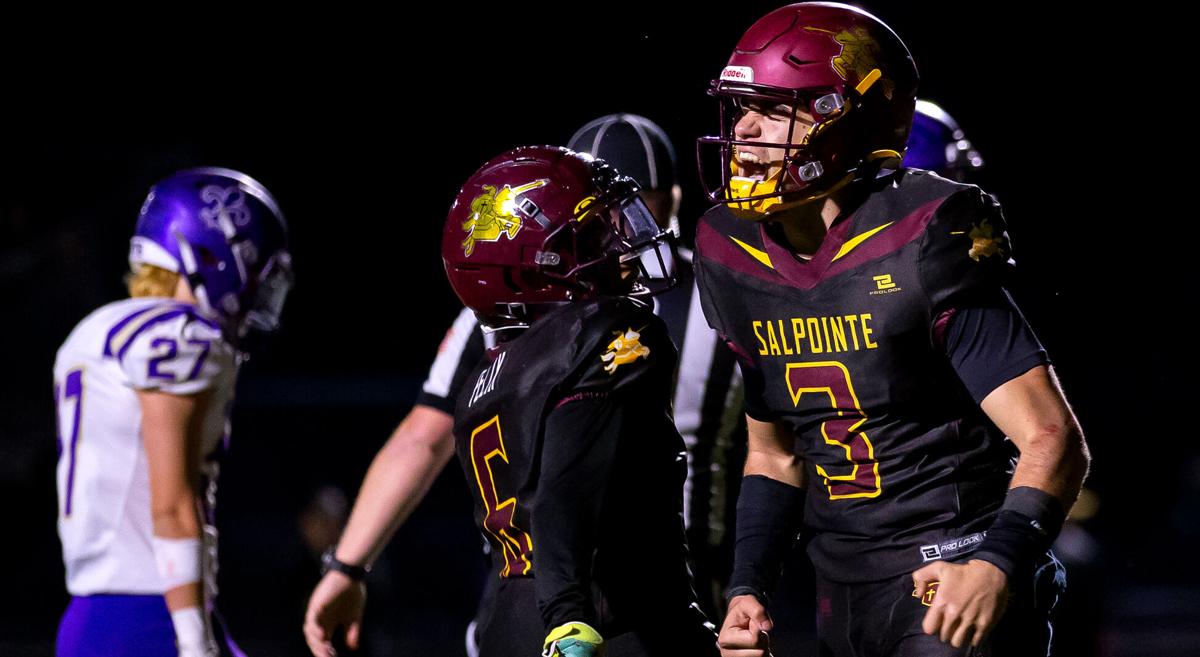 Salpointe Catholic High School quarterback Treyson Bourguet dodged defenders, trying to bleed out the remaining clock so Scottsdale Notre Dame Prep wouldn't get one final shot.
As he was finally swarmed, he tossed the ball to the ref and looked up at the scoreboard. Salpointe wouldn't have to run a fourth-down play. He had done just enough.
That was the mantra on a chaotic 45-42 quarterfinal win Friday. The No. 2-seed Lancers (10-2) are into the Class 5A state semifinals and will host No. 3-seeded Goodyear Desert Edge (10-2) for a chance to play for the trophy.
With Desert View, Cienega and Canyon del Oro falling in the state quarterfinals Friday, Salpointe will be the last Tucson-area team left playing this season.
This despite second-half fireworks that turned a comfortable win into a shootout.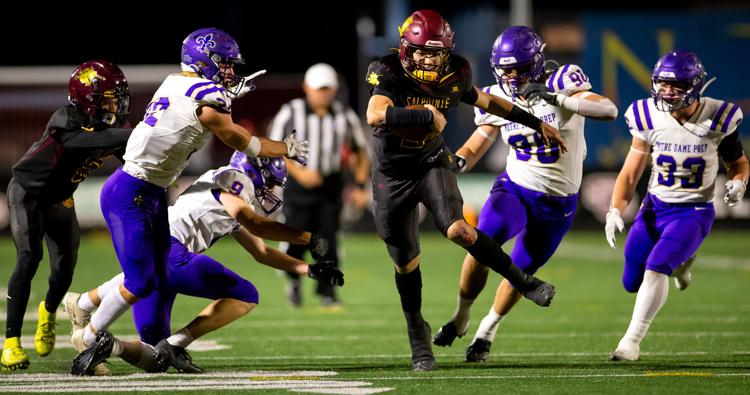 "It was like the Matterhorn, one of those rollercoasters that's just up and down and around and around," Lancers coach Eric Rogers said. "We knew this was going to be a four-quarter battle. We prepared for that all week and our kids just stepped up and made big plays when we needed them."
Notre Dame Prep senior Gavin Smith deserves the credit for that.
After Salpointe jumped ahead 31-7, he answered with a 102-yard kickoff return for a touchdown. When Bourguet scored his fifth touchdown of the night on a 21-yard run, Smith answered right back with a 59-yard touchdown grab. The speedy receiver, headed to University of Arizona as a walk-on, nearly landed the trifecta, with well over 100 yards in the return game, 106 receiving yards and 96 rushing yards.
"The speed, the elusiveness, they create plays for him and move him all over the field," Rogers said. "It's very hard to defend against him. I went over and told him after the game, what a football player that guy is. There's no question about it."
Before Smith got loose in the second half, the game seemed under control.
Aside from being caught off guard on a 41-yard fake-punt run by Smith on the Saints' opening drive, Salpointe dominated the first half.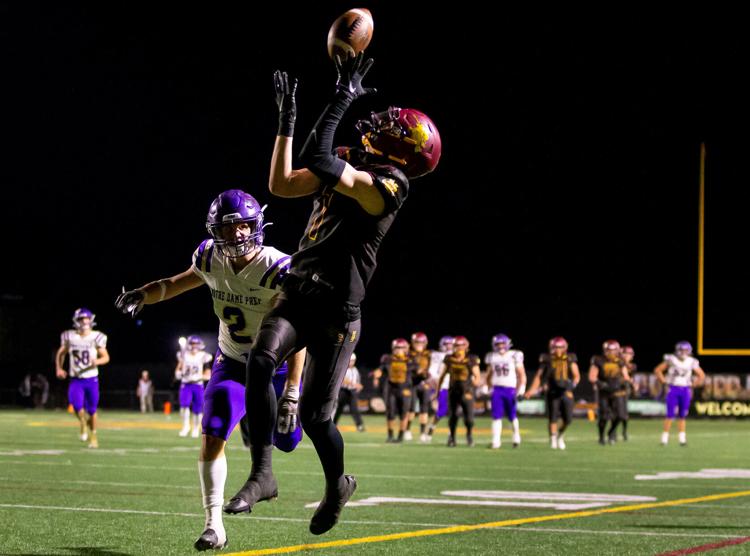 The Lancer defense allowed just 40 yards on 21 plays outside that special teams miscue. Antonio Martinez came up with an interception that led to Salpointe's first touchdown, a 39-yard scamper by Bourguet. And the Salpointe passing attack took it from there.
Bourguet had three touchdowns by the end of the first half. He connected with 6-foot-4 Dylan Dreis on a 32-yard score with 1:44 left before intermission, but they weren't done. On third-and-15 from the 50, Bourguet heaved the ball towards Dreis, who made a diving grab in the end zone to put Salpointe up 24-7 going into the locker room.
But the real difference maker proved once again to be running back Anthony Wilhite. Bottled up all game, just two of his 20 carries that went for more than eight yards but they made all the difference.
He scored Salpointe's final touchdown on an 89-yard run up the middle with 6:55 left. Then, he brushed aside safety Tommy Romano and dodged linebacker Jaden Scarpone to pick up the final first down, ensuring Salpointe a spot in the semifinals.