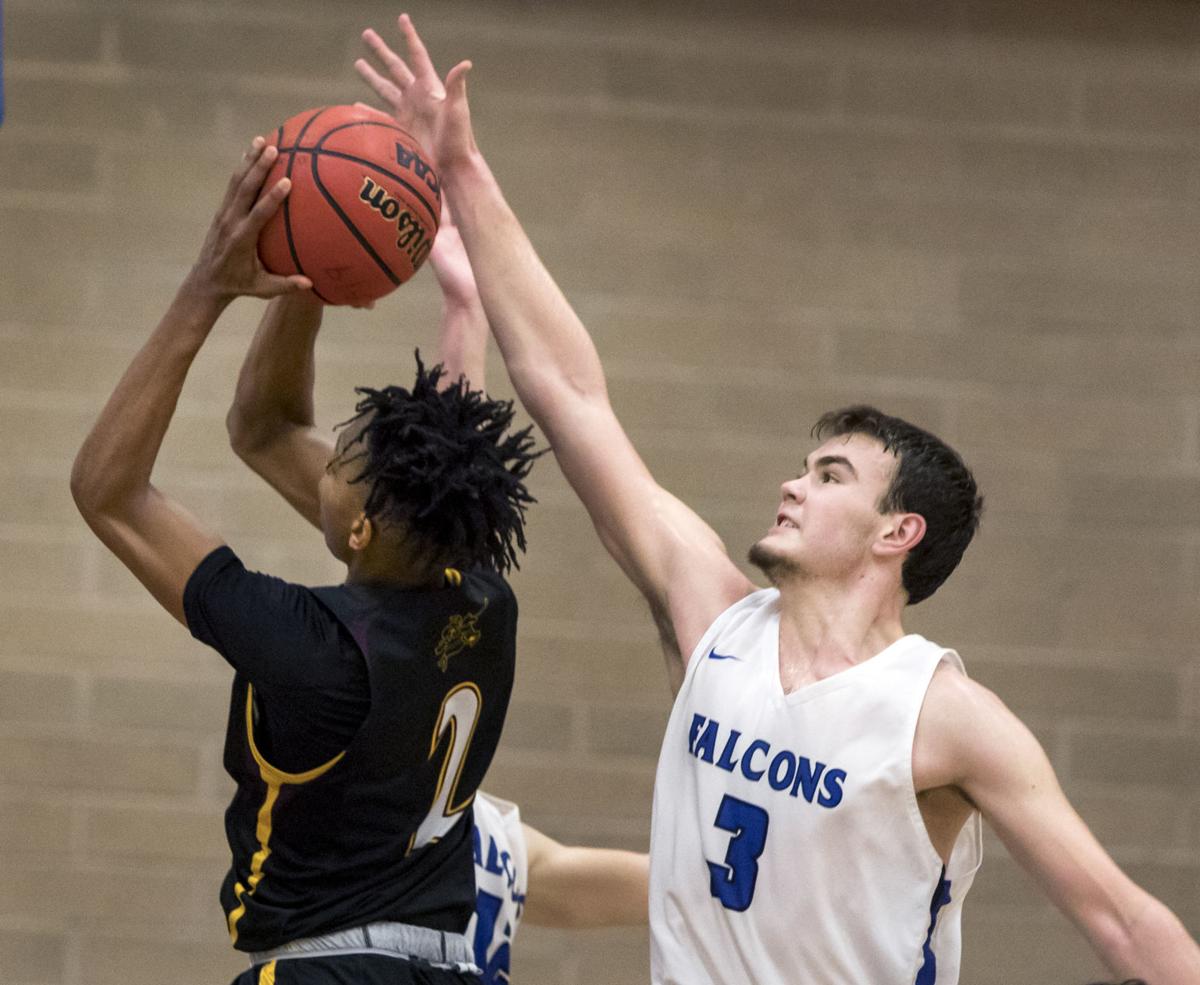 Big and small, Catalina Foothills had the answer for Salpointe Catholic on Tuesday night, handing the top-ranked boys basketball team in Tucson its first loss of the season.
The Falcons were led by 6-foot-9-inch center Will Menaugh and the 6-5 Trace Comeau in the 70-67 home win. Menaugh scored Foothills' first six points and dominated the boards at both ends of the court. He scored 17 points before fouling out with 47 seconds remaining.
However, it was the play of two of the team's guards that determined the outcome. Cody Blumenthal finished with a game-high 21 points, and Charlie Curtis added 14. Comeau chipped in with 12 points for the Falcons, who were without top scorer Hayden Moser.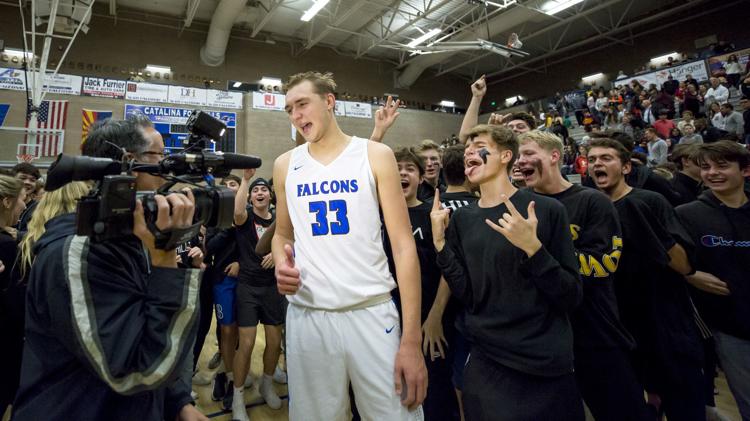 Coach Doug D'Amore said the team's size and balance was the key to the win, adding: "I am proud of some of our bench players for stepping up and contributing big minutes. The players work hard in practice to prepare for these moments. The next-up mentality is cliché but true."
Salpointe didn't go quietly: Jordan Gainey scored 13 points in the third quarter, and finished with 21. Fellow seniors Evan Nelson and Grant Weitman chipped in 15 and 10 points, respectively.
The Falcons broke the game open midway through the fourth quarter, taking a seven-point lead on back-to-back 3-pointers. They maintained a six-point margin throughout the balance of the quarter with only a buzzer-ending three by Gainey narrowing the score.
"Foothills should be given a great deal of credit," Salpointe coach Jim Reynolds said. "Playing without their leading scorer (Moser), they scored 70 points on us with 43 coming in the second (half)."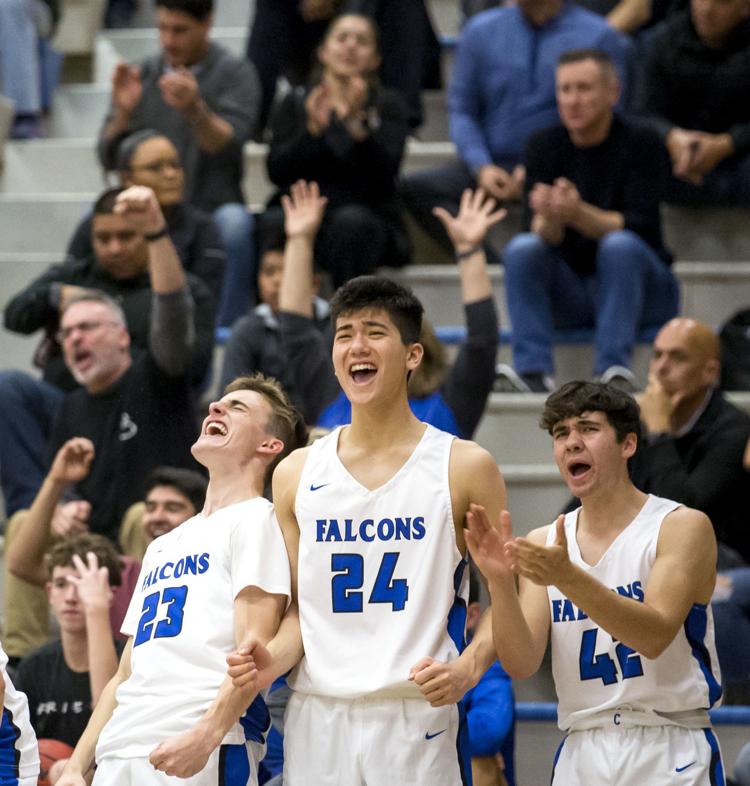 Tuesday's game, the biggest in Tucson so far this season, also served as a fundraiser for cystic fibrosis research. D'Amore's 3-year-old nephew, Gavin, suffers from the disease.
The schools raised $1,003 in raffle tickets for signed basketballs by both teams and the Arizona Wildcats men's team. UA coach Sean Miller's son, Braden, plays for the Lancers, and Gainey is the son of Wildcats assistant Justin Gainey.
Also Tuesday, third-ranked Sierra Vista Buena defeated Nogales, 74-69.
Issiah Baugh paced the 19-2 Colts with 25 points, while Jaylen McFadden added 15 points and 10 rebounds. Jovany Featherston and Brock Fenton rounded out the home team's scoring with 13 and nine points respectively.
Nogales' Steven Legleu led all scorers with 27 points, while Edgardo Zubiate added 16.
In other games involving ranked teams, Sabino defeated Safford 85-61; Cienega beat Sunnyside 67-57; Ironwood Ridge edged Marana 66-64; Cholla bested Mountain View 54-50 and Sahuaro defeated Casa Grande 68-48.
Underdogs on top in MLK Classic
It was somewhat appropriate that Monday's MLK Classic, a one-day event honoring the late civil-rights leader who worked on behalf of underdogs, featured three upsets.
The day started with Desert Christian upsetting 10th-ranked St. Augustine 60-52. The Eagles overcame a six-point halftime deficit. Andrew Yarger scored 10 of his 22 points in the third quarter to lead the comeback, while Thomas Reyna paced the Wolves with 18 points.
The trend continued: Queen Creek beat fifth-ranked Cienega 75-68. Seniors JT Elder and Carson Mott led the Bobcats with 23 and 20 points, respectively.
In the final game, unranked Nogales defeated eighth-ranked Cholla, 51-47, to square its record at 9-9. Steven Legleu paced the winners with 13 points.