Since COVID-19 caused enough disruption last season, Salpointe Catholic's Eric Castillo aimed for a smooth transition from assistant to head basketball coach.
He kept the same staff that had worked under the now-retired Jim Reynolds, and his 17 years of experience as a Salpointe assistant and JV coach suggested continuity.
So far, the Lancers' on-court success hasn't changed, either.
Despite losing the core of their 2020 Class 4A championship team and 6-foot-9-inch forward Myles Hersha and another four major contributors from a 4A semifinalist team last season, the retooled Lancers won their first three games of the Section 7 regional high school showcase to reach the final of the "City of Glendale" bracket last weekend.
"What an experience for the kids," Castillo said. "We're keeping momentum going at Salpointe, so it's been fun."
It was the sort of thing Castillo was aiming for when the Lancers began working out in open gym sessions in March. Two starters remained in point guard Julian Riesgo and wing Dillan Baker, but pretty much everyone was assuming a new role.
That includes Castillo, who says he never aimed for the Lancers' top coaching job.
"I always wanted to have a supporting role, to be kind of the guy in the background," Castillo said. "But when COVID hit, I just wanted the kids to have some normalcy so when they came back, they would have the same coaches, the same faces, the same atmosphere. That was huge for me. That's why that's why I decided to take the job."
Castillo said it helps that the Lancers have good senior leadership, saying Riesgo was ready to step into a leadership role as a third-year varsity player. Baker was also a returning starter who is now attracting some college attention.
They know how to get things done.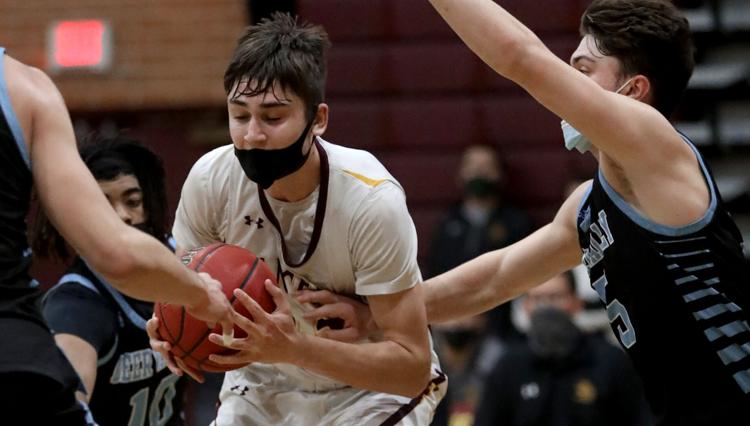 "I think over the years just competing with the teams from last year, it just really got us prepared," Baker said. "We worked our way up in the program and just we came out here and competed."
As it turned out, Riesgo's value to the Lancers was clear both when he played and when he didn't last weekend. He sprained his ankle early in what was a close bracket final game against Idaho's Owyhee High School on Sunday. With Riesgo sitting at the end of the bench with a bag of ice on his ankle, the Lancers lost 76-58. 
"It felt really bad, so they told me not to play the rest of the game," Riesgo said.
Still, adapting to a little adversity has also been part of Salpointe's program. The Lancers figured out how to win 4A in 2019-20 despite having a smaller frontcourt, and may have to do the same this season without Hersha around.
"We're a little undersized this year, so we've got to stick to playing small ball, a little faster, things like that," Baker said. "But I think we're starting to get the hang of it."
Their performance last week indicated they were. The Section 7 event contained 176 boys high school teams from all over the West, usually those with at least one college prospect and/or a strong tradition, and Salpointe finished 3-1.
"It's been a great experience, especially since the competition" is so good, Riesgo said. "It's been amazing to play with these guys and do the things we've been doing."
Contact sports reporter Bruce Pascoe at 573-4146 or bpascoe@tucson.com. On Twitter @brucepascoe