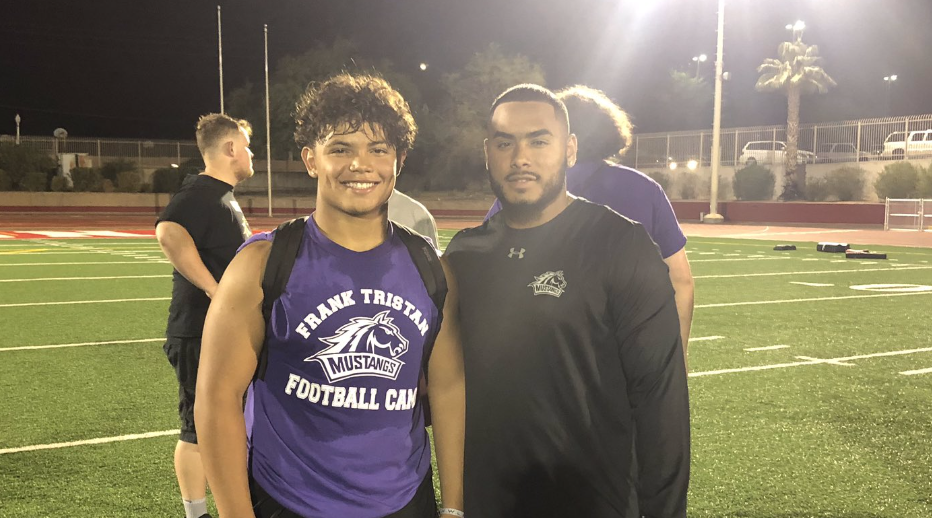 Editor's note: The Star is counting down the 22 best high school football players in Southern Arizona.
The rundown: Webb is a 5-foot-11-inch, 220-pound senior at Cienega High School.
Who he is: Webb didn't have the junior season he envisioned. 
In the fifth game of the 2019 season against Mountain View, Webb suffered a season-ending foot injury. As Cienega's "Mike" linebacker, Bobcats head coach Pat Nugent coined him the "control and leadership of the defense." Without the anchor at middle linebacker, who thrives on playing sideline-to-sideline, Cienega's defense struggled at times throughout the season. 
"He was our go-to guy on defense," Nugent said. "Losing him last year was hard for us."
But Webb had a glass-half-full mindset. Rather than sulk over his injury, he embraced the player-coaching role. 
"I had to embody the role of being a vocal leader. I've always been that dual leader, and I've always liked to lead on the field and gain my respect and then lead off the field vocally," he said. "But last year, I had to step up into the vocal leadership area right away. I don't like being away from the sport. … Football is all I know. When I got injured, it opened up my eyes and made me realize that this sport means a lot to me."
Stepping into his new role was an easy transition for Webb considering his family tree is composed of football junkies. Webb's father, Thomas Webb Sr., coached at Pima College and Cholla and Palo Verde high schools, and played under coaches Ollie Mayfield and Bob Sicilian at Sabino. Webb's oldest uncle, Tony Webb, was named a Tucson All-Star under Mayfield. Another uncle, Josh Kemberling, was a Tucson All-Star offensive tackle and won a state championship under Jeff Scurran at Sabino. Webb's cousins include current Wildcats wide receiver Drew Dixon and former Sabino lineman DeAndre Dixon. Webb and his older brother, Thomas Webb Jr., who's currently a safety at Western New Mexico, were the only members of the family to play for Cienega.
Coming from a long line of football players made Webb a student of the game at an early age. 
"All I've known growing up was football," Webb said. "Nine months out of the year, it's football, football, football. I fell in love with the sport and everything that goes into it especially in the film room.
"I live in the film room so you might be faster than me, but if I beat you to the spot, I'll take you there. I'm trying to be smart, be prepared, always be in position at all times, that's the way I live my life and that's the way I play my game." 
Webb spent the offseason attending speed school twice a week and worked on strengthening his foot running in sandpits. Now 100% healthy, Webb hopes to leave his mark in one final season. If he remains healthy, Webb's defensive efforts could be key for the Bobcats.
Proof he's good: Despite missing a significant amount of time in 2019, Webb garnered college offers from Minot State, Southwest Minnesota State, Washburn, Chadron State and Western New Mexico. Webb also has a scholarship offer from Columbia in the Ivy League. 
He said it: "He's another kid that's been a superstar for us. He's a linebacker that flies around the field and is a downhill kid, and he's an unbelievable tight end but he'll mostly play defense for us. If Isaiah was two inches taller, he'd have a lot more Division I offers; He's got a bunch of D-II offers right now. But he's physical, nasty, a leader, smart and just an unbelievable football player. … I don't know if we've had a linebacker — and we've had some great ones here — but he's one of the best kids I've ever coached." — Nugent
Contact sports content producer Justin Spears at 573-4312 or jspears@tucson.com. On Twitter @justinesports
Get in the game with our Prep Sports Newsletter
Sent weekly directly to your inbox!