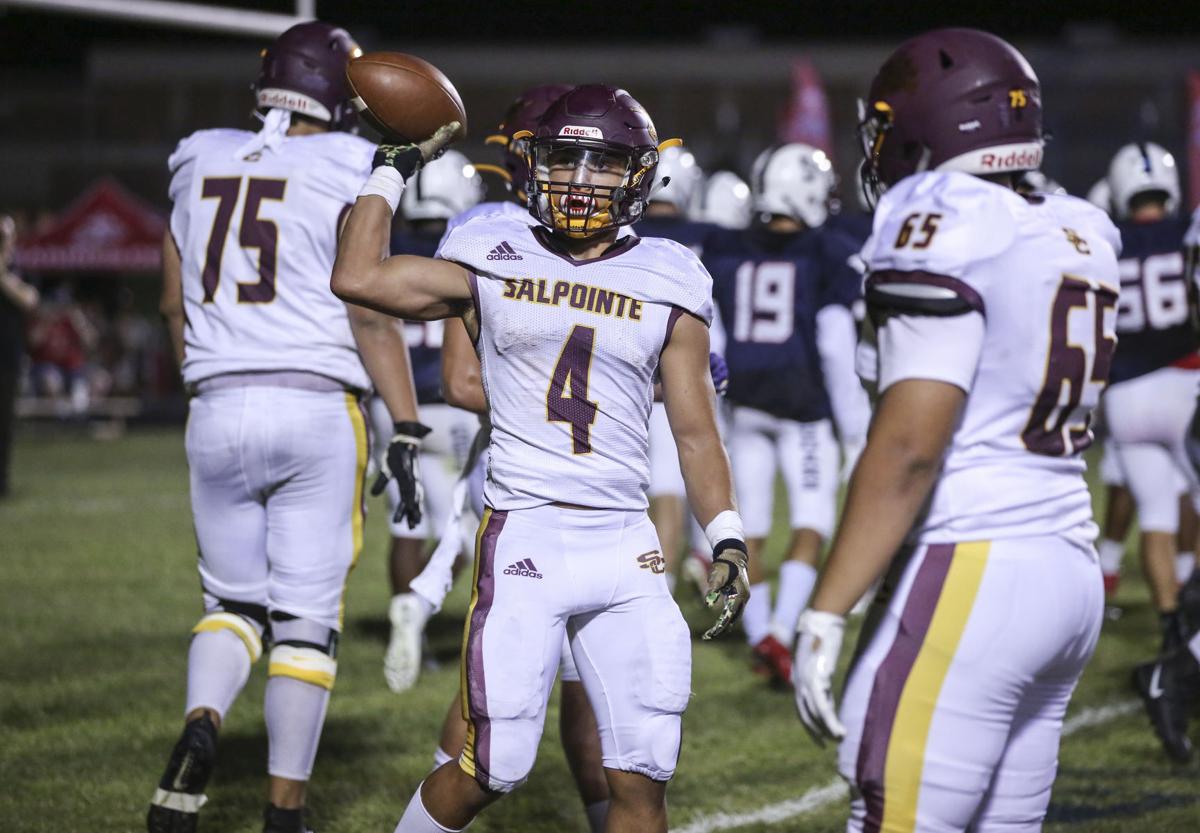 Editor's note: The Star is counting down the 22 best high school football players in Southern Arizona, in no particular order.
The rundown: Cordero is a 5-foot-11-inch, 175-pound senior at Salpointe Catholic High School
Who he is: Cordero patiently waited for his turn to become Salpointe's starting running back. 
After transferring from Catalina Foothills following his freshman year, Cordero worked alongside five-star running back Bijan Robinson, Arizona's all-time big-school rushing leader, for two seasons. Not many can say they've understudied arguably the best player in Arizona history to ever play the position. 
"(Cordero and junior running back Anthony Wilhite) got to see Bijan work first-hand. So when David first came over as a sophomore, he was a speedy (running) back, but he had to learn how to work the Salpointe way," said Salpointe running back coach Zachary Neveleff, who also coached Robinson. "The first day wasn't easy for him, but he kept chugging along and proved to be valuable for us his sophomore and junior year. As a senior, he demands me as his coach to coach him how I would with Bijan and nothing less." 
The time Cordero spent working with Robinson didn't go to waste. 
"The biggest thing I've learned from Bijan is to work hard at everything you do, whether it's in the classroom or on the field," Cordero said. "He pushed me to go hard on the field, in practice and in games. 
"I've learned so much from Bijan that I can't even put it into words. He's an amazing role model and an amazing person. He's Bijan, that's all you can say."
Even though Cordero didn't initially attend Salpointe, he grew up around the program and was destined to be a Lancer. One of his best memories as a Salpointe fanatic was the 2013 state championship game at Arizona Stadium, which was stacked with Division I talent including Cam Denson, Kaelin Deboskie, Jake Casteel and Taylor Powell. The season prior, Cordero idolized senior running back Johnny Peña, who rushed for 4,681 yards and 61 touchdowns during his four-year varsity career before he took his talents to the Ivy League. 
"I definitely look up to Johnny Peña, because he is an amazing athlete, but he also attended Brown University and got an amazing education just from his work ethic and everything he accomplished at Salpointe," he said.  
During his first productive season with the Lancers in 2019, Cordero rushed for 531 yards, averaging 11.3 per carry to go with nine touchdowns. Cordero also served as a slot wide receiver and caught seven passes for 97 yards and two touchdowns. 
Now a senior, Cordero's goals for this season are to lead the Lancers back into the eight-team Open Division playoff bracket and rush for 1,000 yards. 
In Salpointe's season-opening 29-21 win over Casa Grande, Cordero rushed for 116 yards on 18 carries. If Cordero wants to reach both goals, he'll have to be at his best in every game. That starts on Oct. 23 against Sierra Vista Buena, when the Lancers return from their two-week quarantine following a positive COVID-19 test. 
Proof he's good: Cordero hasn't received an official Division I offer, but NAU, Hawaii and Arizona State have shown interest. Currently, Cordero has a slew of offers from FCS and Division II programs across the country. 
"The offers I really want to get are Hawaii, NAU and ASU — and (Arizona)," said Cordero. 
His preferred destination is Tempe. 
"My mom works at the U of A so you would think I'd want to go to the U of A, but I like going against her and say ASU is better," he said. "My dream school right now is ASU. … Just everything I've seen from the outside, I want to go there." 
He said it: "I think he's the best running back in the city — in the state. He can do everything. He's a home run hitter and at any time, he could take it for a touchdown. He can run between the tackles or if he takes it outside, it's going to be a track meet. He's a phenomenal kid and works hard, and it really just goes into his preparation all week. … He does all the little things and anything you ask him to do, he's right there doing it." — Neveleff
Contact sports content producer Justin Spears at 573-4312 or jspears@tucson.com. On Twitter @justinesports
Get in the game with our Prep Sports Newsletter
Sent weekly directly to your inbox!