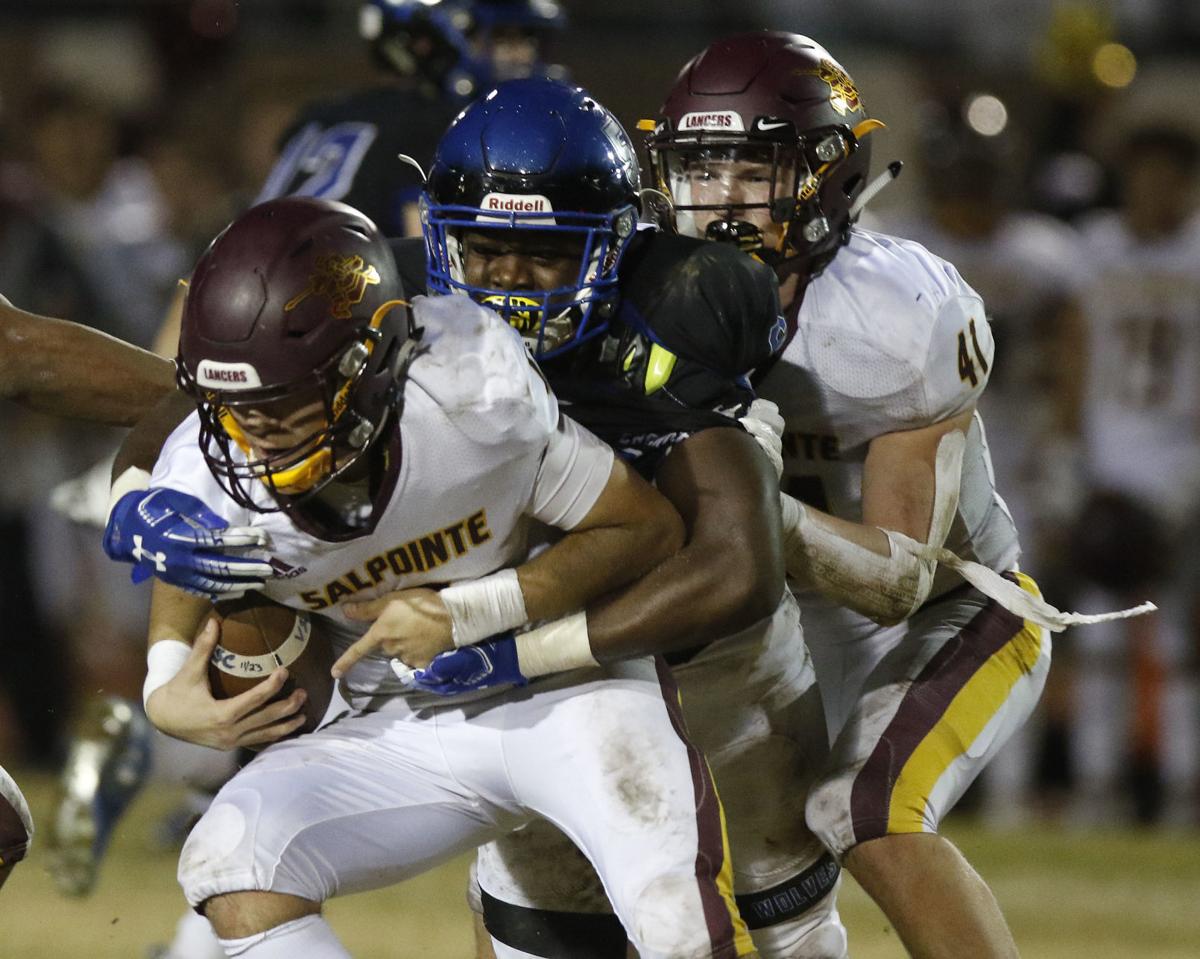 CHANDLER — Some missed chances and a critical bad snap will keep Tucson's record-breaking high school running back from the ultimate goal.
The top-ranked Chandler Wolves (12-0) recovered a bad snap on a punt in the end zone in the fourth quarter and held on to beat No. 4 Salpointe Catholic 24-16 in the Open Division semifinals Saturday night at Hamilton High School.
The Lancers (10-1) will miss the state final for the first time in three years and celebrated running back Bijan Robinson will end his prep career with a pair of state runner-up finishes and a final four appearance in the state's first attempt at an Open Division tournament.
Salpointe was looking for its third straight trip to a final to give Dennis Bene a shot at a second state championship. Bene said he would retire after this season.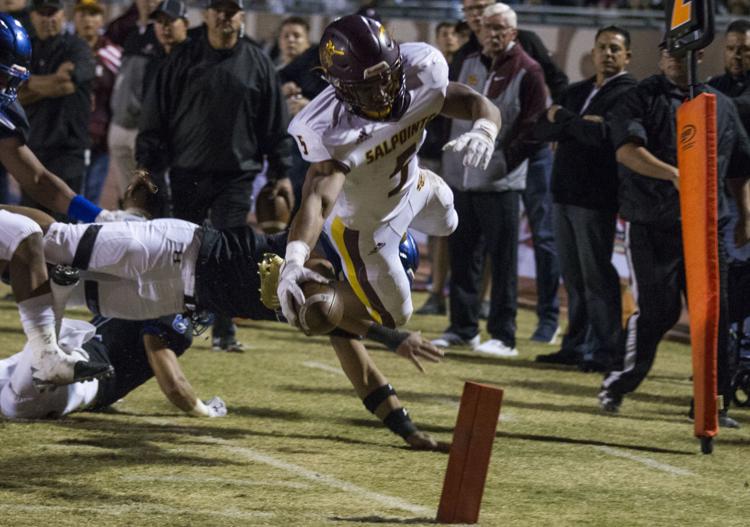 "Just some missed chances some untimely turnovers, thats how it goes, that's a factor of your opponent, right?" Bene said. Bene called Chandler a "tremendous team."
"They are the 17th-ranked team in America," he said. "I thought our kids gave it everything they had."
The three-time defending state champion Wolves will face Scottsdale Saguaro in the state championship on Dec. 7 at 4 p.m. at Sun Devil Stadium in Tempe. Saguaro beat Chandler Hamilton 20-16 in Saturday's other semifinal.
Robinson scored on a 50-yard run on the first play from scrimmage in the second half to give Salpointe a 13-10 lead.
But Chandler drove down for a touchdown less than three minutes later. Salpointe had a second-and-goal at the 6 on the next possession but had to settle for a field goal with 1:07 left in the third and trailed 17-16.
The Lancers held Chandler on the next series, forcing a punt but couldn't move the ball and Connor Witthoft had to punt from deep in Lancers territory with the ball on the 20. The snap went high, he couldn't get it and Chandler's Zion Magalei recovered the ball in the end zone for a touchdown with 7:46 left.
Salpointe had missed chances in the first half against the Wolves.
After giving up a big play on the first down from scrimmage, Salpointe recovered a quarterback fumble on its 42 and drove into the red zone, only to be stopped on fourth-and-goal at the Chandler 1.
The Lancers got the ball at midfield on their next possession but Treyson Bourguet threw an interception. Salpointe forced a punt and ended up on the Chandler 30 but Bourguet's pass to brother Coben Bourguet was stripped by Chandler's Jaheim Brown-Taylor on first down.
"We had a lot of mistakes," said Robinson, who finished with 119 rushing yards. "We had a lot of things to fix." 
Added Treyson Bourguet: "We were prepared. We were there. We had our chances (but) didn't execute. We had a lot of mental mistakes." 
Salpointe held Chandler to a field goal on the subsequent possession and then Lathan Ransom outleaped the defender for a pass on the visitor's sideline and scored, covering 68 yards to give the Lancers a 6-3 lead.
Chandler drove 80 yards, scoring on a 12-yard pass play from Mikey Keene to Jay McKuen with 6:44 left in the second and the Wolves held a 10-6 lead at intermission.
Bene said he was "so proud" of his team, which went undefeated in the regular season, qualified for the first-ever Open Division playoffs and then hosted — and won — a quarterfinal game. 
"I know their hearts are broken, but I hope that when they look back, how proud they should be of themselves," Bene said. "They left it all out on the field."