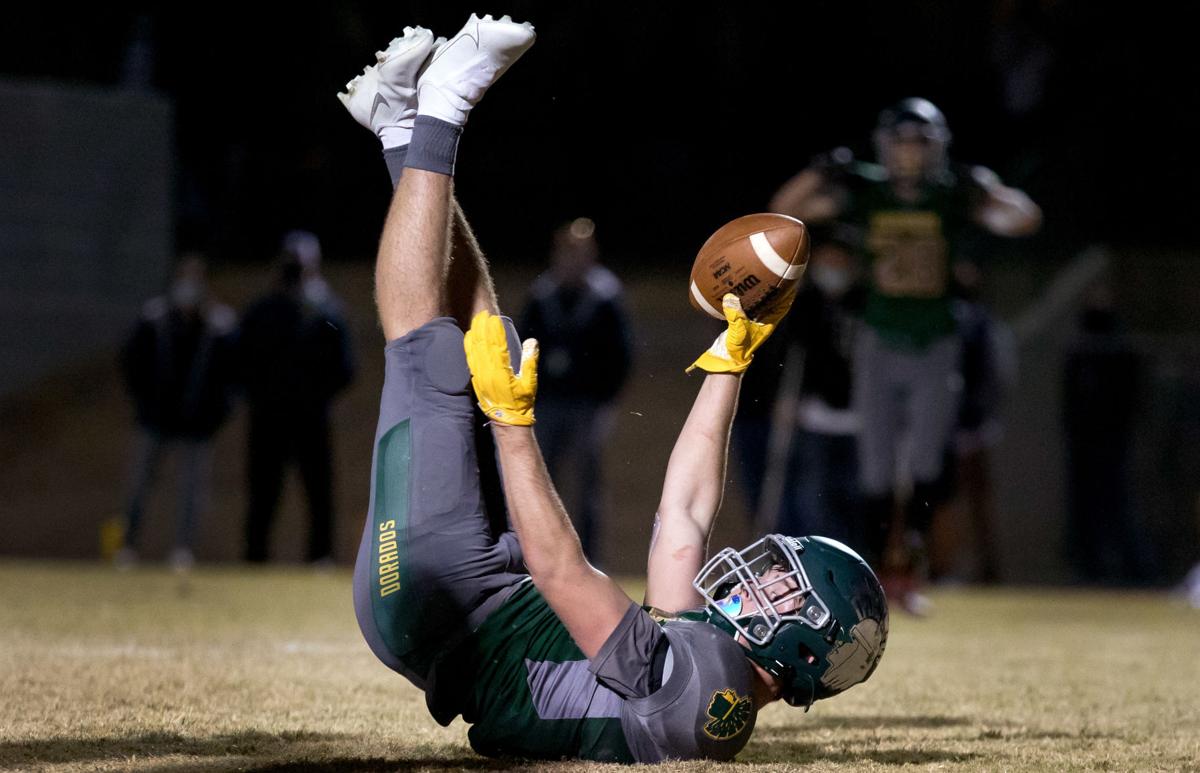 At this point in the high school season, the city's two football-playing private schools — Salpointe Catholic and Pusch Ridge Christian — are in the home stretch of their schedules. The rest of Tucson, meanwhile, is just getting started.
Unfortunately, the COVID-19 pandemic can take those opportunities away, whether it's on a Monday or an hour before kickoff. Cienega, Walden Grove, Sunnyside, Douglas and Pueblo won't play on Friday because of coronavirus concerns. The Star's game of the week is an east-side matchup between Sabino and Empire, which plays its first game of the season.
The Star's Justin Spears breaks down and predicts how each game will fare this week. Every contest is scheduled for Friday at 7 p.m. and predicted winners are in ALL CAPS.
SALPOINTE CATHOLIC (5-0) vs. Scottsdale Desert Mountain (4-1)
Where: 12575 E. Via Linda, Scottsdale
What to expect: After a 35-6 rout of Mountain View on Saturday, the Lancers have won 29 consecutive regular-season games dating back to the 2017 season. The last time Salpointe Catholic lost a game in the regular season, star quarterback and Arizona Wildcats commit Treyson Bourguet was a middle schooler. Salpointe's streak could be in jeopardy this week, when the Lancers play a Desert Mountain team that beat Queen Creek Cactus Shadows 41-14 last week. Quarterback Aiden Cerullo completed 16 of 19 passes for 302 yards and scored five total touchdowns, while Bourguet threw for 217 yards, four touchdowns and one interception. But like Salpointe Catholic has shown in years past, the Lancers can beat teams in multiple ways, and senior running back David Cordero rushed for 109 yards and a touchdown on 10 carries against Mountain View. Friday night's game could come down to whichever team forces more takeaways, gets the defense off the field after third down and remains consistent on offense throughout the night. We like Salpointe to get it done and pick up its 30th straight regular-season win. Call it 34-21.
MARANA (0-2) vs. Tucson High (1-0)
Where: 400 N. Second Ave.
What to expect: Marana's multi-sport star Isaiah Roebuck had arguably the most eyebrow-raising performance last week, hauling in six passes for 206 yards and two touchdowns while recording 10 tackles and an interception on defense. The Tigers went toe-to-toe with a Walden Grove team that is one of the best in Southern Arizona but lost 49-35. Sophomore quarterback Elijah Joplin tossed for 282 yards, two touchdowns and an interception in the loss. If Joplin and Roebuck maintain their connection from a week ago, the Tigers could be in business. If not, the well-rested Badgers could hand Marana its third loss of the season. It'll be close, but we like Marana pulling off the win, 30-28.
CANYON DEL ORO (2-1) vs. Catalina Foothills (1-0)
Where: 4300 E. Sunrise Drive
What to expect: UA commit and star running back Stevie Rocker went down with another ankle injury during the second quarter of CDO's 35-6 win over Ironwood Ridge last week. He missed the rest of the game, leaving coach Dustin Peace to trust his senior quarterback, Montana Neustadter, to finish the job against Ironwood Ridge. The QB delivered: Neustadter accounted for all of CDO's touchdowns — four rushing, one passing score to tight end Dustin Sheeley — in the Dorados' win, the first victory over Ironwood Ridge since 2010. With or without Rocker, the Dorados should be fine this week. Call it 42-21 CDO.
DESERT VIEW (0-1) vs. Ironwood Ridge (0-2)
Where: 2475 W. Naranja Drive
What to expect: This contest could be the best one in Southern Arizona, but it'll also end quickly since running the football is both teams' strong suits. The Nighthawks struggled to contain Neustadter a week ago, and will be forced to stop a running back duo of Serge Gboweiah and Carlos Alvarez, a tandem that rushed for 2,482 yards and 27 touchdowns in 2019. Ironwood Ridge's rushing attack of Tyus Williams and Jordan Thomas has been the best component to its offense, but it hasn't been on display for an entire game. Ironwood Ridge is better than its record shows. However, the Jaguars should have just enough to get a road win. Call it 21-20 Desert View.
SAHUARO (0-2) vs. Mountain View (0-1)
Where: 3901 W. Linda Vista Blvd.
What to expect: Sahuaro could very well have two wins to start the season, but back-to-back fourth-quarter meltdowns have resulted in an 0-2 record. In the season opener, the Cougars took a late lead over Walden Grove with 1:52 left to play, then the Red Wolves stormed down the field, scored and converted the two-point conversion to win the game. Last week against east-side rival Sabino, the Cougars led by 10 with 53 seconds left on the clock before the Sabercats rallied with a pair of touchdowns. Let's see if the Cougars can grab a lead Friday and hold onto it. Call it 24-14.
Rincon/University (0-1) vs. AMPHITHEATER (3-0)
Where: 125 W. Yavapai Road
What to expect: One of the best stories to come out of the COVID-19-affected high school football season is the rise of Amphitheater football. The duo of star running backs Kiko Trejo and Isiah Hill is a flashback to those uber-talented Amphi teams under legendary head coach Vern Friedli. During last week's 28-17 win over Flowing Wells, Trejo and Hill rushed for 342 yards and four touchdowns combined. This week, Trejo and Hill will spark Amphi's offense to a 49-13 win.
RIO RICO (1-2) vs. Nogales (0-0)
Where: 1950 Apache Blvd., Nogales
What to expect: Nogales is one of a few teams in Southern Arizona that has yet to play a game due to COVID-19 protocols. The key for a Nogales win? Stopping Rio Rico running back Edryann Rodriguez, who is averaging 132 yards per game this season. If Rodriguez has another-day-at-the-office performance, we like the Hawks. Call it 21-8.
TANQUE VERDE (2-0) vs. Sahuarita (0-2)
Where: 350 W. Sahuarita Road, Sahuarita
What to expect: Before ex-Wildcat Jay Dobyns took over the Tanque Verde football program, the Hawks had won two games in as many seasons — including an oh-fer season in 2019. With two straight wins to begin the Dobyns era, there's new life to a football program that's recently been in the cellar of the Tucson high school football scene and it's partly due to a UA-heavy staff with Dobyns as the CEO. In last week's win over Rio Rico, Tanque Verde quarterback Corbin Austin recorded 266 yards, with 200 of those to senior wide receiver Carson Jones, and four touchdowns. Defensively, Tanque Verde had four players record double-digit tackles in the win over Rio Rico. TVHS is flying high and its streak continues this Friday when the Hawks pick up a road victory. Call it 35-24.
Palo Verde (1-0) vs. FLOWING WELLS (0-2)
Where: 3725 N. Flowing Wells Road
What to expect: Palo Verde started the season on a positive note with a win over Santa Rita, but Flowing Wells fought every second in its recent 28-17 loss to Amphi. The last time Flowing Wells won a game was Senior Night last season. Watch the Caballeros end the drought with a 10-7 win over Palo Verde.
CHOLLA (1-1) vs. Santa Rita (0-2)
Where: 3951 S. Pantano Road
What to expect: Cholla has one of the best well-kept secrets in Tucson, which is surprising because of who's doing all their scoring. Malachi Eafon, the nephew of former UA running back Kelvin Eafon, lifted the Chargers to a 28-27 win over Pueblo with 10 carries for 100 yards and a touchdown, along with an interception returned for a score. Santa Rita's tougher than its record shows, but Cholla is a challenging task for the Eagles. Call it 28-14.
Gilbert Christian (4-2) vs. PUSCH RIDGE CHRISTIAN (6-1)
Where: 9500 N. Oracle Road
What to expect: Some teams have yet to play a game, while Pusch Ridge is close to completing a nearly 10-game season without any cancellations. Is there a reward for that? Anyways, the Lions are on a roll and haven't shown any signs of slowing down. Over the last two weeks, Pusch Ridge has outscored its opponents 126-8 — but take those blowout wins with a grain of salt. Pusch Ridge's opponents in that span have a combined 1-13 record this season. This week's matchup against Gilbert Christian is a tougher feat, but the Lions should maintain their groove. Call it 42-20.
SABINO (1-0) vs. Empire (0-0)
Where: 10701 E Mary Ann Cleveland Way, Vail
What to expect: Was it a stroke of luck? Was it the football gods rewarding Sabino a win after losing to Sahuaro twice in a row? Who knows, but Sabino's first game of the 2020 season was a wild ride with a must-see ending. The Sabercats scored two touchdowns in the final 53 seconds to pull off the stunner. Quarterback AJ Skaggs threw for 211 yards and three touchdowns, with two of those scores landing in the hands of Derek Sanchez. This week, don't expect Sabino to be in a late-game situation that involves onside kicks and last-second touchdowns to avoid a loss. Sabino should take down Empire, which is playing its first game of the season. Call it 38-17.