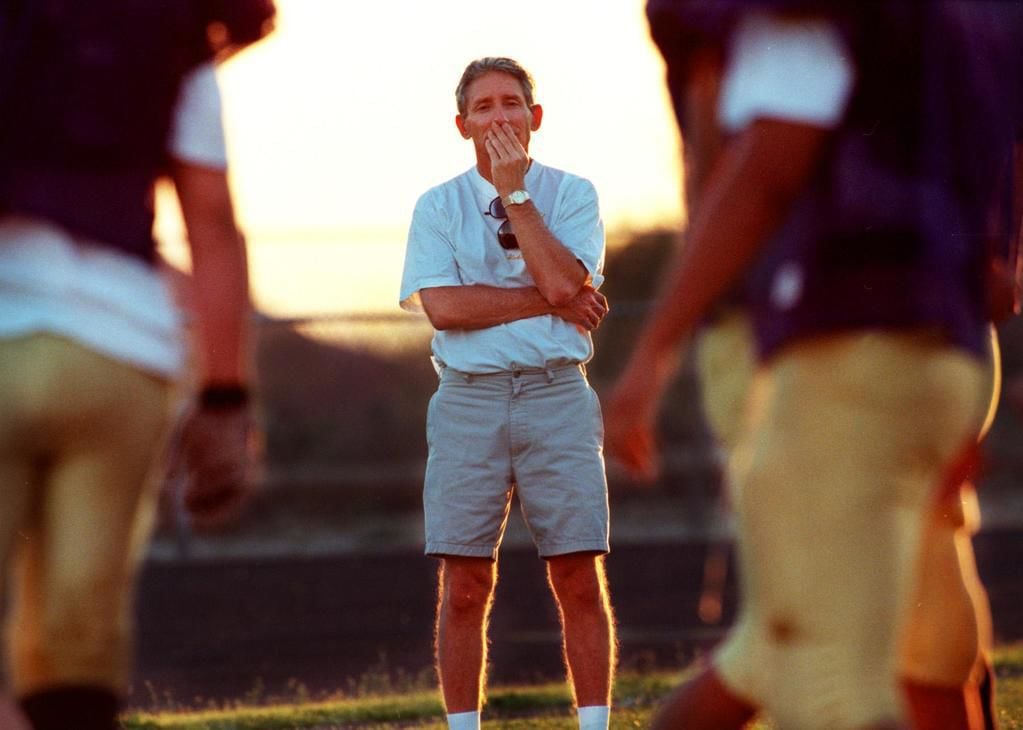 Editor's note: Over the next five weeks, Star columnist Greg Hansen will profile 10 times that Tucson teams beat No. 1. Today: Sabino High School's 1999 win over top-ranked Phoenix Desert Vista in the Class 5A state football playoffs.
The phone rang late on a Sunday night at Sabino High School football coach Jeff Scurran's house. It was assistant coach Doug Holland, asking about the game plan for that week's colossal showdown against the undefeated Phoenix Desert Vista Thunder, ranked No. 1 in Arizona and No. 5 nationally.
"I've got it," Scurran said. "This can work."
The Class 5A state semifinals would be played that Friday night in Chandler, Dec. 3, 1999. Defending state champion Desert Vista had won 26 consecutive games.
"The thought of beating Desert Vista was, well, far-fetched," Holland says now. "(Initially) the hope was to avoid a blowout."
This was one time Scurran's cocksure nature — remember: the Sabercats were defending Class 4A state champions with a 22-game winning streak — might've seemed over the top. Sabino, with a then-enrollment of 1,906, was the smallest school in Class 5A, which had a minimum enrollment requirement of 1,900 students.
To make it more unlikely, no Tucson team had won a football championship in the state's largest classification since 1979.
"There was a story in the paper saying I was the only player on our team who could look the Desert Vista guys in the eye," remembers Kevin Amidan, a 6-foot 2-inch, 230-pound all-state senior who started on offense and defense. "We were long-shot underdogs. It was David vs. Goliath."
Scurran fully believed his game plan was something out of the Bill Walsh playbook, a script of football gold. Scurran told Holland as much. He went to bed on Sunday night believing the Thunder could be silenced.
When Scurran awoke Monday morning, he immediately reviewed the game plan. He couldn't believe what he saw on his handwritten notepad — he had marked down 12 X's on his defense against Desert Vista's 11 O's on offense.
No wonder his original plan seemed foolproof.
Scurran urgently phoned Sabino's assistant principal and told her the story. Was it possible to get a substitute teacher for his morning classes? Scurran had to rework his game plan by 11:30, at which time his team would assemble for lunch and get started on a plan to beat the mighty Thunder.
This time, everything added up. It was straight out of a Dick Tomey game plan: run the ball, kill the clock, keep Desert Vista's five-star quarterback John Rattay off the field, hang tough, and then win the fourth quarter.
Scurran worked with the belief that his Sabino team of 1990 pulled an even bigger upset, stunning No. 1 Peoria 31-28 in the state championship game, the first of three titles he won with the Sabercats.
"Desert Vista had superior talent," Scurran says today. "But talent doesn't always win."
Two variables weighed against the Sabercats: they would be without their leading player, two-way back Quinn Gooch, out with an ACL knee injury, and that Desert Vista would be playing close to home, with a roster of about 70 varsity players compared to about 40 at Sabino.
"Unlike Desert Vista, most of us played both ways," says Amidan. "But we played with a laser focus. Remember, we had a swagger from 10 or 11 years of great football at Sabino. And we had about 75 percent of our team back from that undefeated 1998 state title team."
Says Holland: "As the week went on, a vibe started growing that we could play with them regardless that they were loaded with D-I kids."
When Sabino arrived in Chandler, they saw a series of hand-held signs and posters aimed at intimidating the smaller Tucson school. One said "WELCOME TO THE BIG TIME." Another simply said "602," the Phoenix telephone area code.
A crowd of almost 10,000 squeezed into the high school facility, about 9,800 of them Desert Vista fans.
As Sabino's players began walking to the field for pregame workouts, they found that Desert Vista occupied the entire 100 yards, leaving no room for the Sabercats' punters and kickers to get their pregame repetitions.
"They were yelling stuff like 'go back to Tucson,' bad-mouthing us," Amidan says. "Some of our guys were ready to jump the fence and take them on. It was at that point that something locked in my head for the rest of the night; I was in a whole different zone mentally. It was contagious.
"I don't think they ever realized the effect of doing that jump-started us. It didn't intimidate us at all."
Sabino's senior quarterback Blake Kinart, who had been the starter for the 1998 state champs, was not a college prospect. He just made good things happen and, perhaps more importantly, avoided errors. That was in contrast to Desert Vista's Rattay, a 6-4 prospect of such note that he had committed to attend Tennessee, then a national power. Volunteers coach Phil Fulmer showed up and walked on Desert Vista's sidelines. Rattay had thrown for 6,794 yards, then the second-highest total in state history.
"We were seeded fourth in the 5A brackets," Scurran says. "We had to be at our best to beat a very good St. Mary's team just to play Desert Vista. We won that game, but this was a different level. Desert Vista had not given up a rushing touchdown all season."
Sabino's game plan was to average about 2½ yards per play. Nickel-and-dime stuff. Field position. Win the kicking game.
Seven minutes into the game, Kinart scored on a 2-yard run, untouched. Scurran still refers to him as "fearless." At halftime, Sabino led 7-3. Scurran's game plan had been a thing of beauty.
Then came the crusher. Sabino's Jovan Vercel returned the second half kickoff 88 yards for a touchdown. The Sabercats led 14-3. Desert Vista blinked.
"I'll tell you this: Desert Vista was a great team, but on that night they dropped passes, fumbled the ball, gave up the big play on defense and we just took advantage," Amidan said. "We didn't do any of that. By the man, we all did our jobs. We were totally prepared."
Sabino won even though it finished with a season-low 124 total yards and a mere four first downs. Behind aggressive pass-rushers like Amidan, Jeff Drumm, Danny Perry, Aaron Huertas and Tyler Tribolet, the Sabercats sacked Rattay five times, forcing him to throw 22 incompletions in 39 attempts.
The clincher, giving Sabino a 21-3 lead, came on a fourth-quarter 37-yard touchdown pass from Kinart to Chris Childress. The Sabercats won 21-10.
Once the teams shook hands and went their separate ways, Sabino's players went into the bleachers and retrieved the taunting "602" sign. They taped it to their bus for the ride home.
"Yep," says Holland. "That was a night to remember."
Where are they now? Amidan is the assistant principal and athletic director at Palo Verde High School. He has 2½-year-old twins, Cayden and Kinsley. His fiancee, Carrie, is a nurse in the emergency center of the pediatric ward at Banner-University Medical Center.
Drumm, an all-city linebacker, went on to graduate from the UA's Eller College of Business and is now a captain for the U.S. Army Rangers, living part time in Sedona.
Tribolet, who had transferred from Amphitheater's uber-successful football program, is a policeman in Lake Havasu.
Gooch, who became a three-year starting defensive back at BYU, is a senior consultant for the Meridian Corp., in Dallas, specializing in executive employment and recruitment.
Holland, who later coached with Scurran at Pima College and Santa Rita High School, became principal at Marshfield High School in Oregon, the alma mater of his wife, Janet. He has since returned to Tucson.
Scurran did not coach another game at Sabino, subsequently starting the football program at Pima College before returning to the high school ranks at Santa Rita and Catalina Foothills. He twice moved to Europe to coach in Italy and Germany. He lives in Tucson.
Postscript: "Other than special teams, we only played 17 kids that night," says Scurran. "We lost the state title game to Mesa Mountain View the next week (21-14) when we were missing some of our top kids like Gooch and Vercel with injuries. But to me, beating Desert Vista always has felt like the state championship."
Contact sports columnist Greg Hansen at 520-573-4362 or ghansen@tucson.com.
On Twitter: @ghansen711
Get in the game with our Prep Sports Newsletter
Sent weekly directly to your inbox!