Salpointe Catholic began hiring football coaches almost 70 years ago. The first was a basketball player from NAU, Larry Baroldy, who grew up a copper miner's son in Globe.
What followed was a trackable procession of head football coaches unlike any school in Tucson history: a lineman from the Pittsburgh Steelers (Lou Ferry); a lineman from Notre Dame (Don Huml); a head coach from both Arizona State and Arizona (Ed Doherty); an Arizona Wildcat lineman who would go on to be the head coach at Idaho (Jerry Davitch); a UA assistant coach (Gene McCarter); a man who would go on to be a coach at Boise State, Nevada and Army (Bill Tripp); and a coach from St. Mary's, then the state's ranking prep football power (Pat Welchert).
The legacy of coaching Salpointe's football team was heavy with name recognition, although consistent success didn't always accompany the image.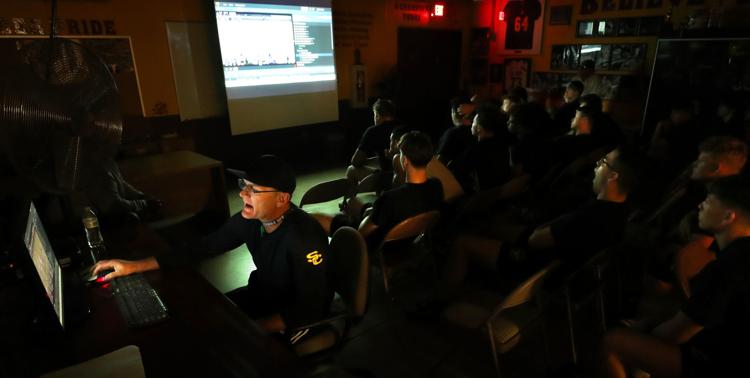 But in the spring of 2001, Salpointe hired a horse veterinarian from Nevada, a man who got the job, he says now, "by default," after former Salpointe lineman Tom Joseph chose to remain at Mesa Mountain View, which he coached to the 2002 state championship.
One day last week, the man who got the job by default, Dennis Bene, sat in his modest office about 100 yards from Ed Doherty Field. Tom Joseph, now a Salpointe assistant coach, sat in a chair by Bene's desk.
Bene was talking about Doherty, who was his coach in 1981 and 1982, and he did so with a tone of reverence.
"Every Monday, Coach Doherty would call me out of my first period class to discuss my performance from Friday night," Bene said. "I was so intimidated by that man; he wanted it perfect. I've adopted that; I've taken a lot of that with me."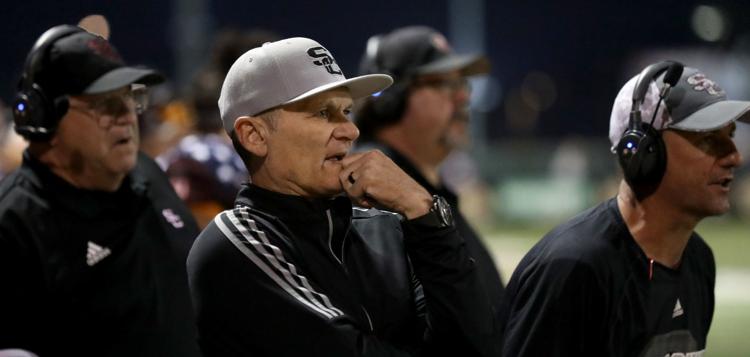 Doherty retired after Bene's junior season, 1982, but was in the bleachers at Sahuaro High School when Bene broke the state's single-game passing record, 425 yards, against the Cougars on Oct. 7, 1983.
The opposing quarterback that night was Rodney Peete, who went on to become a star at USC and runner-up in the 1988 Heisman Trophy balloting. It was Peete's record that Bene broke, a game that seemed sure to define Dennis Bene's football career.
But all that has changed. The former veterinarian from Northwest Missouri State enters Friday's inaugural Open Division state championship race against Phoenix Pinnacle High School as the most successful football coach in Salpointe history, and it's not even close.
He has proved that it's not the name that matters, it's the man.
Bene has coached the Lancers to 183 victories. In 2010, Bene passed the school's record of 89 victories, set by Welchert, the man who hired Bene to be a low-level assistant in 1999.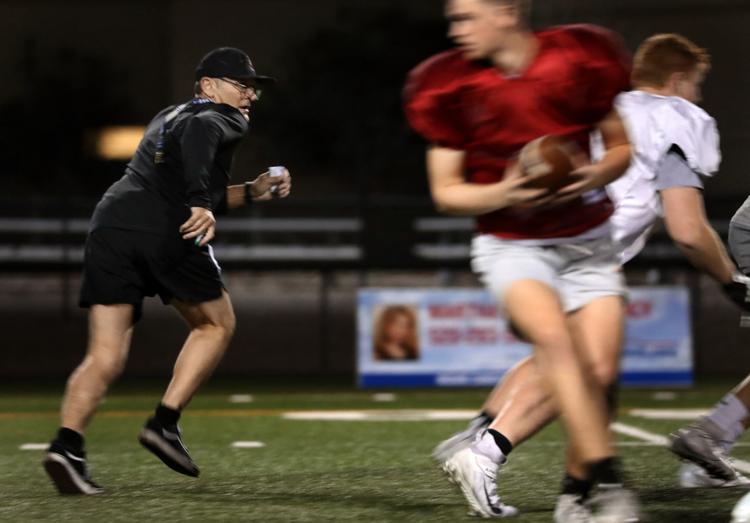 Both Doherty and Welchert coached Salpointe to state championship games, Doherty in 1981 and Welchert in 1991. It wasn't until Bene piloted the Lancers to the 2013 state title that Salpointe finally won The Big Game.
"Winning that state championship validated everything," Bene says now. "It was a long time coming."
Two months ago, Bene announced that his 19th year at Salpointe will be his last. The intrigue thickens: Could his last season be his best? Could the Lancers pull off the triumph of a lifetime, prevailing over seven Phoenix-area superpowers to win the first-ever Open Division championship, a group of teams Bene calls the "big boys"?
He answers not with a bold prediction, but with perspective.
"When I started, the ranking programs in Tucson were with Wayne Jones at Mountain View, Richard Sanchez at Sunnyside and, of course, Vern Friedli at Amphi," he says. "We had to get credibility with those men before we could do anything."
Friedli scheduled a scrimmage against Salpointe and said it would be a vanilla exercise. No blitzing. Nothing special.
"They smacked us around," Bene remembers. "They taught the young guy a lesson and let me have it. I have utter admiration for Vern Friedli; I feel blessed just to be up there with that guy."
Friedli won 288 games at Amphi, by far the record for a Tucson prep football coach. Bene will complete his Salpointe career behind both Friedli and Jeff Scurran, who won 223 games at CDO, Sabino, Catalina Foothills and Santa Rita.
That's quite a legacy for the son of a former Tucson policeman and car salesman, also named Dennis Bene, who now raises cattle on a ranch near Bowie and rarely misses a game coached by his son.
Salpointe athletic director Phil Gruensfelder took an uncertain chance when he hired Bene in 2001. Other than his playing days at Salpointe and a follow-up career at Scottsdale Community College and Northwest Missouri State, Bene's coaching résumé included two seasons under Welchert — unless you count Bene's Pop Warner coaching days while working as a veterinarian in Minden, Nevada.
"Dennis grew into the position and has taken it to the next level," says Gruensfelder.
It's not like they were strangers.
When Gruensfelder was a freshman coach at Canyon del Oro in the early '80s, he was assigned to scout Salpointe — specifically Bene. He spent four consecutive weeks following the Lancers, compiling a book on the man he would someday hire to coach Salpointe.
"Dennis wasn't very tall, wasn't physical, but he was very mobile," Gruensfelder remembers. "I was struck by his football IQ. I went back to CDO and told our head coach, Bob Smith, that Dennis was very smart, and that he 'gets it.'"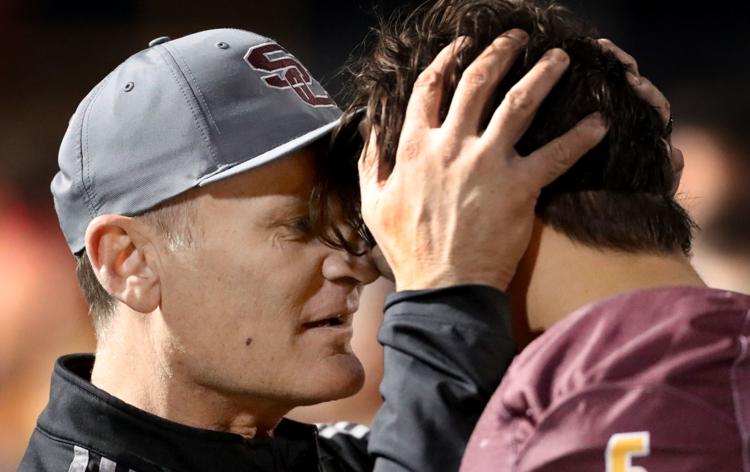 Bene has been smart enough to surround himself with longtime assistant coaches like Al Alexander, Joe Bernier, Mark Teixeira, Jay Dobyns, Ali Farhang. His brother, longtime defensive coordinator Rocco Bene, and now Tom Joseph. It's the template Friedli established at Amphi and Scurran at Sabino. Consistency wins.
Bene is only 53, and admits he gave thought to sticking around to challenge Friedli's 288 victories, but that would take, what, another decade? He is the vice president of the family's Southern Arizona Paving Co. operation, and thus has worked two full-time jobs since returning to Salpointe.
What's a routine day? Something like 7 a.m. to 11 p.m., when Bene turns away from watching video of an upcoming opponent and hits the sack. He worries that he's not spending enough time with his kids, two of them Salpointe students, and with his 3-year-old granddaughter, and who can blame him?
"Returning to Salpointe and coaching has changed my life but it's time (to leave)," he says. "I'm in a really good place. But my lifespan here has run its course."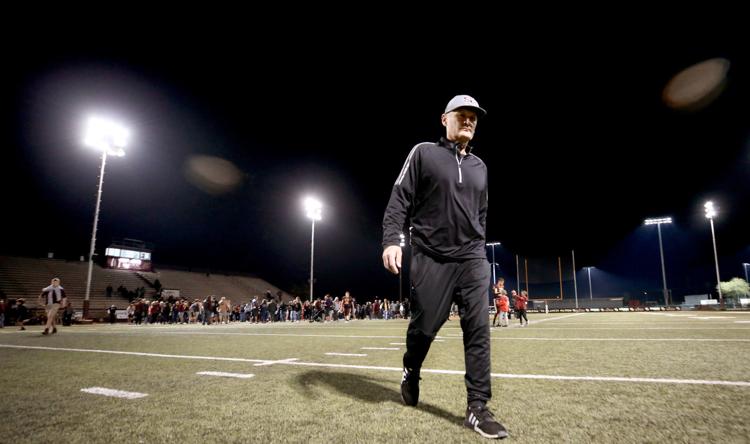 Coaching a high school football team that has gone 44-6 in its last 50 games, helping to develop young men who have recently accepted scholarship offers from Ohio State, Texas and UCLA, requires not just football-savvy skills, but a greater resolve to understand that the mission isn't to win championships but to help turn boys into men.
"We're in a kids-oriented business and Dennis is excellent in that area," says Gruensfelder. "Dennis' goal — our goal — is to make sure this is the best part of our kids' day. In that regard, he is a winner. That's what counts most."
Contact sports columnist Greg Hansen at 520-573-4362 or ghansen@tucson.com.
On Twitter: @ghansen711.
Get in the game with our Prep Sports Newsletter
Sent weekly directly to your inbox!