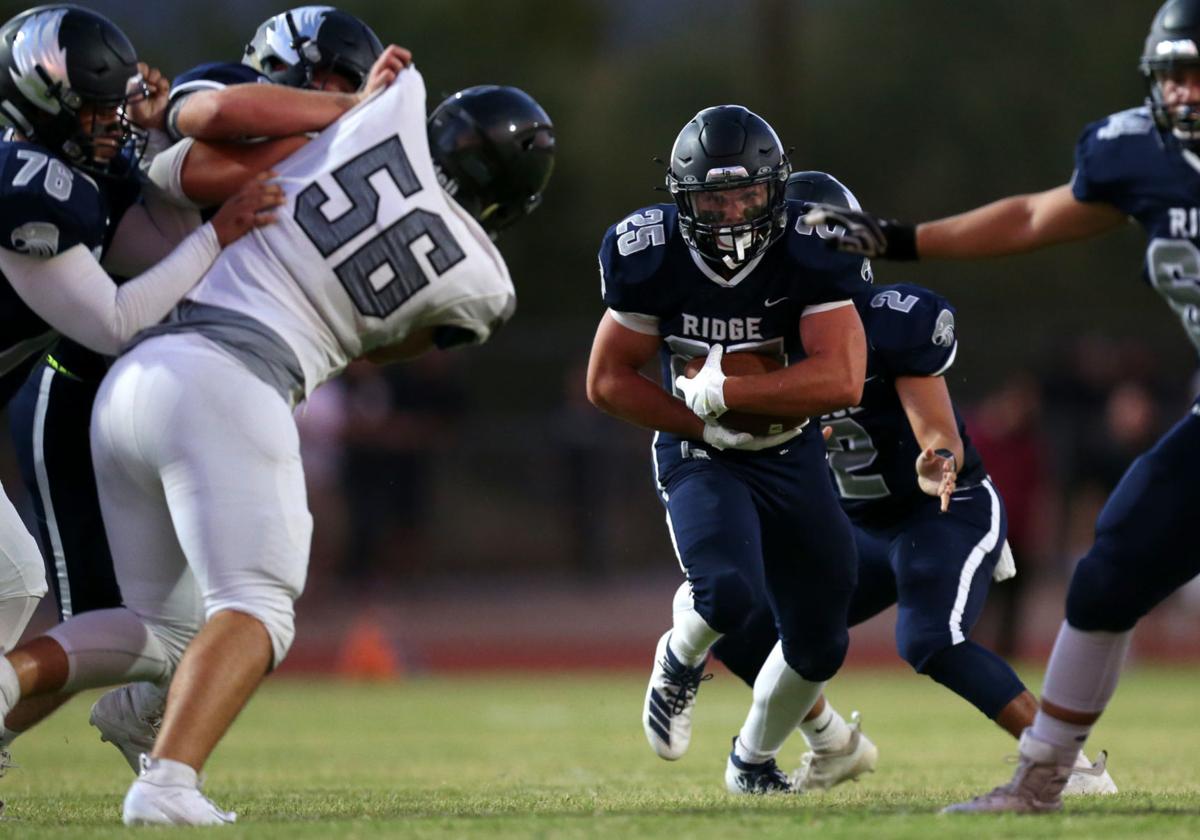 Ironwood Ridge lost star running back Nathan Grijalva to graduation last year, but the Nighthawks reloaded with senior Brandon Barrios.
Through eight games, Barrios has 182 carries for 1,202 yards and 15 touchdowns.
He's been the Nighthawks' top offensive option all season, and recently rushed for 223 yards and three touchdowns in a 36-18 win over Sunnyside. His performance was enough to give him Star player of the week honors.
Ironwood Ridge is now 5-3, and winners of four straight. Friday night, the Nighthawks will travel to Sierra Vista to face Buena.
Barrios joined the Star's Justin Spears on ESPN Tucson this week. Here's what he had to say:
The Nighthawks historically have been known for running the ball. Did you watch any Ironwood Ridge players growing up?
A: "Absolutely. In fact, right now my coach is Anthony Braunreiter from that 2012 state championship year. He's my idol right now and one of my close friends, Soma Helu, from three years ago, is my other idol and of course last year I had legendary Nate Grijalva right in front of me. I've learned from so many great guys and applied it to this year."
What did you learn from Grijalva in your time playing under him?
A: "Strength is key. He was a monster in the weight room and that's what I've taken from him this year. He was the physical back, he kept his shoulders north and south and always went downhill."
Ironwood Ridge has now won four consecutive games after losing three straight. What's worked?
A: "We learned that if we're not going to be the biggest team, we're gonna have to be physical with every team we play and strategy is key. I've gotta give it up to the coaches, because every week we have a new and specific game plan for every opponent. I have faith in our coaches and we just have a great coaching staff."
You were coached by Matt Johnson, but what about first-year head coach James Hardy has allowed Ironwood Ridge to have some success this year?
A: "Family first. If someone goes down, we're always there to support them. We are all one and there's no individual on the team. That's the biggest thing I took from him, and hard work pays off. It's gonna take some time to develop all of our young players, but in the next few years, this school is really going to pick it up."
A: "I was born in Reno, Nevada and came here when I was 5 years old. I started playing football in Oro Valley when I was a kid and was an Oro Valley Dolphin and now I'm an Ironwood Ridge Nighthawk. I've always been on the defensive line and this year is my first year playing running back, and all I've done in the offseason is work on strength and conditioning. I'm glad God gave me the chance to do what I love and stand out this year."
What can Ironwood Ridge do to beat Sierra Vista Buena this week?
A: "Just execute the game plan our coaches gave us and just make sure we're mentally focused at every practice. Every practice needs to be special and we've been well there."
Get in the game with our Prep Sports Newsletter
Sent weekly directly to your inbox!