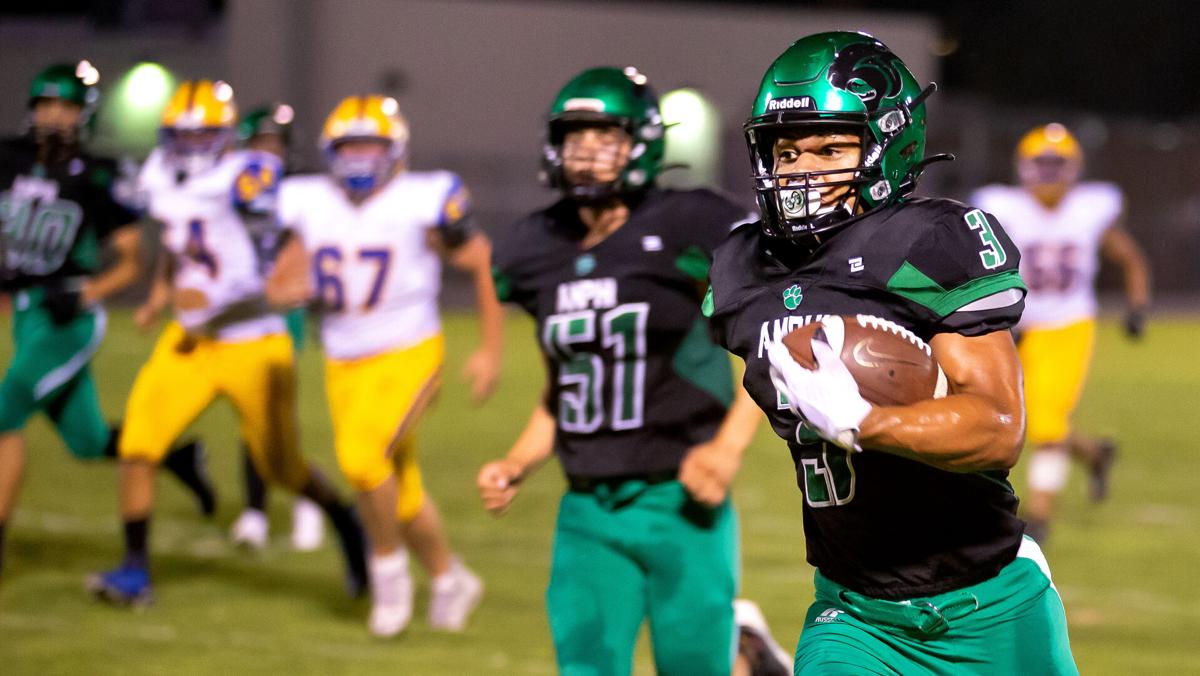 Amphitheater is on the precipice, both literally and figuratively.
The Panthers (4-1) were No. 17 in the Class 4A rankings last week, which is used for seeding in the 16-team postseason tournament. While two teams, Glendale Cactus and Gilbert American Leadership Academy, are primed to be plucked and placed in the Open Tournament, even No. 15 would be a little too close for comfort.
Unfortunately, Amphi doesn't play a higher-ranked foe the rest of the way. Instead, the best chance to impress is Friday's road trip to Catalina Foothills (2-4), which should move up from No. 33 after beating Sahuaro 21-20 last week.
"They've played a tough schedule and been very competitive," Amphi coach Jorge Mendivil said of Foothills. "It's going to be a lot tougher stretch. They're very skilled."
It will be a battle of rushing attacks.
Catalina Foothills' Yasuo Bean ran for 236 yards on 25 attempts last week. Amphi got another strong performance from senior tailback Kiko Trejo, with 93 yards on eight carries with two touchdowns, but also saw a season-high 99 rushing yards from 6-foot-2 freshman fullback Jacob Espinoza.
"Not only is he our fullback, but he's our starting middle linebacker," Mendivil said. "He is so wise beyond his years. Hopefully, he stays healthy and keeps progressing. By the time he gets to his junior, senior years, he's going to be incredible."
Bobcats hitting their stride
Cienega had plenty of growing to do this year.
But after taking some lumps, including single-digit losses to Salpointe Catholic and Gilbert Campo Verde earlier this season, coach Justin Argraves feels his Bobcats (3-3) have turned a corner. There's no other way to interpret the 31-21 victory over Ironwood Ridge last week.
"They didn't lose sight of what the ultimate end goal was," Argraves said. "To come out and do what they did Friday night, it was impressive."
Quarterback Brayden Cherry is at the heart of this renaissance, completing close to 70% of his passes in each of the last two games, both wins. If Cherry can keep developing, Argraves sees a lot of potential for a team that should move up from last week's No. 23 ranking in 5A.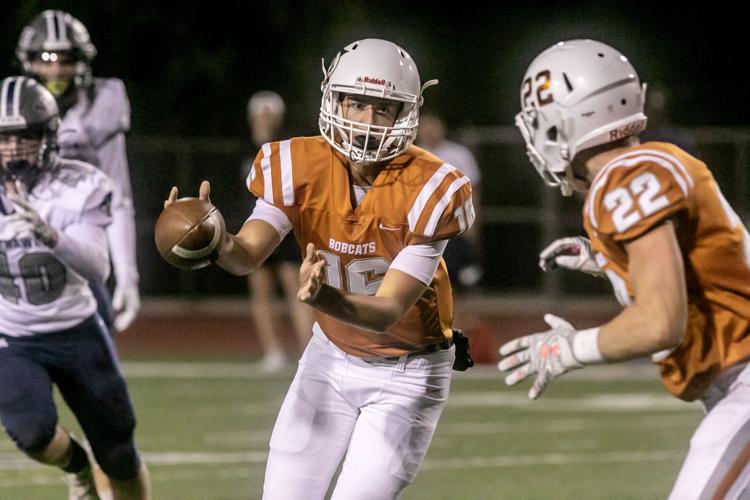 "He's just made leaps," Argraves said. "He doesn't have a lot of game experience, but he's a mature young man who wants to learn the game better, is very coachable and is turning into a tremendous leader."
Cienega hosts Nogales (3-3) this Friday.
Rushing into the mix
Salpointe defensive end Elijah Rushing exploded off the line of scrimmage and shoved aside the Desert View offensive lineman with one hand. He hooked quarterback Oscar Barraza's jersey with one hand and then wrapped the other around to finish the sack.
That moment of pass-rushing brilliance in last week's 48-0 win is just another example of why so many college scouts are already salivating over the 6-5 sophomore. He just picked up an offer from Washington this week to add to those from Arizona and Arizona State.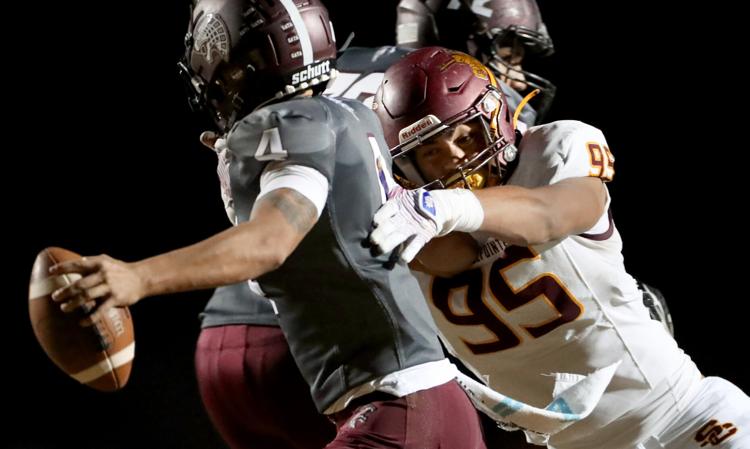 "We're very hard on him and sometimes you forget he's a sophomore," coach Eric Rogers said. "He's developing, growing and maturing. What I love most about him is when he comes off the field as mad as all be, he listens and then we can have a conversation and talk about it."
Salpointe (4-2) plays at Cholla (1-4) on Friday.
Dorados riding high
Canyon del Oro  doubled up Walden Grove 42-21 last week to extend its winning streak to four.
Sophomore Kayden Luke has ignited a spark for CDO (4-3), rushing for more than 100 yards in back-to-back games. Meanwhile, the secondary came up with three interceptions to slow down a potent Walden Grove passing attack. CDO looks to keep its streak going at Pueblo (3-3) this week.
Fearless leader
Despite getting hit nearly every time he dropped back in the loss to Salpointe and completing just one of his first 11 passes, Desert View quarterback Barraza didn't give in. Instead, he completed passes of 15 and 23 yards to give his offense some life in the second half.
"He's a leader of the team, so he's got to do that," coach Robert Bonillas said. "He's got to show up and rally his team to play and block for him."
Bonillas highlighted the need to get Barraza and the offensive line on the same page at Mountain View this week.
Joplin's world
Not often is a high school quarterback trusted to throw it 50 times, but when that quarterback is Elijah Joplin, hey, let it fly.
That's exactly what the 6-1 junior signal caller did Friday, completing 33 of 50 for 398 yards with five touchdowns and one interception and guiding Marana to a wild 36-35 comeback win over Sunnyside. The win pushes Marana (5-1), ranked No. 12 last week in 5A, one step closer to a playoff appearance and maybe even a home playoff game. It travels to Rincon/University this week.