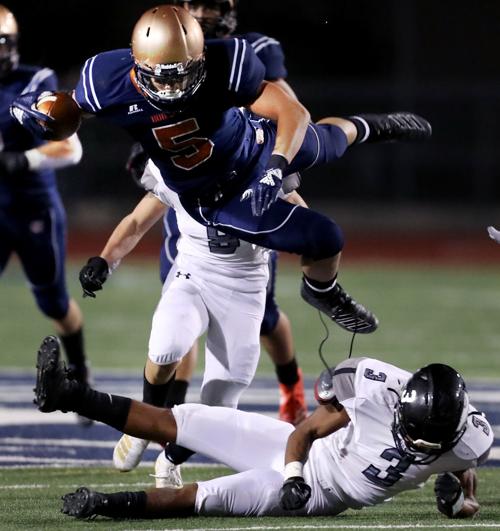 Sierra Vista Buena has come a long way from back-to-back winless seasons in 2015-16.
The Colts (5-1) travel to Cienega this week seeking their sixth win, which would tie for the most under coach Joe Thomas, who started his tenure with 21 straight losses. More importantly, a victory would put Buena's playoff chances on solid footing.
The Bobcats (4-2) have won three in a row, including a gutsy 26-14 performance at Sunnyside Friday. Running back Gabe Levy contributed 120 of the team's 303 rushing yards as Cienega averaged 6.1 yards over 50 carries.
Fortunately, Thomas thinks his Colts' defensive line might be the most improved unit this fall. They have surrendered just 35 points in their current four-game win streak, smothering 6-foot, 220-pound Glendale Apollo running back Donte Gordon in a 20-7 win and limiting Marana and Empire to a combined 81 rushing yards on 31 carries in blowout victories.
"We've got four guys that are returning varsity starters," Thomas said. "They're seniors. They have the experience. Everybody that we play, we want to stop them from doing what they do well. Apollo ran the ball well against a lot of other good teams. They didn't get to run on us. Taking teams out of what they do well, we can't go back and play Sahuaro but I kind of wish we could."
This week will be Buena's toughest test since that lone defeat. Sahuaro won 26-8 on Aug. 30 without completing a pass, rushing for 420 yards on 36 carries in Sierra Vista. While the Colts might have to wait another year before getting some revenge, the lessons they learned could lead to their first postseason berth since 2013.
One in, one out
Sahuaro running back Izaiah Davis was kicking himself on the sideline during Friday's 58-13 loss to Salpointe Catholic, the Cougars' first defeat of the season.
He was itching to give his team a boost and share the spotlight with Salpointe running back Bijan Robinson, a five-star recruit committed to Texas. Instead, Davis will return from his ankle injury this week at Canyon del Oro.
The 6-foot, 190-pound senior has rushed for 581 yards in three and a half games this year, but has received little interest from the next level after serving as Cameron Williams' backup for most of last season.
While the Cougars (6-1) celebrate Davis' return, they'll miss running back Jamir Gasaway, who left Friday's game in the first quarter after taking a shot to chest. Gasaway was on the trainer's table for most of the first half before being taken to the locker room. Coach Scott McKee didn't seem optimistic that he'll return soon.
"He could be out for a while," McKee said. "We're going to go down and have a look at it, make sure he's safe. We want to make sure, we're always on the front end of keeping those guys protected."
Taking over
CDO (6-0) began the season rotating between quarterbacks Montana Neustadter and Jared Vazquez.
But over the past few weeks, Neustadter has emerged as the go-to guy. In last week's 34-21 victory at Catalina Foothills, the junior signal caller completed all five of his passes for 96 yards with one touchdown while also rushing 13 times for 51 yards and a score.
Neustadter leads the team in total offense, passing for 319 yards and rushing for 458 on the season, but he feels splitting time with Vazquez helped his development.
"It's really fun, because if I get a long run, I don't have to go right back in," Neustadter said. "I can come off, get a few breathers, and then get back in. We're doing really well going in and out like we are."
Whoever is in at quarterback will shoulder less of a burden this week. Three-star junior running back Stevie Rocker, who holds offers from California, BYU and Arizona, made his season debut at Catalina Foothills, rushing for 66 yards on 16 carries. Rocker was held out for the first five games after suffering a preseason leg injury.
Bouncing back
Nothing went right for Pueblo in its 19-0 home loss to Catalina Foothills two weeks ago.
After having their season-opening four-game win streak snapped, the Warriors bounced back with a 39-14 victory Friday at Douglas. It provided a stark contrast from the previous week when Pueblo's offense was held to zero points and just 115 yards of total offense on 33 plays.
"Our guys may have been feeling themselves a little bit," coach Brandon Sanders said. "The media and the big circus they've been on the last month, it is hard for kids to accept. You start believing the hype. They needed to get knocked down a couple of steps. Now we've got to get back to doing what we have been doing since January, get back to who we are."
Pueblo (5-1), which has already matched last year's win total, hosts Palo Verde this week.