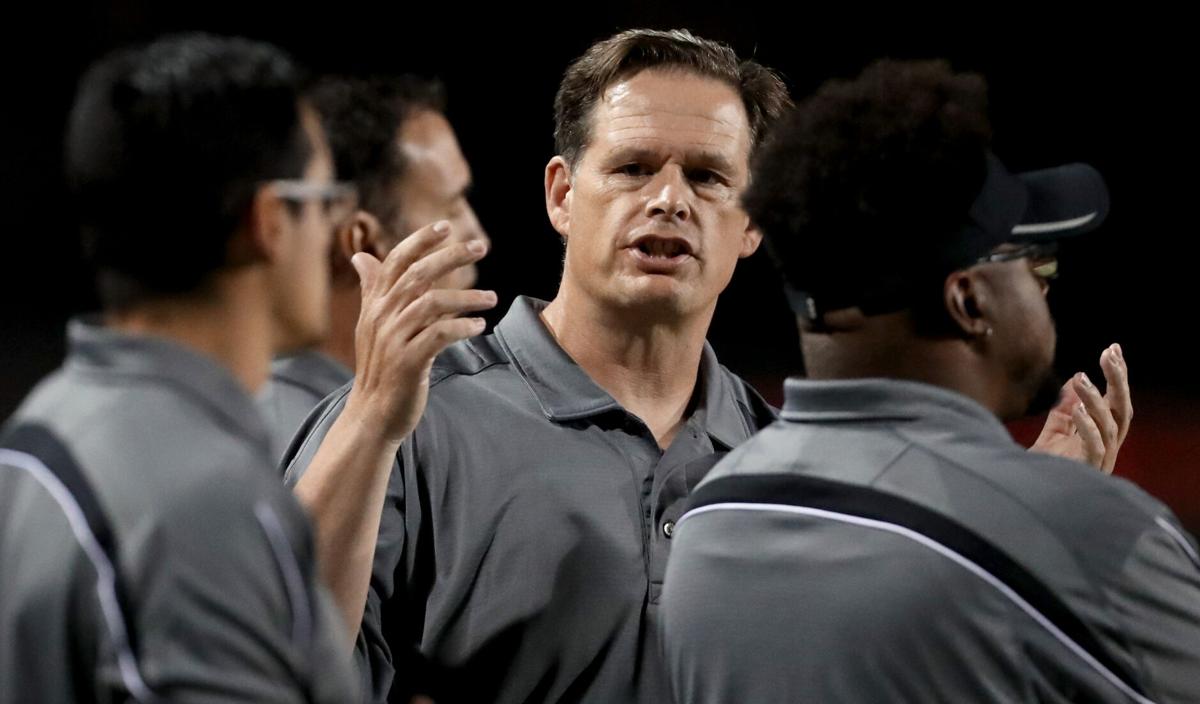 In a normal year, the Mountain View and Sahuaro football coaches would be telling their players about the importance of winning this week's high school game.
Both teams made the playoffs in 2019, and both could be back in the postseason again this fall. A win against the other would go a long way toward accomplishing that goal.
However, after a shortened season last year — Sahuaro played three games and Mountain View played just two — that kind of talk is a little premature. Instead, it's just covering the basics.
"'For Mondays, we run this drill,'" coach Matt Johnson said. "Like this is what we do every single Monday at varsity football practice, these are the drills we run. Just creating that normalcy and consistency."
Johnson contends it's difficult for any program to have much experience, outside the few that had a somewhat normal season last fall. Even if a player excelled as a sophomore in 2019, they still got only a few games in as a junior before they are being expected to shoulder the leadership responsibilities this fall. And that's a rarity in itself.
"Our goal is just getting back to playing and enjoying football," Johnson said. "I have 10 seniors that didn't even play the two games last year. They were just taking care of family members or dealing with their own life situations.
"I don't think this is unique. I think it's everyone here in Tucson. We're just trying to create a team again, much less a playoff team."
Mountain View (0-1) lost its opener 13-12 to rival Marana while Sahuaro (0-1) lost 15-12 at Phoenix Arcadia. Both teams are looking for a step in the right direction, even though it may take some time for things to get back to normal.
"We're going to see a lot of teams get a lot better through the first half of the season," Johnson said.
Falcons taking flight
About midway through Catalina Foothills' season-opening loss to Sabino, the chants started raining down from the visiting stands.
"He can't throw! He can't throw!" the Sabino students shouted at senior quarterback Connor Smith.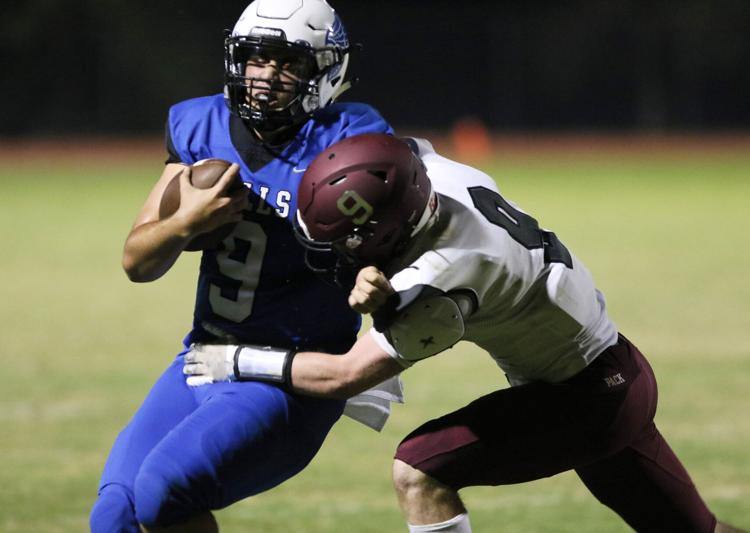 It's going to be hard to make that case now. Smith led a fourth-quarter comeback that came up just short on a failed 2-point conversion attempt in a 28-27 loss to Walden Grove on Friday. He completed seven of his final 10 passes, including a potential game-tying 7-yard touchdown with 1:28 remaining to Luis Perez.
"We just have to keep building on that little stuff with him," coach Daniel Sainz said. "He's doing a great job adapting to the offense. I can't say enough about this senior class, in these guys really lifting everybody up."
Smith and the rest of the Falcons (0-2) look for their first win of the season Friday at Pueblo.
Cienega defense stands tall
Cienega went down to Sierra Vista and came back with its first win of the season.
While the offense scored 34 points, the defensive performance was, perhaps, even more impressive, allowing just seven points. Led by senior linebacker Ritchie McCormick, the Bobcats (1-1) held the potent Buena rushing attack to 127 rushing yards on 43 carries. McCormick also ran for 48 yards on six attempts with two touchdowns as a running back, but his defensive efforts have been irreplaceable.
"He might be one of the best linebackers I've coached in 21 years of coaching," coach Justin Argraves said. "The kid never comes off the field. He is just a tremendous leader and team captain for us."
After a shaky start in Week 1, the Bobcats will look to continue to build on the momentum from the win over Buena going into this week at Salpointe Catholic.
"They got the first game jitters out and then, we got into Week 2, down in Sierra Vista and I thought they responded well," Argraves said. "It was good to see."
Old friends
Marana nose guard Javier Arvizu has played a critical role in the team's defense so far this season.
After only allowing 12 points in a win over rival Mountain View in Week 1, Marana went up to the Phoenix metro and shut out Tempe in a 61-0 win Friday. The Tigers (2-0) now look to keep that defensive momentum going this week against Tucson High, Arvizu's former team.
"He's real pumped and he talked about it right after the game Friday saying, 'I can't wait for this week, coach,'" coach Phillip Steward said. "We think he's going to have a big game for us."
Behind Arvizu, senior linebackers Troy Fox and Colin Bourguet led the team in tackles versus Tempe. Cornerbacks Samuel Brown and Lee-vi Nez each pulled down interceptions as well.