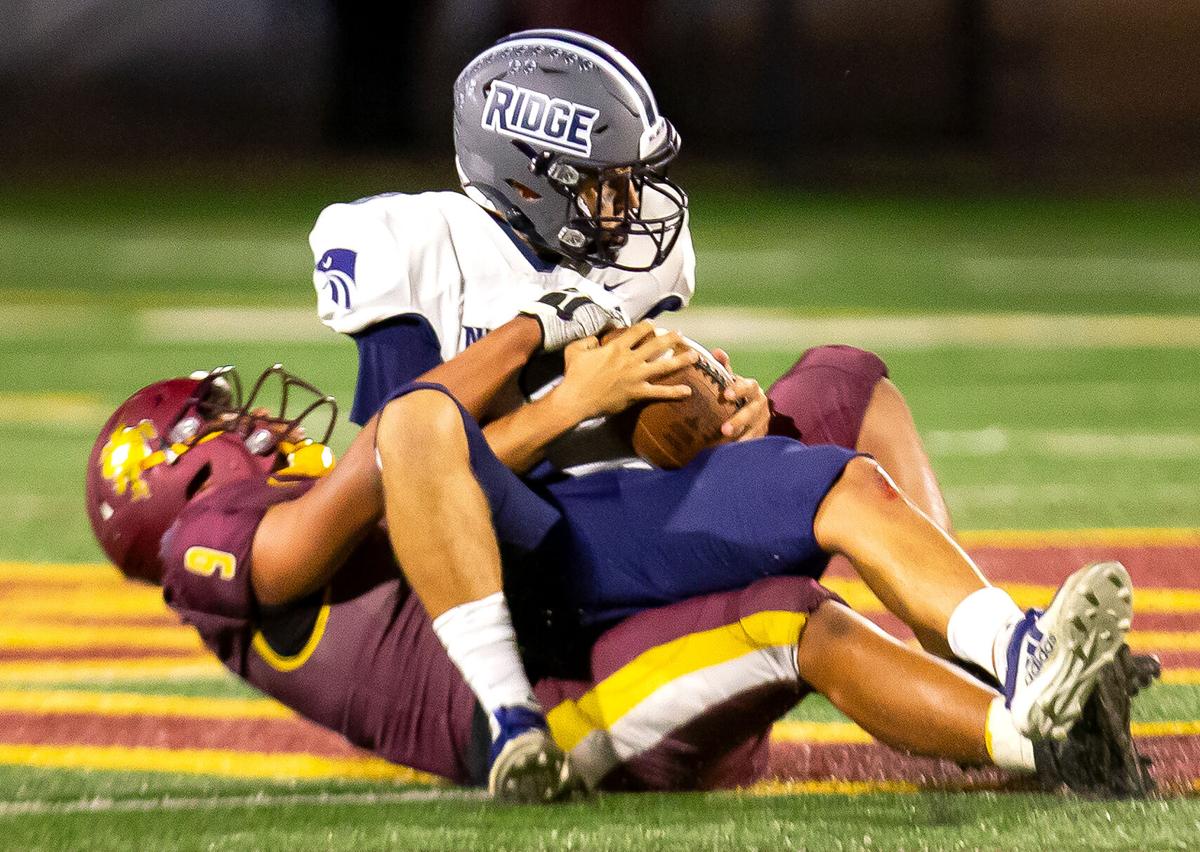 With a convincing 34-9 victory over Ironwood Ridge, the Salpointe Catholic High School football team once again made its case for being the best in Southern Arizona.
Perennial powerhouse Scottsdale Saguaro hosts the Lancers (3-0) after a shocking 27-26 loss to rival Scottsdale Chaparral, during which Saguaro (2-1) once led by two touchdowns. But if anything, that just makes this year's game even more significant. Saguaro needs to get back on the winning track while Salpointe hopes to earn some respect before the first open tournament ranking is released on Oct. 12.
"We talk every week about just going 1-0 but you know deep down, they're kids, and they want that game," coach Eric Rogers said. "Obviously, they are a great opponent. We know we've got our work cut out for us."
While much of the attention will be paid to Salpointe quarterback Treyson Bourguet, a once-Arizona commit, the Lancer defense might be the deciding factor. Salpointe will have to contain an explosive Saguaro offense, which scored 63 points in a season-opening win over Tempe McClintock and features senior receiver Javen Jacobs and sophomore running back Jaedon Matthews, who each hold multiple Pac-12 offers.
The last time the two teams played, in 2018, Saguaro scored 42 points in a rout, but this Lancer defense appears to be much improved. It is led by sophomore defensive lineman Elijah Rushing, who holds offers from Arizona and Arizona State, and senior linebackers Joey Sumlin and Davian Miranda-Carrasco.
"We've practiced way hard, gotten coached way harder, taken more lessons in," Sumlin said. "We've done everything better, at a much higher level."
Battle up north
Two Oro Valley rivals clash this week as Canyon del Oro hosts Ironwood Ridge.
The Dorados (1-3) picked up their first win of the season last week with a thrilling 21-14 victory over Catalina Foothills. After Ethan Krominga punched in a 2-point conversion to give CDO a one-point lead, he intercepted a pass and returned it for close to 70 yards for a touchdown late in the fourth quarter. The win provided a wave of relief for one of Southern Arizona's most accomplished programs, which was coming off back-to-back single-digit losses to Apache Junction and Poston Butte.
But while the Nighthawks (2-2) have enjoyed more success this season, their strong start came to a halt against Salpointe last week. So, they're looking for a momentous win as well.
"This is an opportunity for us," CDO coach Dustin Peace said. "If we can get the ball rolling with Ironwood Ridge it will turn our season. It's a very pivotal time for both of us. This is playoff football, in that if we want to see any postseason, this is a game we have to win."
East-side foes collide
But wait, there's another rivalry game this week.
Traditional East-side powers Sabino and Sahuaro meet at Sahuaro on Friday, or at least that's the plan. Sahuaro had to cancel its last game due to COVID concerns and coach Scott McKee said a large number of players are in jeopardy this week.
McKee isn't sure who will be available or even if the game will happen, but he knows his players are itching to play.
"If we don't have enough, we may move the game to Saturday or even Monday," McKee said. "It's about the kids and giving them an opportunity. If we have to put freshmen out there, we'll do it. We just feel bad for the kids because they can never get a rhythm."
The Cougars (0-2) will face a tough test. Sabino's defense is in a much better place than it was a few weeks ago, having pitched a shutout in a win over Phoenix Bourgade Catholic last week.
Making the most of it
Desert View was Sahuaro's opponent last week and had to scramble when the decision came down that Sahuaro wasn't going to be able to play.
Coach Robert Bonillas made some calls and the first name he heard was Thatcher. That meant a two-hour road trip against an unknown foe instead of their planned homecoming activities. He left it up to the players.
"I said, 'We don't know much about this opponent, do you guys want to sit or do you guys want to play," Bonillas said. "They said, 'We're up for it. We want to play.' Sahuaro kind of ran some of the same plays. So, we were kind of ready for their main plays but after that, we'll see. They didn't know us. We didn't know them."
The Jaguars won 28-6, as senior running back Carlos Alvarez tallied 139 yards on 18 carries and senior quarterback Oscar Barraza tossed two touchdowns.
"They did a great job, and our staff did a good job with such short notice," Bonillas said.