Even in a wild and crazy year for Arizona high school football, there are some things you can count on.
For the 19th straight time, discounting the shortened 2020 season, Sabino is in the playoffs. As the No. 9 seed in the the Class 3A state tournament, it will travel to No. 8 Show Low for a first-round game Friday.
It's a little bit of a tough break for the Sabercats (7-2), which have won their last five games, including a 27-16 victory over No. 7 Pusch Ridge Christian Academy. But Sabino coach Ryan McBrayer isn't taking the chance for granted, seeing how COVID-19 ended last season at 2-0.
"You go from having a very hard stop to last year, and we thought we had a very good team last year that was capable of competing for a state championship," McBrayer said. "But we're happy to have the opportunity to represent Southern Arizona in the playoffs."
Of course, the first-round game at Show Low comes with more challenges than just facing the Cougars (8-2). It's going to be a roughly four-hour bus ride to get there with the expected temperature at kickoff around 50 degrees. That's not the usual road trip for the Sabercats, but their offense has been clicking lately, led by sophomore quarterback Cameron Hackworth, who McBrayer calls "one of the best athletes in the city."
On the other side, they face a staunch Show Low defense that has tallied 16 interceptions, 29 sacks and allowed just 12.5 points per game this season.
Looking to start a deep run
Pusch Ridge Christian Academy's postseason journey was cut short in the state semifinals last year against Yuma Catholic.
This fall, PRCA (8-2) hosts No. 10 Thatcher (7-3) in its first-round game Friday, hoping to kick off another long run. The Lions crushed those same Eagles 41-14 two weeks ago, as quarterback Ryan Fontaine completed 16 of 17 passes for 169 yards with a touchdown while also rushing for 121 yards with four scores.
Just on the outside
There is always going to be someone that's left out the postseason. This year, that's Tanque Verde.
The Hawks (7-3) have come a long way from their 15-game losing streak before coach Jay Dobyns took over. They went 5-1 this season at home, and finished No. 15 in 2A, just barely missing the 16-team state tournament due to automatic bids for region champions No. 21 Goodyear Trivium Prep and No. 22 Teec Nos Pos Red Mesa.
Dobyns knows things could have been different if the Hawks had played 3A Sabino on Oct. 16, but dealing with kids testing positive for COVID-19 and those within close contact, he just didn't have the numbers.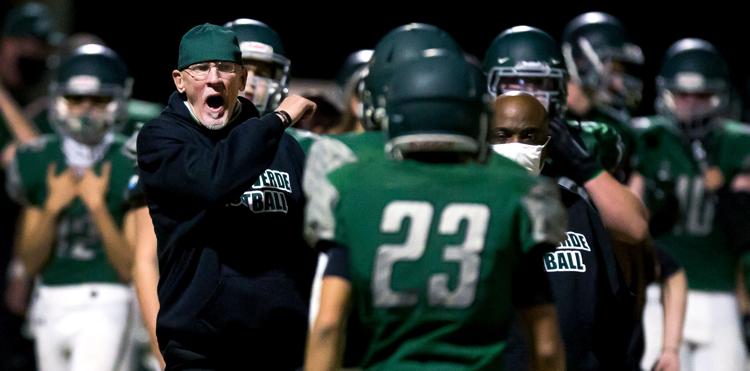 "Even against a team like Sabino, we expected to win that game, against all odds, but even a loss would have probably put us in the playoffs," Dobyns said. "But we literally couldn't have fielded a team."
Still, it's hard to be disappointed with such a quick turnaround in the program. With only one team, no junior varsity or freshman group, a lot of young players got varsity experience this year and that's led to optimism for the future.
"We had a 53-man roster that included everyone from freshmen who had never put a helmet on to seniors, and half of those seniors had never played football before," Dobyns said. "So many of our kids who had never played football, did everything we asked, worked as hard as they could and every one of them ended up making a contribution to our team."
Handling distractions
Salpointe Catholic continues to roll right past opponents since back-to-back losses to start October.
The Lancers (6-2) won 45-7 over Sierra Vista Buena on Friday with senior quarterback Treyson Bourguet throwing five touchdown passes, three of which were caught by senior receiver, and Bourguet's backup, Dylan Dreis. The Lancers will need a similar performance from both of them on senior night against Mountain View. The Mountain Lions (3-5) have found their groove recently, winning two of their last three and coming up just short of an upset against No. 5 Desert View, losing 20-14.
Sahuaro gets first win
Not many teams across Tucson have been impacted by the pandemic as much as Sahuaro.
But for the first time this season, the Cougars (1-6) tasted victory, beating Pueblo 21-20 last week. With only four seniors still healthy and playing, coach Scott McKee said this season has become about building for the future.
"We feel really good about the future of the program because we're playing so many young guys," McKee said. "The plays we're missing are because they're just not quite physically ready to do it yet. But their attitude has been great, work ethic has been great."