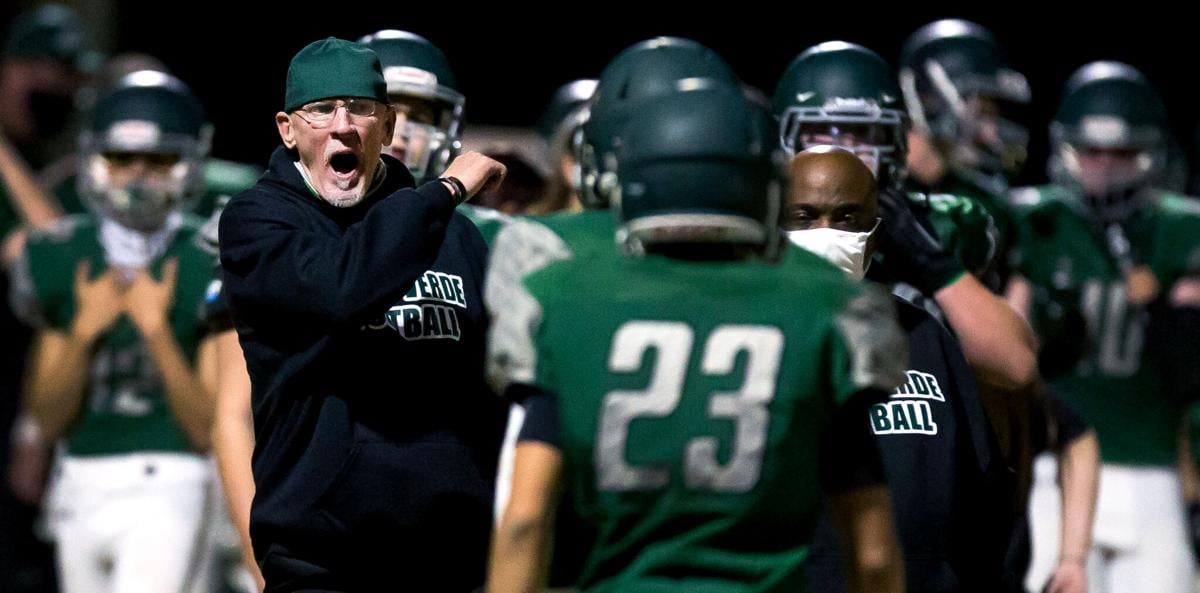 Tanque Verde's offensive struggles didn't last long.
The Hawks (2-2) blew out Tombstone on Friday 54-6, returning to similar form as when they rolled past Laveen Heritage Academy 50-8 in the season opener.
Coach Jay Dobyns credited the resurgence to a group of seniors that never stopped working, even through the shortened three-game season last fall.
"That right there is an example, a demonstration, for all of the other players," Dobyns said. "You want to win, you want to excel, you want to be special, then you have to be there every day.
"Not on the days when you feel like it, or it is convenient. On the days when it is blazing hot, on the days when you're sore, on the days when you're putting ice on before practice, you still have to find a way to be there every day."
That group includes the only senior on the offensive line, Terrance Oathout, as well as wide receivers Rory Maciulla, and Kaden Eichinger. It also includes Lucas Franklin, who switched positions from defensive back and completed five of seven passes for 104 yards with two touchdowns Friday to bring a little more balance to the Tanque Verde offense.
With a 5-2 record since Dobyns arrived in January 2020, the Hawks appear well on their way to turning the page on a frustrating 0-10 season in 2019.
Tanque Verde travels to Gilbert San Tan Charter this week, hoping to build on its performance. The key will be shutting down sophomore quarterback Zayden Neill, who has already thrown for more than 1,000 yards this season in just four games for the Roadrunners (1-3).
A memorial's return
Sahuaro had been holding an annual memorial game for former quarterback Rick Botkin before COVID-19 concerns prevented that tradition from continuing last fall.
On Friday, it returned more than 40 years since Botkin's death from an automobile accident in 1977. Botkin's family was once again seated in the bleachers behind the east end zone, balloons were sent into the night sky by the players and Botkin's No. 25 was painted red on each 25-yard line.
"That family treats us exceptionally well," coach Scott McKee said. "It's an honor and privilege to do it, and it's really special to see his former teammates, from 43 years ago, come back to this game every year. They live in Florida, Texas, California and every year, that guy meant enough to them that they find a way out here."
Senior running back Javez Blair, who usually wears No. 16, donned Botkin's No. 25 in commemoration and rushed for 101 yards on 18 carries in the 26-7 loss to Mountain View.
"I was honored to wear his number tonight," Blair said. "I know what type of player he was, so it put a lot of pressure on me. But I still went and balled out and tried to do the best I could."
The Cougars (0-2) look for their first win this week at Desert View.
Can't slow them down
Marana's offense appears to be hitting its stride.
The Tigers (3-0) built off a 61-point performance against Tempe by scoring 48 in a blowout win over Tucson, and it hasn't been just one player. While quarterback Elijah Joplin serves as the ringleader, Marana has gotten key contributions from a wide variety of players, which makes it difficult for defenses to focus on one guy.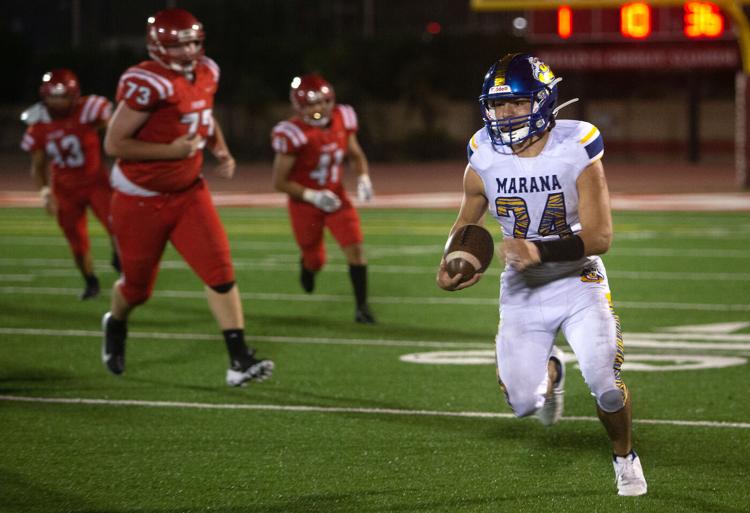 For example, senior receiver Dezmen Roebuck, who had 145 total yards against Tempe, passed the baton to running back Matthew Jensen, who tallied 116 rushing yards and 105 receiving yards in Friday's victory.
Next up, Marana travels to Flowing Wells, which is looking to build momentum from its 37-21 win over Empire.
Keeping them fresh
Mountain View found its offensive rhythm in a peculiar way during Friday's win over Sahuaro.
The Mountain Lions (1-1) rotated in fresh running backs and wide receivers nearly every drive, keeping the defense off-balance and making sure everyone stayed involved.
By the end of the night, eight players had contributed to the team's 150 rushing yards and five receivers finished with at least three catches.
"Against Marana in the fourth quarter, we were just dead," coach Matt Johnson said. "We talked about how we had to have a rotation at running back, linebacker and receiver so we have more guys fresh through the game.
"Guys sometimes wonder, 'Why am I being rotated out in the second quarter?' It's so you're fresh in case this game goes to overtime and so we're not dying in the fourth quarter."
After scoring just 12 points in the season opener, Mountain View needed a strong performance heading into a tough matchup at Goodyear Millennium this week. The Tigers (2-1) have scored more than 40 points in two of their three games.