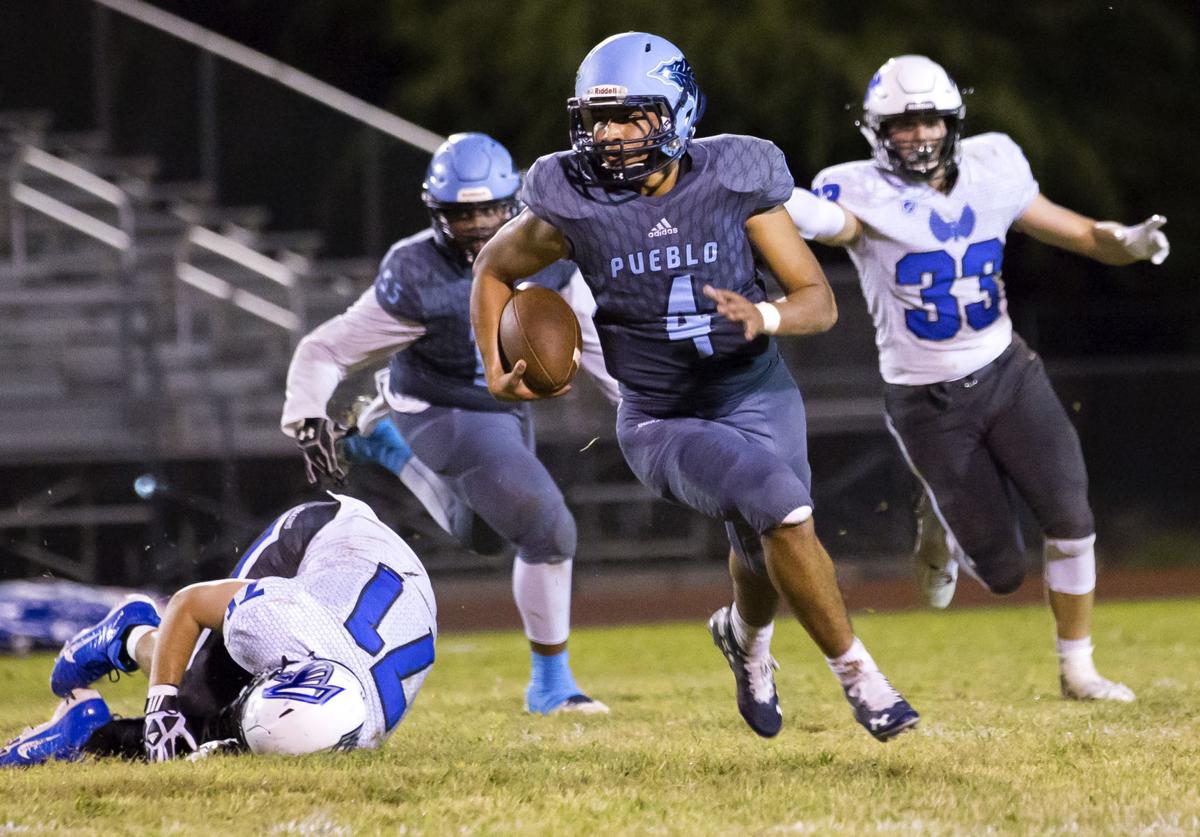 There is just something different about this Pueblo team.
When the Warriors (8-2) go on the road, they feel at home, and so far, it has shown in the results.
They are 5-0 away from the newly-renamed Curly Santa Cruz Stadium and have done it against some of their toughest opponents. In Week 2, they topped Casa Grande (6-4), which went on to beat eventual No. 3-seed Canyon del Oro (8-2) make the Class 4A Conference Championship as the No. 12 seed. They stormed back from a first-half deficit against feisty rival Sunnyside a few weeks later and closed the regular season with back-to-back blowout road victories over Rio Rico (4-6) and Amphitheater (5-5).
Thus, when the bracket was released Saturday, coach Brandon Sanders wasn't concerned about his players packing their bags for Friday's first-round trip to Gilbert Mesquite (7-3).
"It's these guys' makeup," Sanders said. "They're just a different cut of characters. They work hard. They play hard, and they know when we don't have the big fan support behind us, like we do when we're away, they know they have to generate it themselves."
Sanders credits the seniors, led by center Juan Rabago, quarterback Marcelino Vega and linebacker Julian Lopez, calling them the "staples of the program" since they were underclassmen. They've had a roller-coaster career, never registering a losing record but missing the playoffs as freshmen and juniors.
In their final year they're on the verge of a ninth win.
"There was some people talking about how we weren't even going to win a game this year," Sanders said. "For them to come together and play as a team, and do what they did, winning eight games, I'm super happy."
New territory
Salpointe Catholic is Tucson's lone representative in the eight-team Open tournament, consisting of the best teams from 6A, 5A and 4A.
While the No. 4-seed Lancers (9-0) are familiar with 4A rival and Open No. 3-seed Scottsdale Saguaro from historic postseason battles over the past few years, they have yet to face an Open-caliber opponent this fall.
Their toughest test was Goodyear Desert Edge, the No. 4 seed in the 4A tournament, which they hammered 68-34, leading 40-13 at halftime. A month later, Saguaro crushed Desert Edge 63-14. It's pointless to compare those scores. A blowout is a blowout. But where Saguaro and other Open tournament teams have faced each other, or perhaps even other Open candidates, Salpointe must pull from past years' experiences when it hosts No. 5-seed Pinnacle Friday.
They're No. 1
Despite a rash of injuries to key players, Sahuaro finished the regular season pretty much right where it wanted to be.
The Cougars (8-2) are the top seed in the 4A bracket, opposite from the only team in the bracket to beat them, CDO, and hosting No. 16-seed Glendale (8-2) Friday. Still, coach Scott McKee doesn't want his players to get high on mighty about being the top dog in the conference.
"We've got to do something with it," McKee said. "Glendale is not the typical 16 seed. That's one of the most explosive offenses we've seen all year."
The Cardinals gave Sahuaro quite the scare last year in the first-round, as the Cougars survived 49-48. Glendale returns many of the same faces, including star running back Kevin Daniels, who has rushed for 1,225 yards and 25 touchdowns this fall.
A moment to celebrate
As Mountain View slogged its way through a brutal opening schedule, it seemed like coach Matt Johnson's first season could easy go south.
Instead, the Mountain Lions (6-4) finished with a flurry, winning their final five games and being rewarded with a playoff spot. They'll have to travel to No. 1-seed Gilbert Williams Field (8-2), which just knocked Gilbert Higley out of the Open tournament, but Johnson feels confident his team can draw upon on the early-season experiences. That includes being down 14-13 against Higley at halftime of a 38-14 loss.
"We've played a ton of quality opponents," Johnson said. "We know we have nothing to fear."
Barrios' time to shine
Ironwood Ridge's offense leans heavily on running back Brandon Barrios.
The senior totaled 20 carries for 76 yards in Friday's 10-0 loss to Cienega, putting him at 222 carries for 1,387 yards with 15 touchdowns this year. The Nighthawks (5-5) are going to need his production this week at Queen Creek Casteel (7-3), which limited a Mountain View rushing attack to 81 yards on 28 carries earlier this season.
"He's an exceptional kid who can handle anything," coach James Hardy Jr. said. "He's battle-tested. Anything we put in front of him, he's going to take care of it."