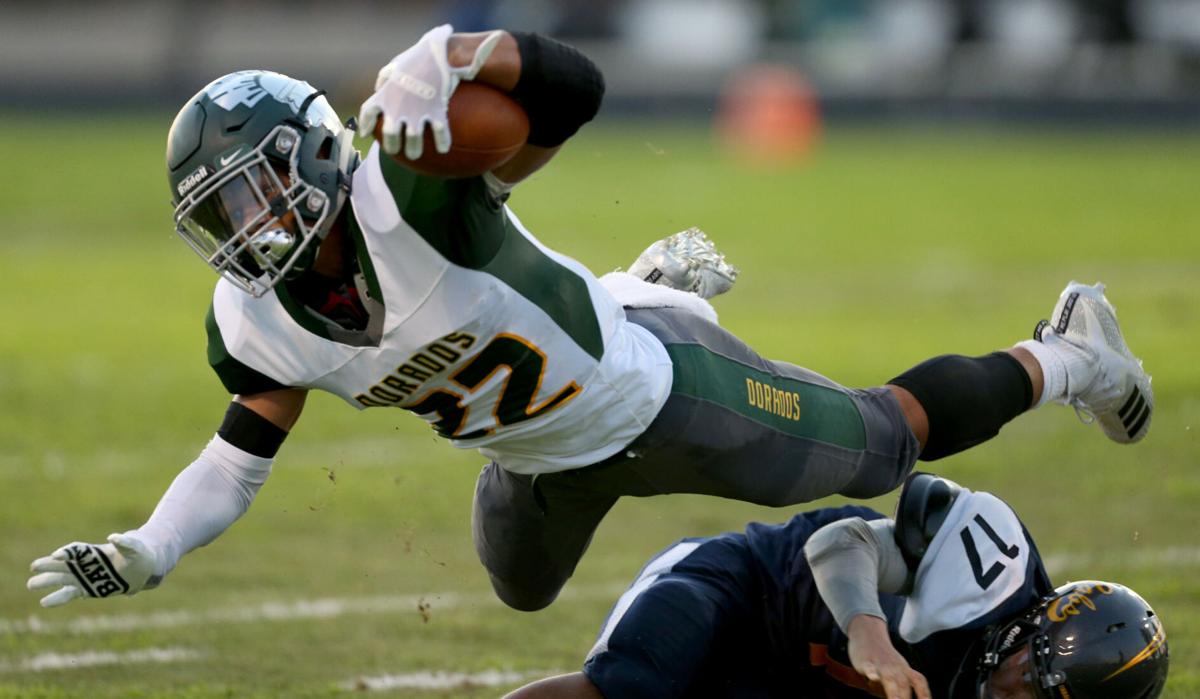 Editor's note: The Star is counting down the 22 best high school football players in Southern Arizona, in no particular order.
The rundown: Rocker is a 6-foot, 205-pound senior running back at Canyon del Oro High School.
Who he is: Rocker was expected to build off his 2018 sophomore year in which he rushed for 1,163 yards and 12 touchdowns.
But a gruesome ankle injury suffered in a preseason scrimmage against Walden Grove sidelined Rocker for the first half of the 2019 season. Even when Rocker returned to the starting lineup, his ankle was never at 100%.
"Last year, I was more hesitant just because of my ankle injury," Rocker said.
As the 2020 season nears, Rocker is the top running back on his team and the premier rusher in a city that's produced notable running backs.
"This is his time to shine," said CDO head coach Dustin Peace. "This is the moment he's been waiting for and it's the moment we've all been waiting for. … He's built himself up for his peak season."
Playing the what-if game can be trivial when assessing Rocker's high school career, because of the hurdles he's had to overcome in just three seasons as a varsity player. Between the ankle injury suffered as a junior and a shortened senior season, Rocker was never quite given the chance to truly carve out a record-breaking career.
"It would really be terrible for us" if there was no season, Rocker said. "We're a much tighter team than we were last year. … I just want to finish out strong. Having to go through this is not something we want to get through, but it shows how much we've been able to work through adversity."
Rocker is keeping his fingers crossed.
"I need more reps since I only played in six games last year," he said. "I want to get more reps of playing football and more contact reps in general so I can see what I need to improve on before I go to college."
Proof he's good: Rivals.com and 247Sports.com rank Rocker as a three-star recruit and one of the top prospects in Arizona. The running back landed scholarship offers from Cal, Nevada and BYU and received interest from Washington before committing to the Arizona Wildcats. He hopes to wear either No. 0 or No. 6 when he dons the red and blue.
"It's super exciting," Rocker said. "I'm excited to get myself out there and just start playing. … Playing for the hometown is something you don't see often especially at the U of A, but getting the chance to be a hometown hero is kinda exciting to work through."
Rocker plans to graduate from CDO in December and enroll early at the UA.
"It wasn't the plan before, but that was way before the pandemic," Rocker said. "After the pandemic came, it became a quicker process and it just seemed like a smart decision even, if we didn't have a season."
He said it: "He's different, I'll tell you that. I can't really compare him to anyone that I've coached, but he's almost like a Marcus Allen. Marcus had great breakaway speed and was long-strided, and when I see Stevie run, I think about that a little bit because of his long strides and big legs. Marcus was athletic and long, and Stevie is pretty much so." — Peace